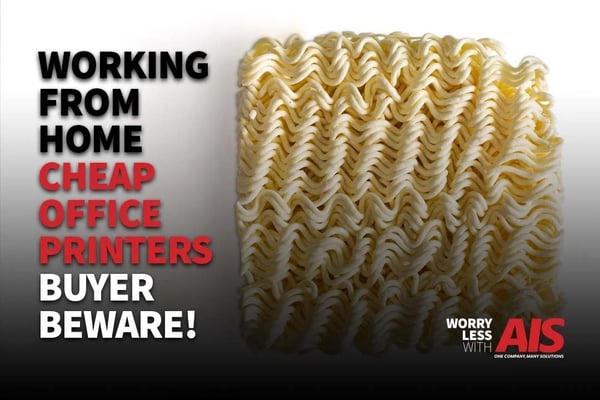 READ TIME: 5.5 MINS.
The rush for bottled water, toilet paper, and canned foods have certainly slowed down, as most of us are getting used to the "new normal" way of living and working.
As we continue to navigate through the ever-changing COVID-19 pandemic, we're now shifting our focus from essential household items to products and devices we need for a sustainable home office.
And if you've been listening to the news, you will see that this is going to be our "new future." Buckle up, everyone! Although we don't know exactly how this is going to turn out, just about everyone is making predictions—and not anyone is for certain.
The work from home (WFH) migration has prompted almost every remote employee to think about the best office technology devices for their new home workplace, such as office printers and scanners.
We can all agree that the adjustments we've had to make in the past two months were probably not ideal for long-term business growth. These immediate modifications were designed for short-term or quick resolutions, as we didn't have much time for a well-thought-out process.
However, we're now realizing that our WFH setting is going to last longer (or even full time) than initially planned. As a side note, I am by no means saying this pandemic will last forever. But, once regular business resumes, many companies will continue to work remotely for several reasons.
Some of these advantages for any business include:
More hours of work from their employees
Increased employee productivity (fewer distractions and wasted time)
Smaller office footprint
Lower utility costs (responsibility lies with the employee)
Less liability in the workplace
So, what does this mean for your business, employees, and customers? What office technology solutions do you need to stay connected?
More importantly, where is the best place to purchase or lease your office printers and copiers? How can you find the best products that support the changing needs of your business?
Let us fill you in!
Smart Purchases: Cheap Office Printers, Buyer Beware!
Now that you're working remotely from home, your office probably told you to find a cheap all-in-one or multifunction printer at your local retailer. Really? But, did they actually think about this buying decision? The saying, "Think before you buy," holds a lot of truth here.
There are a few solid reasons for purchasing technology equipment for your home office. Just like the purchasing decisions previously made at your business, your office technology products and systems are a necessary part of your day-to-day productivity.
Your entire organization depends on your office printers to complete a variety of jobs. Selecting a machine that can cater to the specific demands of each of your employees isn't always a walk in the park, though.
If you've already begun searching for printers online, you've probably noticed an overwhelming amount of machines available. Not to mention the number of companies that offer these types of devices and other add-on features or functions.
And you thought toilet paper and water bottles were hard to find? Have you seen how many of these cheap all-in-ones or wireless printers are out of stock or have longer delivery times?
If you're trying to decide on purchasing or leasing office equipment, how do you determine what makes a good company stand out from a great one?
Think Twice Before Buying From Traditional Retailers
As I mentioned earlier, many of us scrambled to set up our home office as government requirements forced our businesses to move to a remote setup quickly. This type of transition led many of us down an unorganized path that lacked the resources we needed for a fully functioning large or small office.
As we now realize that this is more of a long-term situation, we've started to think about the technology devices we need to purchase.
Although it's tempting to place a quick order for a printer to common retailers like Costco or Walmart, that may not be your best bet in terms of long-term support. Take a minute to ask yourself some of these questions:
What happens when my printer malfunctions? Who can I call for support? How do I know if they have quick response times or can resolve the problem within the first visit?
Who can help me with the installation and setup of my new device? Does this support mobile device collaboration through mobile printing?
Won't the cost of maintenance and supplies (such as toner or paper) add up?
How do I know I'm getting exceptional print quality? Is the machine high quality to withstand my printing demands for the next year or two? Or will I have to buy another new device in six months?
A traditional retailer who happens to sell printers (along with thousands of other products) won't be able to give you continuous qualified support, as opposed to an office technology company.
Keep in mind that a credible office technology company only sells and supports technology devices. This allows them to dedicate all of their time and resources to you and your WFH needs.
You'll know you've come across a great copier or printer company when they have stats to back up their claims on quick response times, one-call resolutions, certified technicians, and an around-the-clock helpdesk or call center.
Related: I Need a New Copier: How Do I Find The Best One?
Cost Savings: Leasing or Buying From an Office Technology Company
We'd be lying if we said we'd never turn down a good deal. Let's be real, who doesn't love saving money? But, in WFH situations where you heavily depend on your office technology, cheaper is not always better.
It's necessary to consider the money you're spending upfront on an in-home office printer as it significantly determines your productivity and profitability in the future.
So, how much could you be saving by partnering with your local copier or printer company? Basically, when you compare all of the costs (printer, supplies, life expectancy, service, and maintenance), it's not even close.
In this article, we compared the cost of a big brand's $100 discount laser printer at a local retailer with the costs of a $300 laser printer with similar specifications from a local copier dealer. You will be surprised by our findings.
The Final Say On Your WFH Office Printer
During these uncertain and unpredictable times, it can feel overwhelming to identify the best decisions you should be making for your business and employees.
It's important to know that you have options. As you continue to transition into your WFH environment, you'll need office technology solutions that are best suited for the work you do and the customers you serve.
Set aside some time to research local copier dealers near you to learn the efforts their taking that support your business technology plans now and in the future. Stay ahead of the curve and prepare your business.

AIS is not just a technology company. We are your source for news and information to help you understand the growing needs of your business and customers. Our goal is to keep our readers educated and up-to-date as new technologies emerge. If you'd like to learn more about the options you have when working from home, or any of the products and services we offer, reach out to us here. We're here to give you peace of mind to help you win more business.