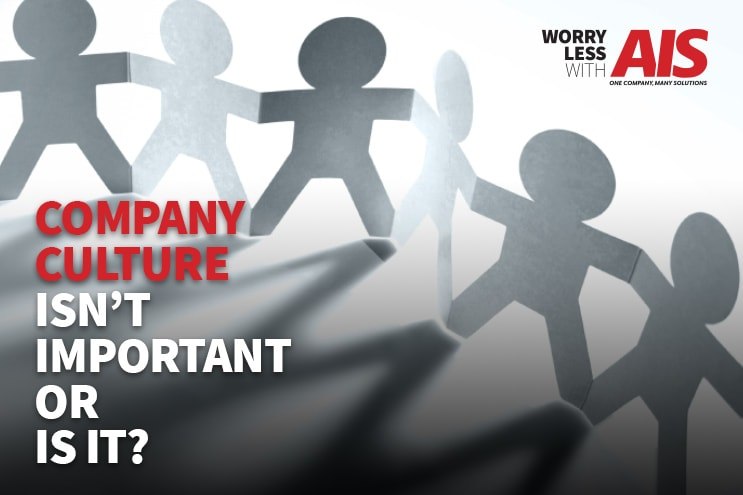 READ TIME: 6 MINS.
"Company Culture is not important" was my exact statement and mindset for many years after starting up a business. I thought culture was something only fortune 1,000 companies said they did to make themselves feel better or more important. But boy, I was wrong.
To me, culture in the business world was one of those "fluff" words companies would use when interviewing potential candidates to make their organization sound more appealing. Never did I believe that something as small as a great company culture could make such a significant impact. Oh, and by the way, culture isn't really a small thing!
So how did I finally discover that my company was so far from establishing any sort of culture? When did I realize we needed to make some serious changes within our business to achieve employee satisfaction and customer growth we were striving for each year? When did that lightbulb go off in my head?
Before I dive in any deeper, it's important to learn a little about AIS and where we first began, especially when it has to do with our company culture. Our doors have been open for over 17 years, and I'd be foolish to say it's all been an easy ride.
However, focusing on pivotal aspects that many companies, especially small businesses, tend to overlook, was always important to me; culture being one of those.
To get a little more insight into how we first adopted our own company culture and some of the steps we've taken along the way, read our article, Best Practices to Create Great Company Culture At Any Business.
Alright, let's get down to business and let me tell you the very moment I realized my mindset had to change on the culture of our company.
My Realizations: The Value of Company Culture
While attending a peer group conference where many business owners within my industry were sharing some of their best practices, a well-respected copier dealer spoke entirely on company culture. This was new to me, but I got the sense that it was extremely relevant.
The speaker emphasized that every business has some sort of company culture. The culture might not be defined, and even if it is, you might not like it. But every company has a culture, even if it's bad.
He then explained that when his organization finally designed the culture they wanted, they established a firm purpose with clear intentions in place. Once doing so, his company completely transformed. Before he took the time to alter the culture of his workplace, he was facing many issues, such as:
Trouble finding and attracting new staff members, as well as employee retention
Unnecessary and distracting office conflict that negatively impacted productivity
A lack of passion from his employees and department heads
The absence of communication between employees and departments
As I sat there and listened, it dawned on me that the issues he was facing were ones I was starting to see within my own business. This was a pretty eye-opening realization and solidified the feeling I was having that my business hit a plateau, and we just couldn't get over it.
This is the moment I began my research on company culture. I read article after article, blog posts, and even books on the subject matter—anything I could get my hands on. To my surprise, there was a plethora of information out there, all I had to do was seek it.
Changing My Mindset and Identifying Our Company Culture
Hands down, the hardest part of this entire journey was realizing that we had to pave the way into a new and at times, very unfamiliar path. The obvious path we needed to go down was to identify our culture, purpose, and mission.
Throughout my research and my exploration, I came across many quotes from thought-provoking business leaders that really hit home for me. I'd like to share some of these impactful quotes because they might be the force you need to get your company culture on the best path. Take a look at this one:
"In our early years, we didn't talk about culture much. We hadn't documented it all. We just built a business that we wanted to work in. And, that was great. But the real return on culture happened when we started getting more deliberate about it. By writing it down. By debating it. By taking it apart, polishing the pieces, and putting it back together. Iterating. Again. And again."
- Dharmesh Shah, Co-founder, Hubspot
Interesting enough, at that time, we just implemented the Hubspot platform, so this really spoke to me. This quote was dead on and exactly what I was feeling.
More of my research led me to quotes from Tony Hsieh, the CEO of Zappos. His ideas came to me with an even greater force because his company was headquartered where we were, Las Vegas.
For those of you who aren't familiar with Zappos, they are known and praised for their emphasis on corporate culture—and it shows just by taking a look at the success they continue to see year over year.
Here are a few quotes from Hsieh that really got the wheels turning in my head on how he sees company culture:
"Our number one priority is company culture. Our whole belief is that if you get the culture right, most of the other stuff like delivering great customer service or building a long-term enduring brand will just happen naturally on its own."
"Your personal core values define who you are, and a company's core values ultimately define the company's character and brand. For individuals, the character is destiny. For organizations, culture is destiny."
"What's the best way to build a brand for the long term? In a word: culture."
- Tony Hsieh, CEO of Zappos
Read the full transcript from this interview with Hsieh, here.
Turning Words Into Actions
Now, I was drinking the Kool-Aid and entirely on board with company culture. But, I wanted (and needed) more hands-on knowledge. I could sit at my desk and read articles all day on strengthening the culture at AIS, but those weren't the actions I needed to see the success I wanted.
So, I went and toured Zappos to hear more about what culture meant to them and how to better implement those beliefs into my business. I was also fortunate enough to have lunch with Hsieh and absorbed every single thing he said, like a sponge.
As a side note, it's ok if you don't take a tour of Zappos or any other culture-driven organization. The silver lining is that I did my research, and I wasn't going to stop until my company was on the culture path I knew we needed.
During this same time, AIS was looking for ways to enhance our customer experience, which also plays a tremendous role in company culture. So, the entire executive management team and I participated in Disney Institute Training.
Let's face it, what company is better at giving the ultimate customer experience than Disney? Low and behold at training, we learned, again, the importance of culture.
If you want to learn even more about the customer experience, read our article, Customer Experience: How to Achieve SMB Growth and Slay the Giants.
What's Next: Company Culture and Business Growth
As you can tell, the topic of company culture is dense. This article is only a small example of how my mindset began to change once I learned the importance of implementing strong values that my entire company stood behind.
So, what's next for you? What steps should you take to steer your business in the right direction? Take a hard look at where you're at now, your employee engagement, and your current resources.
The research and time dedicated to working on your company culture will pay off, and changing your mindset that "Culture isn't important," might take your business to a whole new level.

At AIS, we're dedicated and passionate about providing our readers with the knowledge they need to help their business grow. Company culture is an essential aspect in every business, no matter the industry or work you produce. To learn more about culture or any of the office technology products and services we sell, reach out to us, here. Also, check out our video channel on YouTube, The Copier Channel. We're here to give you peace of mind to help you win more business.