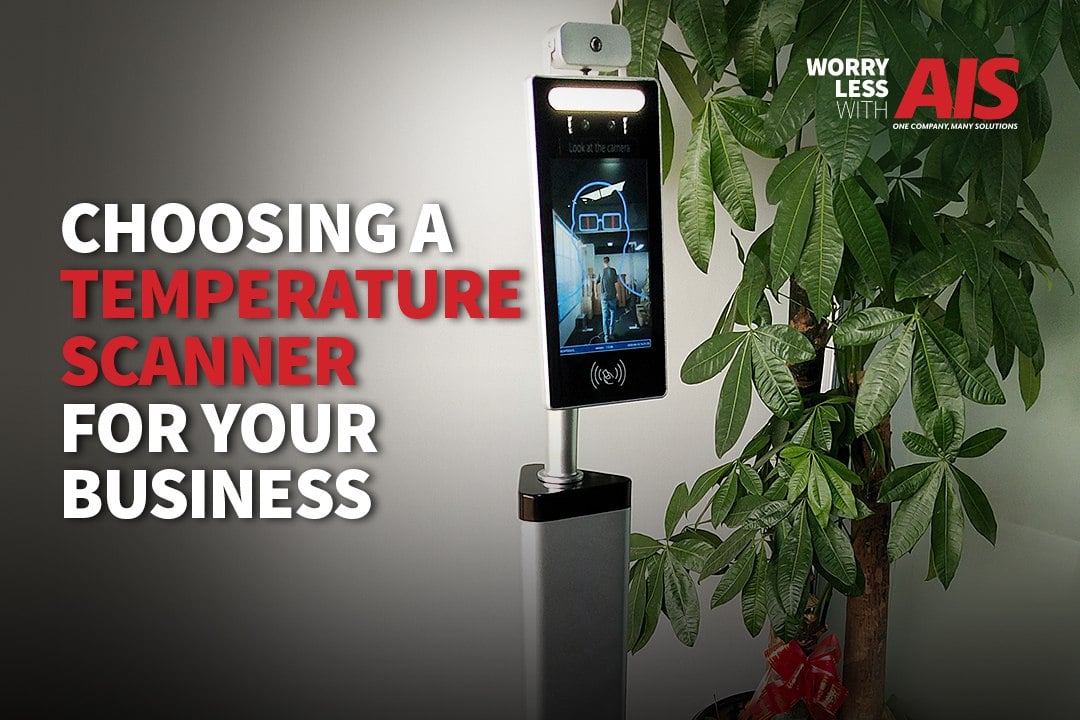 READ TIME: 5 MINS.
Many businesses of all types and sizes are taking cautious steps in the wake of COVID-19 to minimize the spreading of this deadly virus. One of these wary steps is making use of an automated and touchless temperature scanner kiosk as part of their employee and visitor screening process.
Many factors go into providing peace of mind to the people who interact within your business each day. As a company, you want your valued team members to know their health and safety is your number one priority. You also want your customers, prospects, and visitors to know you value their health as they step foot inside your business.
Although there is still so much uncertainty about the symptoms and treatment of COVID-19, having the ability to scan the temperatures of your employees and visitors is such an important and valuable initiative to take.
If a temperature scanning device for your small business (SMB) is something you've been seriously considering, follow along to learn how to choose the best one.
Choosing a Temperature Scanner Kiosk For Your Small to Medium Sized Business (SMB)
By definition, temperature scanners (also referred to as thermal scanners, thermal imaging cameras, or automated temperature screening systems) are devices designed to measure human temperature without the need for contact.
An automatic temperature scanning device uses thermal infrared sensing technology to detect the overall temperature distribution of a person's face from a distance.
As I mentioned earlier, the novel COVID-19 pandemic changes how visitors and employees enter businesses and organizations. Now that a fever (an increase in human body temperature) has been established as one of the most common symptoms of COVID-19, thermal scanning has gotten major attention as a handy tool to increase workplace safety.
How Does An Automated and Touchless Temperature Scanner Kiosk Work?
An automated temperature scanning system can detect people with a high or elevated fever. After identifying an individual with a fever in a simple and hand's free process, business leaders can then politely ask them to leave the facility and possibly visit a health center for further evaluation.
Identifying a symptom like a high fever significantly helps to eliminate (or at least minimize) the risk of contagion, which is something we all want.
This type of device does raise the question, "Which businesses is it advisable to use a temperature scanner kiosk?" This handy device is recommended in any organization, regardless of its type or size. Unfortunately, we are all susceptible to COVID-19, despite where we work.
There are many reasons why temperature scanning is essential for your business. Not only does this piece of technology give you and your employees some peace of mind knowing that your workplace is safe for everyone there. But, a temperature scanner also provides your esteemed customers and other visitors a sense of assurance and confidence when entering your business.
Choosing a Temperature Scanner: Factors to Consider
If you're an SMB owner and thinking about when and how you can safely reopen your business, buying the best temperature scanner is a critical first step.
The following are factors are what consider the best when choosing the best temperature scanner kiosk for your small business:
1. The Type of The Temperature Scanner
There are three types of temperature scanners designed to monitor the human body temperature:
High Traffic Density Scanners: These are temperature scanners intended for places where there is a massive influx of people. They can even analyze up to four people at a time through an automated process. They generate alarms in the event a feverish state is detected. This type of device is ideal for places such as casinos, amusement parks, schools, or sporting venues.


Medium Traffic Density Scanners: These temperature scanners are meant for places where the traffic is neither heavy nor low. Medium traffic density scanners require manual operation, though they may also have automatic fever detection. A medium traffic scanner could be used in places such as the DMV, retail anchor stores, or or franchised restaurants.


Low Traffic Density Scanners: Low traffic density scanners are perfect for those establishments with little traffic of people. They are a cost-effective option and can be either stationary or portable. This is the type of temperature scanner that most (if not all) small businesses and organizations should take advantage of.
Since most small businesses don't get heavy traffic as their larger counterparts do, a low traffic automated temperature screening system such as the Automated Temperature Screening System (AATSSV2) Pro is a great choice.
2. Ease of Use For All Users
To use the temperature scanner kiosk effectively, it's important to follow all manufacturer instructions to ensure the system is set up properly and located where it can measure surface skin temperature accurately.
Some systems require the use of a calibrated blackbody, a tool for checking the calibration of an infrared temperature sensor. Other systems, however, don't require this tool.
Regardless of the temperature scanner you choose, it's essential to review the manufacturer's or technology providers' instructions to establish whether the use of a "blackbody calibration source" is necessary.
New technology can sometimes be hard to figure out or intimidating to learn. You don't want a temperature scanner that is too complex to implement or use. You also don't want one that requires you to spend much time figuring out how it works.
When choosing a temperature scanner for your small business, make sure to learn how easy or difficult it is to set up, install, and monitor.
The AATSSV2 Pro automated and touchless device is easy-to-set-up. It doesn't require programming or networking knowledge to set up. This temperature scanner utilizes easy-to-use software with many configurable options.
For example, you can quickly configure the scanner with a small desktop or floor stand to sit atop any surface. It also features a small and compact design (about the size of a standard tablet), making it easy for you to place it just about anywhere.
3. Temperature Scanner Kiosk Accuracy
Scanning body temperature accurately is extremely important for public health and safety, especially during a pandemic like COVID-19.
When choosing a scanner, the administrator must check its margin of error. Some devices have a margin of error as low as ±0.1 °C. Alternatively, some may have a higher margin.
What you want is a temperature scanner capable of measuring human body temperature with high precision in real-time. The scanning device should also be capable of triggering an alarm if an individual with a fever is detected or isn't wearing a mask.
Featuring top-of-the-line temperature screening technology, the V2 Pro provides fast and efficient non-contact temperature screenings. Besides scanning temperature accurately, this automated temperature screening system also provides on/off alert signals and alarms with sound.
4. Temperature Scanning Results Speed
Besides accuracy, the speed at which a temperature scanning device works is also highly valuable. Infrared temperature scanners can be used to scan human body temperature from up to ten meters away from the target and provides results in less than three seconds.
You'll find the most value from a device that is highly accurate and provides results within the shortest waiting time possible.
Final Thoughts: Choosing The Best Temperature Scanner Kiosk For Your SMB
The crazy circumstances that our world is currently experiencing are a health emergency and one we weren't expecting. The lack of time to adequately plan for an event like this has left many of us searching for answers on the best ways to keep our businesses safe.
Investing in an easy-to-use, automated, and touchless temperature scanner that quickly gives accurate results is the best way to ensure workplace safety and peace of mind.
To learn more about a temperature scanner for your business, or any of the products and services we offer, reach out to us here. We're here to give you peace of mind to help you win more business.