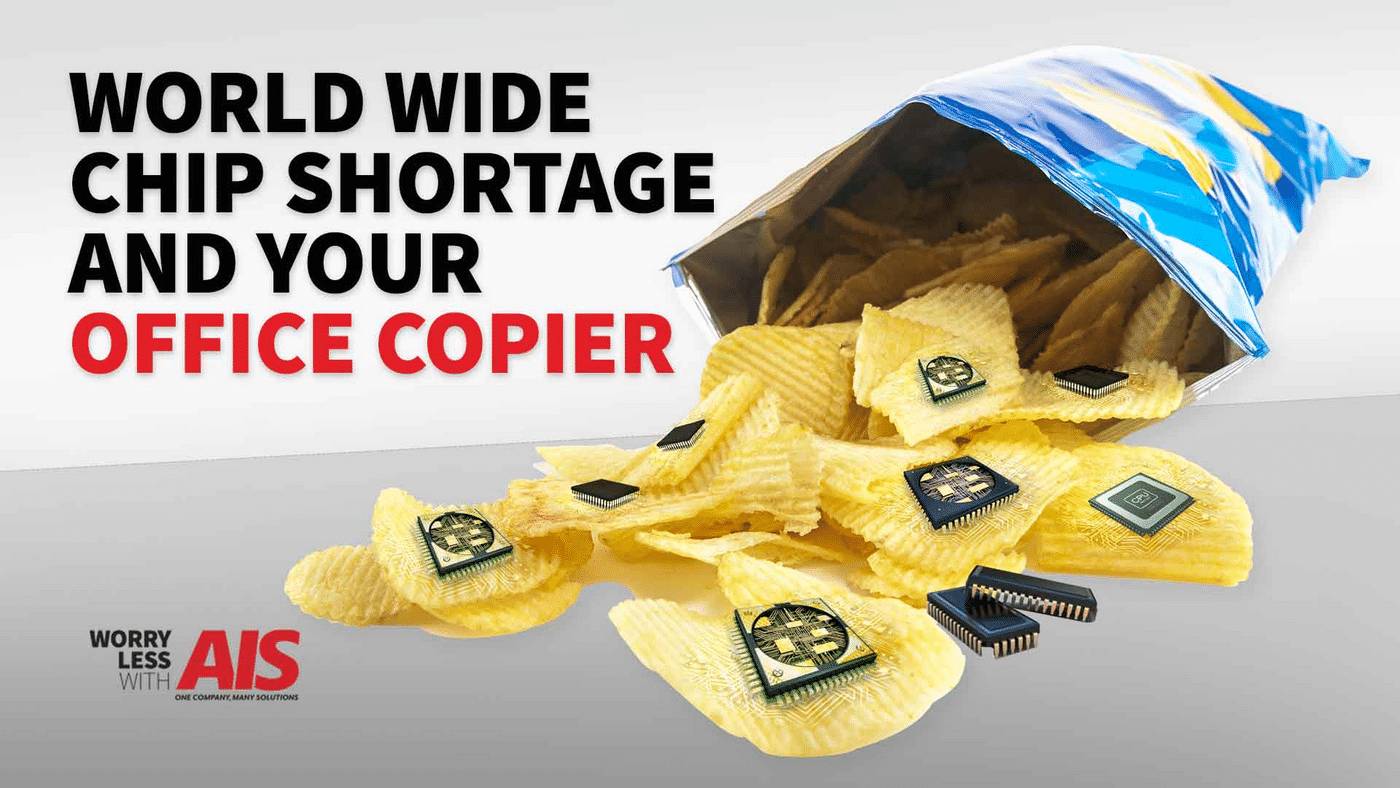 READ TIME: 5 MINS.
As if last year wasn't enough, there's now an ongoing supply chain shortage going on around the world right now—affecting nearly all of us in one way or another. The world is pretty much short on everything, from lumber to software chips.
This logistical crisis affects the delivery of products like toothbrushes, paint, home appliances, new cars, rental cars, lighting, and even solar power. If you are a consumer, then it's going to affect you one way or another.
Because the pandemic is still present, some of our biggest distributors worldwide continue shutting down their warehouses and plants to protect their workers. Even our ports are backed up!
The pandemic also brings the problem of labor shortages, making it hard for us to move products from country to country. It's a cycle that's happening over and over that presents new challenges quicker than we can respond.
But, what does it mean for you? How does it affect your business?
We all depend on our office technology products each day to help us with communication, productivity, and everything in between. With technology comes the hardware chips inside your devices that make the machines run. So, how does a worldwide chip shortage affect your office copiers? Here's what you need to know.
The Worldwide Chip Shortage And Your Office Copiers
You may have noticed that there's a bit of a backorder fiasco taking place when purchasing or leasing new copiers or printers for your organization. Unfortunately, every manufacturer and dealer is experiencing this, making it extremely challenging to receive new products promptly.
It may seem impossible to overcome, but there is some hope depending on the manufacturer and dealer you partner with! Although we are all in the same boat, there are ways to remain on the front side of this supply chain crisis.
Who Is Your Office Technology Partner—And Who Are Their Partners?
Even though there is not a clear "solution" to the current supply chain crisis, having a solid relationship with your vendors is undoubtedly a good thing during a time like this.
Independent office technology dealers (like AIS) have unique advantages in their versatility, freedom, and creativity in addressing urgent concerns. Manufacturers tend to have to wait until the entire process is flowing as normal before they can address individual clients' needs.
Related Video: 7 Things to Know About AIS | Worry Less With AIS.
The Value Of A Great Office Technology Partner
Here's a real-life scenario to help put this into perspective:
One of our current customers recently reached out to us with concern as their lease for their office copiers expires in six months. Since they cannot lease new equipment because of the chip shortage, they weren't sure of their options. Here's what we told them:
It's essential to stick with the same vendor–as we are working with our leasing partners to come up with a creative solution when your lease term ends. We can make sure the leasing company won't roll the lease, and you can keep your equipment temporarily until the new equipment is available.
If you want, we can put you on a month-to-month lease, keep your payments the same, and make arrangements with our leasing companies until further notice.
So, what happens if one of our new customers is experiencing this? Well, the good news for them is that we have a pretty robust inventory of used equipment that can hold them over until their new machines are available.
Another thing to consider is the vendors that your technology company is partnering with. There are tons of copier manufacturers worldwide, but how are they adapting to this current crisis?
By the way, it's essential to ask your copier dealer what they're doing to stay on top of things. One of the best things we're doing is assessing our previous orders and making predictions for future orders. Meaning, we are constantly analyzing our past orders on machines to place orders for new devices once they become available. We want our products to be in your offices as quickly as possible.
The Value Of A Great Manufacturer Partner
Here's another example for you:
Over the past (almost) 20 years, we've built a great relationship with one of the most prominent copier manufacturers in the world, Kyocera. During a time like this, we couldn't be more grateful for our strong partnership with them as they've been at the forefront of helping their customers (us) so that we can help our customers (you).
Related Article: Who is Kyocera? History, Recognition, Reliability.
Each week, Óscar Sánchez, the President of Kyocera, communicates messages to their dealers to keep everyone informed and on the same page.
Sánchez recently wrote, "[...] Managing this crisis is a cross-functional team of leaders from around the company, in partnership with key personnel at KDC (Kyocera Document Solutions), and our supply chain partners in Asia. This team is tasked with monitoring all aspects of our sales, ordering, and supply chain processes and includes senior leaders from Customer Administration, Logistics, Channel and Direct Sales, and Marketing […]."
Isn't it nice to see this kind of transparency? We sure think so. This is why it's so crucial that your office technology partner is also partnering with manufacturers at the top of their game in terms of customer relationships and product management company-wide.
What Can You Do Right Now?
Let's cut to the chase—what can you do right now? Unfortunately, there's not a whole lot you can do right now besides one significant thing… stay proactive.
If you don't already have a strong relationship with your copier dealer, now is the time to reach out and connect with them! Learn your options and ask them how they can support you during this time.
If your lease is expiring in the next six months, don't wait any longer to make plans because you will miss out on the products you need. Get your order in now so your office equipment dealer can plan for your needs and get you in their future delivery queue.
Most leasing companies can help you roll your agreement either monthly or yearly, as long as you don't miss the return deadline. A little planning right now can help your business in the coming months.
The Final Say: Chip Shortage And Your Office Copiers
Our world right now looks different than ever before—and when talking about your business operations, it might feel overwhelming at times. But keep in mind, your vendors should feel like a partnership you can depend on. Your business should feel just as important to them as it does to you.
So, make sure to reach out to your copier dealer and ask about your options and how they can best accommodate you now and in the future.
At AIS, we're not just a copier dealer. We're here to show you that your company's success means a lot to us and the products and services we provide to you. If you want to learn more about how we're helping our customers during the worldwide chip shortage crisis, reach out to us today. We're here to give you peace of mind to help you win more business.