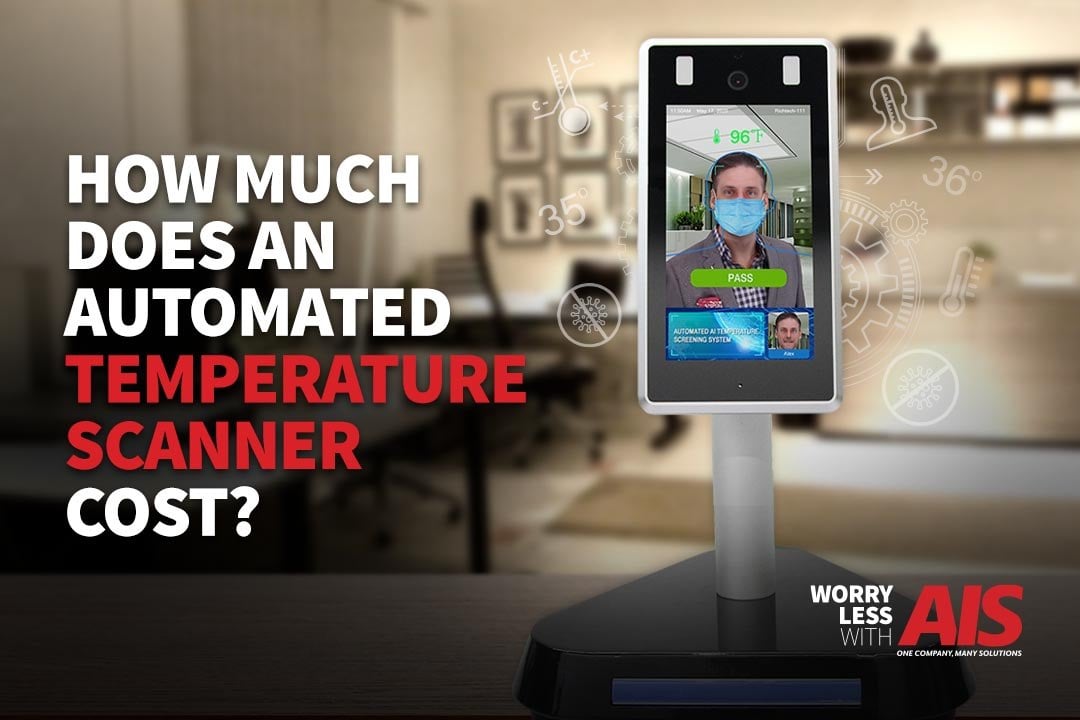 READ TIME: 7 MINS.
Times are a little crazy right now, and choosing an automated temperature scanner kiosk for your business has likely become more of a struggle than you previously bargained for.
There are numerous temperature scanning devices claiming to provide high-end advancements in technology—and it has a lot of us asking, "How much does an automated temperature scanner cost?" "And, which one is right for my business?"
Well, it depends. Like any other technology service or device, there's a lot of factors contributing to the overall cost.
Here are just a few.
How many entry points are at your business? What software and hardware functions are you most interested in? How many people visit your company each day? Do you need to integrate it with door or card access to your facility? Would you like to purchase it or lease it?
The most important purchasing decision you can make is doing research beforehand on the type of temperature scanner kiosk your business needs. By doing so, you'll have a better understanding of the pricing associated with the scanner that interests you the most.
Automated Temperature Scanner Kiosks: Cost and Features Explained
As you browse around online, you'll notice a variety of temperature scanners, all at different prices, sizes, and designs. You'll also see various features (such as hardware and software capabilities) these devices offer.
Technology for your business can become quite pricey, but settling on a device that isn't up to par may cause significant problems for your business or your guests. In the best effort to protect your employees, customers, and visitors, the quality of your automated temperature scanner kiosk is essential for their health and safety.
Did you know that some states are looking at adding employee protection requirements that may contain some form of early health detection? What are you going to do to protect your business?
How Much Do Temperature Scanner Kiosks Cost?
The average cost of an automated and contactless temperature scanner typically ranges from $2,500 to $3,500.00. This price range is for devices that are most suitable for devices used in small to medium-sized businesses.
Keep in mind; there are three different categories that we use when we group temperature scanner kiosks:
1. Handheld Forehead Digital Thermometer: This temperature scanner is the one you're most accustomed to seeing and is commonly used in doctor's offices or at home. This scanner is not contactless, though, as the administrator has to physically apply it to a person's forehead to take their temperature.

A digital forehead thermometer is not ideal for most businesses as it prevents the demand for proper social distance requirements. This lax method of temperature screening could put your employees at risk as they take a visitor's temperature. The cost of this device ranges anywhere from $30–$100.

Buyer beware! Most of the digital forehead scanners you see online probably say "contactless" or "touchless" in their name. However, this is not necessarily true! The administrator of the thermometer still has to come in close contact with you (about a foot away) in order to read your temperature.

2. Automated Contactless Temperature Scanner Kiosks: An automated and contactless temperature scanner can be used for small to medium-sized businesses, regardless of the line of work.

As we stated above, the price can range between $2,500–$3,500. Although the cost may seem slightly steep at first, you're truly getting what you're paying for when it comes to keeping your employees and visitors safe with a contactless way to check temperatures.

3. Specialty High-End Temperature Scanners: The most advanced tier of temperature scanners are even more developed than a standard automated and contactless device. A specialty scanner is for larger spaces with crowds of people, such as airports, resorts, and areas of mass gatherings. These scanners are packed with thermal and infrared technology and typically mounted at the heights of doorways and entrances into buildings.
A high-end specialty scanner can even scan more than one person at once and have rapid response times and accurate readings. These scanners require a team of technology experts to install and set up. The prices of a specialty scanner can be hundreds of thousands of dollars, especially if the location has more than one access point.
By the way, you can quickly look up the pricing of these temperature scanners online, and you'll come across the same numbers we've given.
But remember, there's something to be said about paying a little extra for a reliable and touchless screening device—especially one that comes with features you can't get anywhere else.
Don't forget to ask your local provider for leasing options. In some cases, you can drive the prices down to a monthly cost ranging from $90 - $120 for a 3-year lease depending on the configuration and a higher discount at a 5-year lease.
Not to mention, choosing a device from a local office technology company, like AIS, grants you extra support for any potential troubleshooting or technology integration needs.
In the instance your device malfunctions, a great local provider is only one call or office visit away from getting your system back up and running. Isn't it worth it to pay a little extra for experienced and knowledgeable local support on a device that is critical to your business's health and safety?
As we mentioned earlier, the range in price has much to do with specific features. So, what features should you be most interested in? Let us explain!
Key Differentiators: The Features You Need
Digital temperature scanner kiosk prices often rely on the features provided and vary based on the device's complexities.
Auto Detection: Wearing Of A Face Covering (mask)

One of the features that affect the pricing of a temperature scanner is an accurate reading of a person with or without a face covering. There are many popular scanners on the market that fail to mention this feature.
Your device must give you choices— such as the V2 Pro Automated Temperature Scanner. The scanner's administrator has the option to enable or disable the facial covering feature so that an accurate temperature can be taken, with or without a face mask.
If your business requires face masks to be worn at all times, there will be less fear of spreading a virus by allowing users to keep their facial covering during their temperature reading.
A Contactless and Touchless Process
Unlike hand-held scanners, automated temperature scanners allow you to have your employees' and visitors' temperature taken while they stand at a safe distance to limit contact with the device or other staff members.
A touchless device ensures you're adhering to social distancing guidelines while also giving you peace of mind. Imagine how comfortable your employees will feel, knowing they don't have to be the ones to take someone's temperature (who could potentially be sick) and rely on a contactless device instead.
The Number Of Temperature Check Points
Because many of these temperature screening devices are newer pieces of technology, many of us have a hard time trusting the accuracy. You want your employees and visitors safe, and you need a device that assesses as many checkpoints on a person's face as possible.
Some of the more common temperature scanners have about 25-50 different checkpoints that scan a person's face at once. However, why not find a device that can scan for more?
The V2 Pro Automatic scanner measures 200 individual facial points of temperature checks, allowing an even better and more precise reading.
You owe it to your staff and customers to have a temperature scanner kiosk that collects temperature data throughout their face, not just in a specific area. This is when researching in-depth comes in handy.
The temperature reading is performed in less than three seconds, perfect for points of entry during high traffic times.
Materials Matter: Metal vs. Plastic
This differentiator might not seem too important, but choosing a metal temperature scanner instead of one made from plastic is a much better purchasing decision, especially when talking long-term.
Over time, plastic tends to break or crack, causing issues in the screen, or even the hardware inside the scanner. Although you may have to spend a little more money upfront on a metal temperature scanner, it'll certainly save you money in the long run.
You want your temperature scanner kiosk to last and not have to worry about replacing it each time it breaks. Living through this current pandemic, there is no time for downtime.
It's critical to make sure your temperature scanner is up and running at all times. The physical components of the device are just as important as the features and capabilities inside.
Multiple Notifications And Alerts
An automated temperature scanner isn't any good without audible alarms and alerts that immediately notify you when visitors report increased temperature or when not wearing their mask. These alerts ensure your customers can also tell when they violate rules, causing minimal disturbance.
It's also great to look for a scanner that can be integrated with your network and provide desktop notifications. Desktop notifications help keep track of anyone entering your building and if their temperature was elevated, allowing you to better control the spread of a virus.
Another notification that is hugely beneficial for businesses that have access control of doors and entry access points throughout their building is an Access Control System (ACS). You'll know a great temperature scanner if it comes with the option to integrate your access control system.
An ACS notification helps ensure that whoever is entering your building has been checked for an elevated temperature. If their temperature is below the limit you've set in your device, they are safe to enter.
Other elements also play a role in your automated temperature scanner price, which we've listed below. You can also read about them here, Temperature Scanners For Your Business: Essential Hardware and Software.
Hardware Features:
Dual wide-angle cameras that make it possible to capture high-quality video displays
Infrared temperature sensors
Automated LCD screens
Power cables
Software Features:
Facial recognition software
Storage features with compliance guidelines
Datalog capture that is easy to export to other scanner applications
Integrated software processor
Admin login features for up to five users
Additional Options:
Kiosk and desk stands
Extended warranties
Extended support plans
Final Thoughts: The Cost Of An Automated Temperature Scanner Kiosk
The cost of automated temperature scanners can neither be too high nor too low when it comes to ensuring the safety of your staff, customers, and guests. To evaluate the best price for your business, make sure to look at the features that it provides.
If the features fall within your desired line of safety guidelines, consider the price to be an investment for your workforce and visitors' safety.
AIS is your trusted office technology company. We are dedicated to informing you about the best tools and practices so that your business continues on its path of growth and success. To learn more about automated temperature scanning devices or any of the products and services we offer, reach out to us today. We're here to give you peace of mind to help you win more business.