Can I Switch My Copier or Printer Provider?
December 10th, 2020 | 5 min. read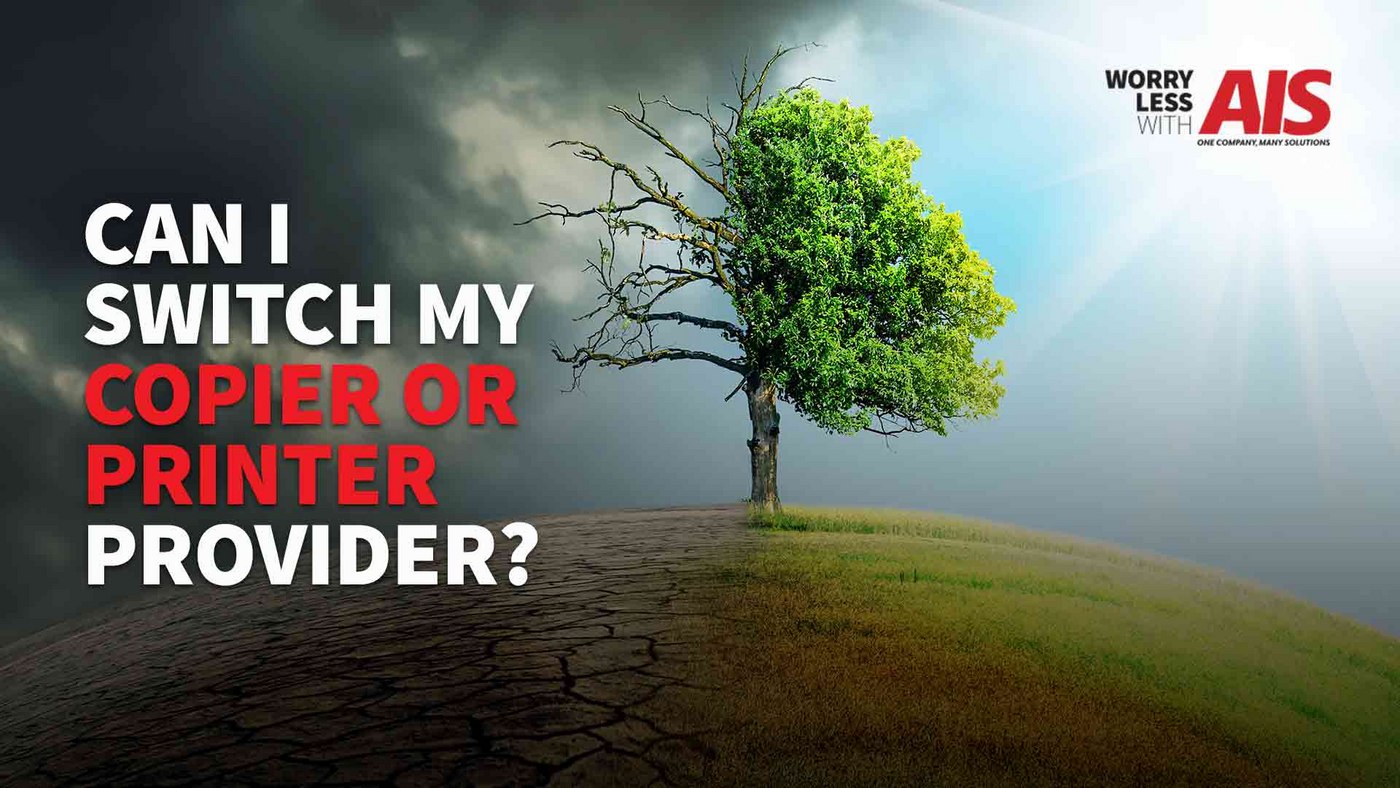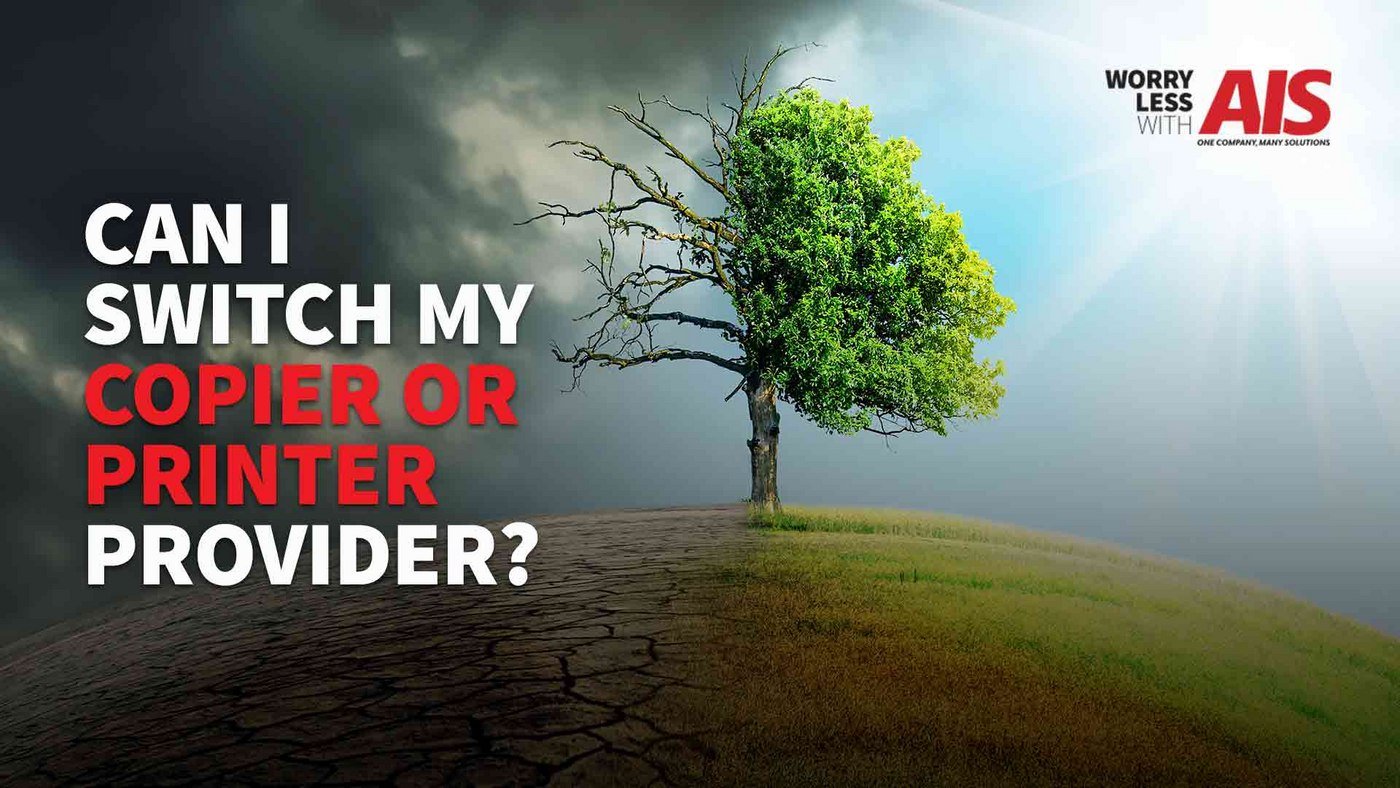 READ TIME: 4.5 MINS.
What is your current copier or printer provider lacking? Is it their support? What about the reliability of their devices? Maybe you feel like you're paying way too much.
Whatever the case may be, many of us find ourselves asking, "Can I switch my copier or printer provider?" Even if I am under contract? Although many moving parts go into a decision like this, it is possible to switch your office technology provider–and we're going to tell you how to do it.
Yes, even if you're in the middle of a contract, it might be possible to switch providers so that your needs are met and frustrations are forever eliminated.
Reasons To Consider Switching Your Copier Provider
Before we give you some tips on how to switch successfully, let's go over why you should consider doing so in the first place.
You're Not Getting Great Customer Service: Each month, you pay your copier company to provide you with the service and support your business requires. If your copier or multifunction printer (MFP) provider isn't the most reliable or hard to get in contact with, you should start exploring other options. How reputable is your current provider? Have they been in the industry for a long time? Well-known and prominent copier equipment companies put in the continued effort through things like repairs, troubleshooting, and budget-friendly solutions. You deserve to partner with a company who makes your day to day operations run more smoothly and efficiently.
You're Paying Too Much: Do you dread reading your copier invoice in fear that it'll be another expensive bill to pay? Make sure you're paying close attention to what you spend each month on your copying expenses. If you think you're being overcharged, you're probably right. There are better and more affordable providers out there that won't make such a dent in your budget. It's critical with any technology service that you're getting exactly what you're paying for. If your bill goes up throughout your lease, you could end up paying way more at the end of your lease than you agreed to at the beginning. Now is the time to search for a good copier leasing company that locks in a consistent price over the lease term.
Your Equipment Can't Keep Up: Do you feel like your copiers or printers need more TLC than average? Does it seem like they're always breaking down? Or, maybe your business has grown since you first signed with your current copier provider. Fiver years is a long time to hold onto a piece of technology, and it may be time to scale up or scale down. Your dealer might not have a variety of brands and models to offer your growing organization. You deserve to partner with a company that can provide you with efficient and reliable machines as well as features and add-ons that grow with you and your employees.
How To Switch Your Copier or Printer Provider
What happens if you want to leave your copier leasing company, but you're in the middle of your contract? It probably seems like you're stuck until the lease terms end. However, that might not always be the case.
If you are being overcharged, it's worth looking into the possibility of a buyout. A new copier company may be able to pay off your old lease and incorporate it into a new lease. This cost might be less than the inflated prices of your old company, and you'll be getting better service in the meantime.
It never hurts to speak with a new copier or printer company because they can help you understand your current contract and explain some of your options.
If your current lease is ending soon, now is an even better time to find a more qualified provider in your area. Learn more about this by reading our article, How To Find The Best Copier Companies Near Me.
Below are some things to keep in mind if you decide to switch office printer providers that will help with a more flawless integration from your old provider to your new one.
Return Your Current Devices: Before your new provider delivers your devices, make sure to return your current copiers to your old dealer. Contact the provider and ask them to schedule a time to pick up your machines. Make sure to receive a confirmation once they arrive back at their warehouse so you can avoid charges from equipment deemed lost or not returned. And if they want to charge you a fee, check with your new provider. They may just warehouse them for you at little or no charge.
Transfer and Remove All Data: Keep in mind that whatever data you've entered in your copier throughout your lease is stored in the device. For data security reasons, it's essential to transfer all files on the machine to a harddrive. Once doing so, make sure all your files are wiped out or destroyed before turning in your old copier.
Understand Your New Terms and Services: You switched copier providers for a reason, right? A new company means new terms and services they'll provide to your small business—and you must understand all that entails so you won't be hit with any surprises or miss out on the kind of support you need.
Learn How To Get Supplies: Every company offers supplies to their customers a little differently. But, it's up to you to learn how you should go about getting things like toner from your new copier provider. For example, some service contracts include replenishment of parts and items like toner. Some copiers even have a function that automatically alerts your service company when you are running low and automatically ship your replacements.
The Final Say: Switching Your Copier or Printer Provider
Whether you're ready to make the switch now or need a little more time, it's always a good idea to learn your options. If your current office technology needs aren't being met, and you think it's time to explore other providers, start researching local companies in your area.
You and your employees deserve support and services that suit your organization now and in the future.
At AIS, we continually look for ways to better service new and existing customers. If you want to learn more about switching your copier provider or any other products and services we offer, reach out to us today! We're here to give you peace of mind to help you win more business.
A true southerner from Atlanta, Georgia, Marissa has always had a strong passion for writing and storytelling. She moved out west in 2018 where she became an expert on all things business technology-related as the Content Producer at AIS. Coupled with her knowledge of SEO best practices, she's been integral in catapulting AIS to the digital forefront of the industry. In her free time, she enjoys sipping wine and hanging out with her rescue-dog, WIllow. Basically, she loves wine and dogs, but not whiny dogs.