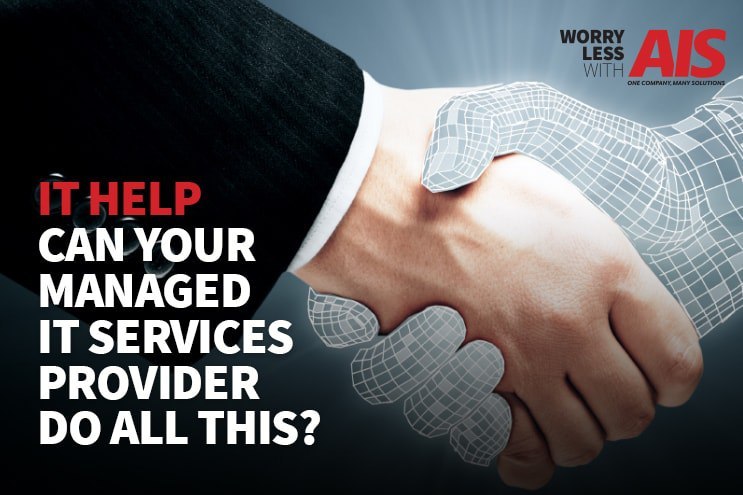 READ TIME: 4.5 MINS.
When it comes to the IT infrastructure of your business, what is your managed IT services team doing that supports your overall technology goals? Is your provider proactively managing your IT needs, or have they left your scrambling for IT help when a problem occurs?
How long has your managed IT partner been involved in your business plans and strategies? If it's over six months, you should have started seeing some significant improvements within your company. After all, the purpose and strategies of a managed IT team are to strengthen your technology infrastructure.
We hope that if you are already partnering with a managed IT services team, you have a clear idea of what these services are. However, if you don't, we'll briefly explain.
Managed IT services is a way to outsource the day-to-day management of your information technology needs. The specifics vary on the services provided by managed IT services providers. Some of these technology services include:
Remote and onsite technical support of desktop software, printing, and networking
Remote monitoring and management of software patches
Backup of network and files
Disaster recovery
Vendor management
Virtual Chief Information Officer (vCIO)
Malware protection
Cloud security management
Cloud computing
Helpdesk or data center support
If you're reading through the list above, and unsure if your current managed IT team can provide those services, you've come to the right place! You might just need IT help. We're going over some of the most common and significant services that your managed IT team should be providing your business and employees.
"A Managed IT Services Team Can Do That?"
One of the great things about managed IT service offerings is how versatile these services are for just about every company out there. Managed IT services are designed for individualized business models and plans, regardless of company size, industry type, or the location of your offices.
It's essential to learn and understand the qualities your managed IT team should possess so that you're getting the ultimate customer experience that you deserve.
It might be helpful to take a minute a read an article we published on the advantages of managed IT services, Top 5 Benefits of Managed IT Services.
Experience and Credibility
You might notice the excitement of many managed IT services providers to face new challenges when it comes to your business goals. However, it's better for your business if you choose a company that has years of experience in the IT industry.
Experience in the IT industry (or other similar industries) ensures your managed IT service provider can foresee potential problems. Experience is also fundamental when anticipating your operational needs.
A great resource to use when assessing the experience of a company is by referencing their 'customer testimonial' page on their website. Scroll around and read what previous and current customers have to say about that managed IT services provider.
Credibility runs hand-in-hand with the experience of a managed IT service provider. All companies in all industries can claim how experienced their service technicians are and how excellent their customer service is. However, if they don't have anything to back up these claims, how will you be able to evaluate them accurately?
Any external team you've hired to help manage your business or processes should be able to show how credible they are before you decide to hire them.
If an outsourcing company doesn't seem to have it all together or give you the answers you're looking for, they probably aren't the best managed IT service provider for you.
Reliability Through Services
Another important feature that determines if you've partnered with the best managed IT service provider for your business is by assessing their reliability through their services.
The level of service and responsiveness you receive from your Managed IT Services provider is fundamental if something were ever to "go down" or "crash" in the middle of the night. Does the company offer remote monitoring?
Reliability has a lot to do with the amount of downtime your company faces if your server or other essential IT systems fail after regular business hours. A reliable managed IT services provider receives alerts and notifications the second your IT machines go down. These alerts allow them to fix the problem before you even know about it.
The best way to get ahead of your IT problems is by staying proactive, as opposed to frantically reacting when a disaster or data breach occurs. Read our article to learn more, Proactive Network Monitoring Helps With Data Security.
Ability to Innovate
If your managed IT services provider is offering the latest services by adopting new technology early on; it will ultimately give your business an edge over its competition.
Your business needs a managed IT services provider that stays on top of the latest software and hardware innovations. Having access to advanced options in IT ensures your company remains contemporary, functional, and relevant.
It's certainly worth a shot to see what new features your IT services team can do for your growing business. It's important to remember that you want to grow with technology, not grow out of it, or you'll continually need IT help to keep your head above water.
Technology Planning and Roadmapping
An excellent managed IT services company should be offering you thought-leadership skills and 'best practices' recommendations for the future of your business.
Your IT provider is there to help you formulate and execute long-term IT plans and strategies, that pertain to your business, employee, and customer needs. This way, you can focus on running your business and completing those everyday tasks that have to get done.
Just like any other department at your company, you have instilled long-term plans and expectations for each department to grow. Your IT department should be no different.
To learn more on IT road mapping, read an article published by CIO, Why You Need a Strategic IT Roadmap.
Remember, whenever you decide to outsource any needs of your company, you're not just paying for a service. A successful outsourcing effort is based on a strong partnership between you and that particular services team. The more you collaborate and share ideas, the greater the success your business will see.
For even more resources on managed IT services for your business, visit our Managed IT Services Ultimate Resource Page.
At AIS, we are dedicated to providing you with the latest tools and resources that support business technology growth within your company. The more educated and informed you are with IT solutions, the easier it'll be to achieve your short term and long term business goals. To learn even more about managed IT services, or any of the products and services we offer, reach out to one of our business technology consultants, here. Also, check out our video channel on YouTube, The Copier Channel. We're here to give you peace of mind to help you win more business.