Why Does My Small Business (SMB) Need Managed IT Services?
September 17th, 2020 | 5 min. read
By Dave Clark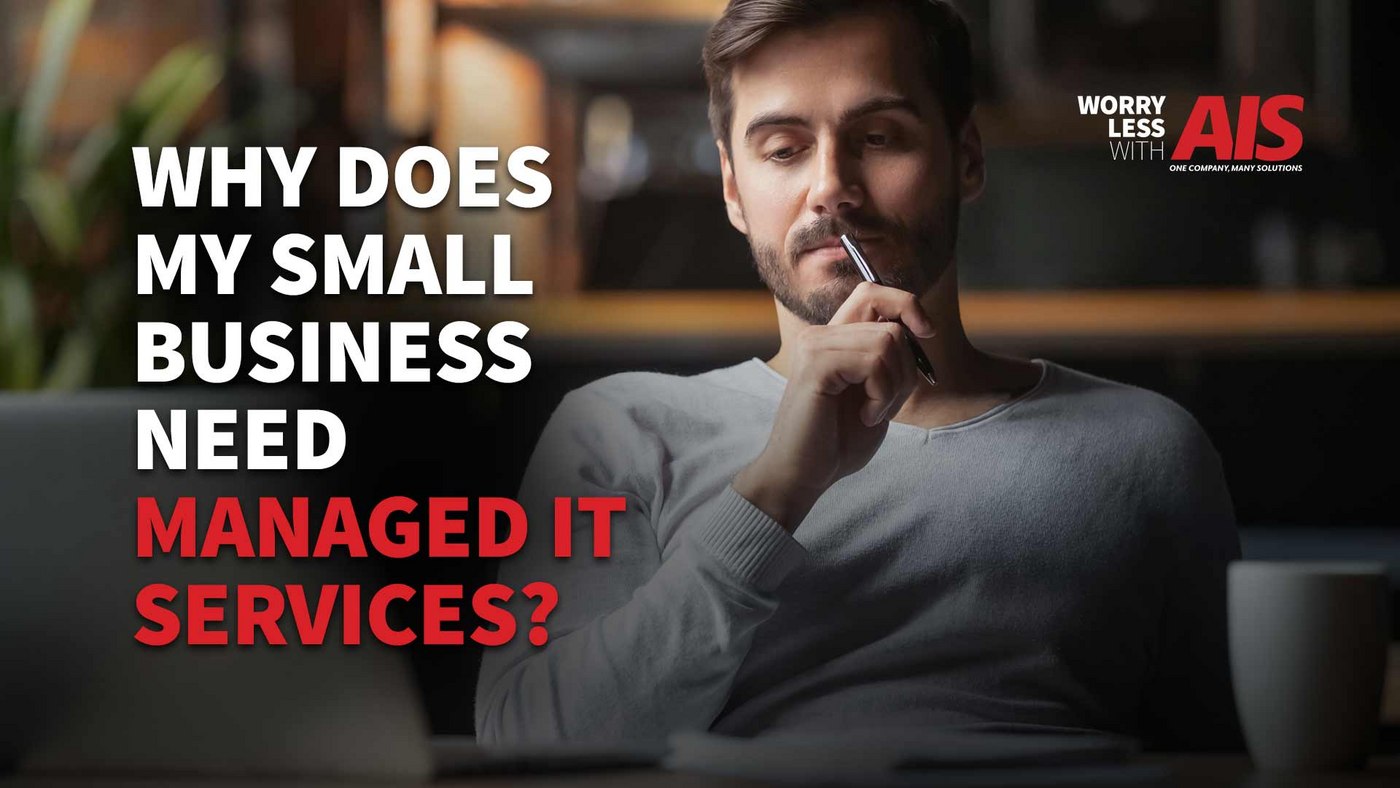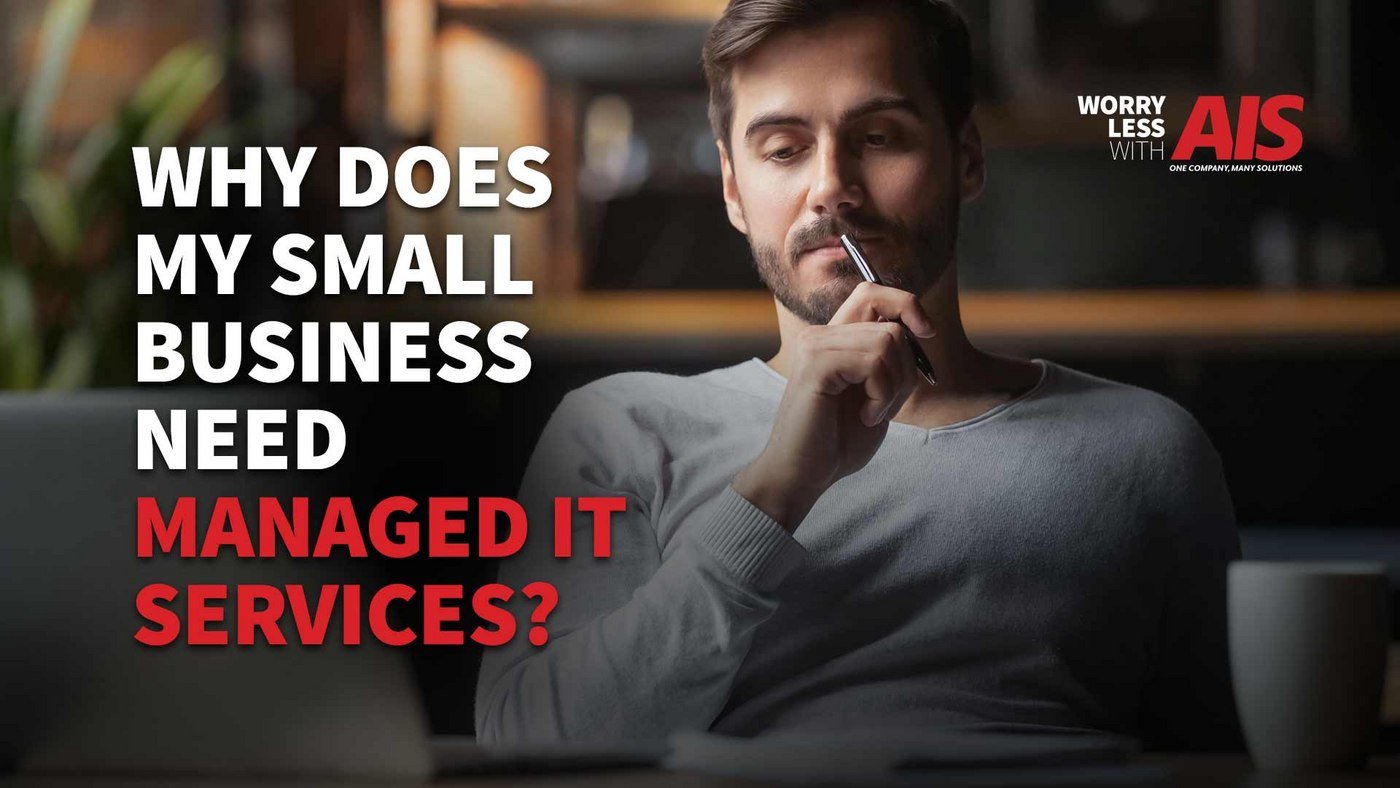 READ TIME: 5 MINS.
As a small business owner, you know that so many of your business processes rely on technology. If you have problems with computer hardware or software, internet connections, or internal databases, everything grinds to a halt.
While you may have considered hiring internal IT employees to help you with tech issues, there are many benefits to why your small business (SMB) needs managed IT services.
We've got a few points we think you'd benefit from considering when it comes to your IT support services, especially if some of your employees are now working remotely.
Managed IT services is a comprehensive way to outsource the day-to-day management of your business' information technology needs. Not only do managed IT services free up your schedule so you can focus your time on your important work tasks, but it also supports business growth and development.
A managed service provider (MSP) can supplement your in-house IT department or even become your IT department, depending on your specific business goals.
What Are Managed IT Services?
While many are familiar with an IT department's role within a company, many are unfamiliar with what an external IT services team can do for their business.
An internal IT department is often made up of one or more staff members who know network administration, hardware and software installation, and troubleshooting technical issues. In some small businesses, it could mean you, the business owner.
Managed IT services, on the other hand, can offer your business all this and more. A managed service provider (MSP) comprises many IT professionals, much larger than a typical small business's IT department.
A managed IT team typically has a wide range of knowledge and expertise. But instead of working on-site at your business, they work remotely. This means that your MSP is just a phone call or email away, any time you may need them, even during off-hours.
At its core, a managed IT service is a way of outsourcing your IT needs to a third party.
Managed IT Services Offering For Your Small Business and Employees
A managed IT services provider can offer the technology services you need at a predictable monthly fee. This allows your business to be more proactive, instead of waiting for something to go wrong and hiring someone to fix it.
Related: Cost Savings: IT Services Break/Fix Model Alternative.
Because you're paying a low monthly cost, your small business can easily budget for the services you need and make it easy to forecast your IT spending for the coming month, quarter, or year.
So what's in it for your employees? Managed IT services help employees stay connected and on top of all the latest technology without breaking your budget. This means you can focus less on technical issues and more on building your business.
What Are The Benefits of Managed IT Services For Small Business Employees?
Range of Knowledge: One of the most significant benefits of hiring an MSP to provide managed IT services for your small business is their knowledge range. Hiring an IT department means you have a handful of professionals at your disposal, but they may only specialize in a few areas.

An MSP is an in-depth resource of professionals who have decades of experience combined. A great MSP has a team of experts with various backgrounds and specializations, which means that any problems you have will be solved quickly.
Variety Of Service: Most MSPs also offer various service tiers, which is great if you're planning to grow your business. An MSP makes it easy to scale services as your business gets larger. As a small business, you may only need essential services, but it's good to know that you can expand with your MSP.

It's much harder to scale an IT team because you have to go through vetting candidates, making sure to hire the right one. Managed IT services mean you always have the best of the best at your fingertips when you need it the most.
Proactive Maintenance and Monitoring: An MSP can help prevent problems before they happen. When you have a team at your disposal, they can help make sure all your hardware and software are up to date and can notice security issues before they become a problem.

With an internal IT team, you may have trouble keeping them busy some weeks, and other weeks, they may be overworked. Managed IT services are cost-effective because you don't have to pay to have full-time employees on your staff.
How To Find The Right Managed IT Services Provider
When looking for a managed IT services provider, there are a few things you should keep an eye out for.
First, look for a company with a lot of experience under their belt. This way, you know you're getting a team of experts knowledgeable in the ins and outs of small business IT.

It can be incredibly helpful if they have specific knowledge of your industry because they will have a solid background in the services you need— and can even recommend ways to make your technology more efficient.
It's also essential to work with a company that fits into your budget and can potentially scale up with you as you grow. Find out what service tiers they offer and how much they cost per month.

Working with an MSP will likely be an ongoing, long-term partnership, so you should seek a transparent and trustworthy company that can become a valued partner to your small business.
It's also critical to find an MSP who is responsive whenever you need them and can quickly and effectively resolve your problems.
An MSP who doesn't answer your calls or emails, or needs to be consulted multiple times about an issue can end up causing more problems (or downtime) in the long run.
The Final Say: Why Your Small Business (SMB) Needs Managed IT Services
We really just scratched the surface when it comes to the benefits of outsourcing your IT needs.

Managed IT services can help your business out in more ways than one, as well as taking the stress from you when it comes to ensuring your business is growing and advancing in the best ways possible. A managed IT services team is not just a provider; they are your business partner.
AIS is proud to offer a wide variety of managed IT services to help you achieve your business goals. We understand the needs of small businesses and strive to provide services that go above and beyond what's expected of managed IT services. Contact us today to learn what sets us apart from other managed IT service providers and how we can help take your organization to the next level. We're here to give you peace of mind to help you win more business.
Dave Clark is our VP of Strategic Sales, based out of our headquarters in Las Vegas, NV. He's had an illustrious 28-year career in business technology and continues to expand his knowledge on new and emerging office technology solutions. Dave is also the face of many of our videos we shoot and produce for our YouTube channel, The Copier Channel. Outside of work, you can find him hanging out with his two daughters and best friend Jak, his Jack Russell Terrier.