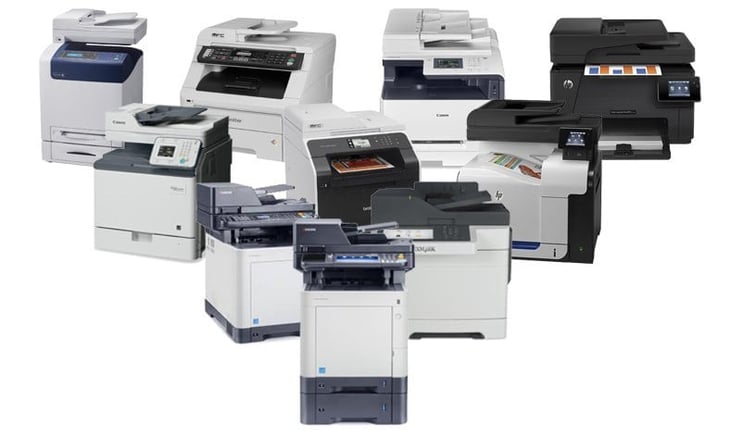 When you own a small business, it's important that you make the right buying decisions, especially when it comes to office technology. Typically, a copier is an investment that you want to perform different functions in your business like copying, printing, scanning, and faxing and anything else to help you manage documents or workflow.
You also want to make sure that you purchase a device that can grow with your business (match your volume needs), one that is affordable at the initial purchase, and doesn't bankrupt your business when purchasing toner or maintaining it.
We have reviewed 10 of the top color copiers for small businesses so you can see which one may be best suited for your needs.
Small Business Copiers
The following is a list of color copiers we rated to develop our top 10 list.
Brother MFC-L8850CDW
Brother MFC9325CW
Canon imageCLASS MF624Cw
Canon imageCLASS MF810CDN
HP LaserJet Pro 500 color MFP M570dn
HP Color LaserJet Pro MFP M177fw
Lexmark CX517de Color All-In-One
Kyocera ECOSYS M6035cidn
Kyocera ECOSYS 6530cdn
Xerox WorkCentre 6505/DN
How We Rated our Copiers
The following is a list of features we used to determine the best copier and how each of these affected our scoring. We scored them 1 – 10 with 10 being the greatest value and 1 being the lowest. We graded the top 10 color copiers for small businesses in the following categories:
Price: All the printers in this review had a cost ranging from $350 to $1,300. Many of these printers had a range of costs because each supplier has priced them differently. All pricing reviewed was for new devices. We did not include "refurbished" unit pricing for any of these copiers.
Costs:
There are many costs associated with color copiers, some short-term and some long term. Outside of the initial purchase price, there are costs for supplies, replacement parts, maintenance contracts, and drum replacement. All of these cost areas should be considered for how they relate to the lifetime value of the copier according to your business needs. Each copier that we reviewed had varying costs and volume limits for toner, monthly duty cycles (maximum monthly print/copy volumes), and replacement limits for drums. Even toner volumes differed for individual copiers and toner color. For example, some manufacturers store more black toner in their cartridges to increase the length of time between replacing black toner. This is due to more black toner being used when printing both black and white and color. One last item that we calculated was the cost per page to compare each of the printers for the costs associated with similar volume requirements. Toner is an important cost and every business should make sure that they aren't cutting any costs by using something other than original or genuine toner, cartridges, and parts. There are a number of companies online selling "compatible" toner cartridges or parts, but these will inevitably leave you with added costs, could void your warranty, or even cause you to replace your copier altogether. Don't forget to watch out for the "Toner Pirates!"
Quality:
We reviewed all of our copiers in two different areas in quality, the quality of printing and scanning. Each copier specifies the resolution that it can print and scan. The majority of the copiers we tested had a minimum print resolution of 600 x 600 and the same average scan quality. Some of the printers used software (interpolation) and although the physical scan quality was 600 x 600 they are able to simulate double the resolution when imaging scans.
Fax Capability:
Although small businesses are sending more email than any other form of communication, we found that all but two of these copiers included the ability to send and receive faxes.
Features:
This was an easy way to review, compare, and grade copiers. Each copier's manufacturer posts the number of prints their device can print over time. This is represented using "ppm" or pages per minute. In addition, they are able to specify the number of pages their copier can scan per minute. This rating is characterized using "ipm" or images per minute. Another feature that differed between color copiers was the amount of paper capacity. This differed from copier to copier. This was not highly weighted in our review since it's not an area of concern for most small businesses.
Warranty:
All machines that we reviewed had a 1 year warranty on their equipment. And a few of them even had a longer warranty on their drum, but this was not a big differentiatior.
Memory:
The amount of memory in color copiers is an important feature since this can affect the time it takes before an image prints the first time, the number of pages it can scan and store before it's full, or the time it takes to print a single image or multiple images. Of the color copiers we reviewed, we found that the amount of memory directly correlates to the print and scan times. They ranged from a minimum capacity of 138 Mb in memory to 1Gb of memory, and four of the top performing machines had options to upgrade their memory to a larger storage capacity.
Additional Options Considered:
In today's small business, a color copier needs to communicate with your business. It's important for the devices to be networked so that your staff can print or scan, send, and distribute files to a directory, email address, to their inbox, or to other employees. All of the color copiers that we reviewed had 10 -100 Base-T Ethernet network ports and the majority offered Gigabit (1000 Base-T) Ethernet connections. Just a few offered wireless networking capabilities, and all of the color copiers offered some form of printing from mobile devices.
How they ranked: The Top Ten Color Copiers for Small Business
The following is the results from reviewing color copiers.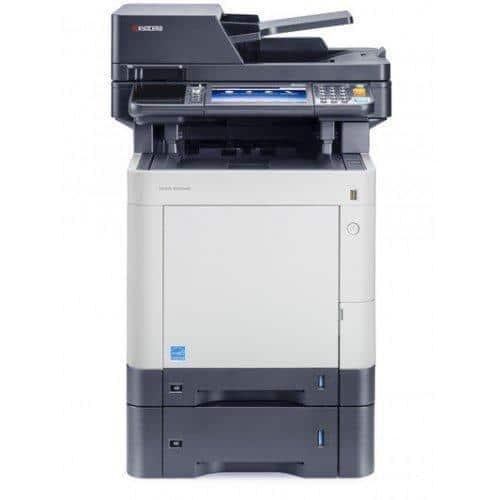 1. Kyocera ECOSYS M6035cidn $$$ / print – 37 ppm / scan – 60 ipm. It has a larger paper capacity and a duty cycle of 100,000 pages per month. This machine is a workhorse. Kyocera's method of toner replacement can reduce your overall costs for the lifetime of your copier, since you are only replacing a bottle of toner, not a cartridge, unlike the majority of the rest of the field. (owners only purchase bottles of toner), this printer's overall costs, for the lifetime of the machine were lower than the rest of the field. And you can throw their toner bottles right into your company recycle bin. Kyocera not only warranties the device for one year like the other manufacturers but provides a warranty on their ceramic drum for 200,000 pages or 3 years. The only drawback of this device that we could find is that it does not have faxing capabilities.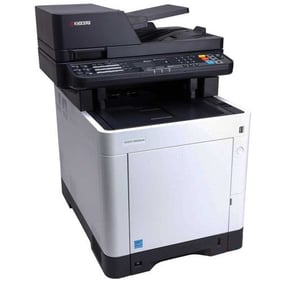 2. Kyocera ECOSYS 6530cdn $$$$ / print – 30 ppm / scan – 40 ipm. Another strong showing by Kyocera's product line. This color copier includes fax, the same 100,000 duty cycle, and low lifetime costs as the other model we reviewed. Its speed and paper capacity was slightly lower than its predecessor. Kyocera also markets the benefit of all of their products in meeting very high standards in developing environmentally safe products that include lower energy needs, noise levels, and long life components and consumables. This copier also had the highest price of all of its competitors but also had the most options in integrated software (i.e. workflow, document management, cost control & security, etc.)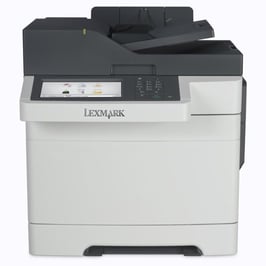 3. Lexmark CX517de Color All-In One $$ / print – 32 ppm / scan – 32 ipm. This color copier had the lowest purchase price in the top 5 of our list. It had the highest resolution (1200 x 1200 dpi) for printing and scanning and the highest option for expandable memory at 3GB. Lexmark offers a toner cartridge replacement recycle program, so they do the recycling for you. Its lifetime duty cycle was 85,000 pages per month. This copier has options to expand its paper capacity to 1,450 pages. All in all, this was a very good printer especially when comparing print quality, although it's slightly higher on lifetime costs with a lower recommended monthly copy volume.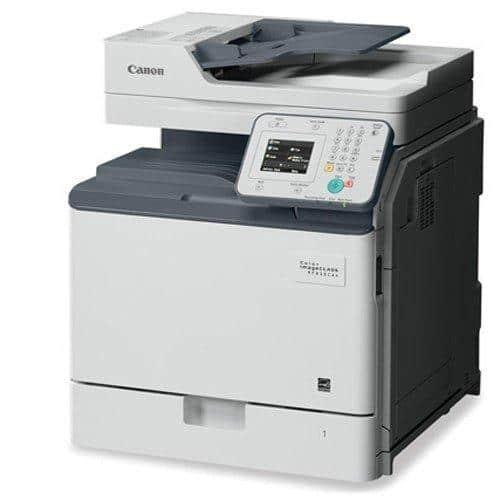 4. Canon imageCLASS MF810CDN $$$ / print – 26 ppm / scan – 26 ipm. Canon is a long time leading brand in the color copier field. This copier was an all-around solid product. It has a duty cycle of 67,000 pages per month (maximum) but has recommended volumes of 1,000 to 5,000 copies per month. It has all of the features the other printers in its class have including Gigabit Ethernet, mobile printing, and faxing. It also comes standard with a paper capacity of 650 sheets of paper and the only other copier manufacturer to use toner bottles, eliminating toner cartridges. Like Kyocera, Canon offers great color quality and a host of document management and security options.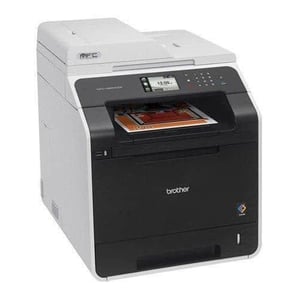 5. Brother MFC-L8850CDW $$ / print – 32 ppm / scan – 32 ipm. Brother makes some low priced color copiers with fairly good performance. This model has a great print resolution in one direction (2400 x 600), offers regular and high yield toner options (up to 6,000 pages), and a duty cycle of 25,000 copies per month maximum. Brother recommends 4,000 copies per month for this model. One of its shortcomings is it only comes with 256 MB of memory, but its purchase price is very attractive.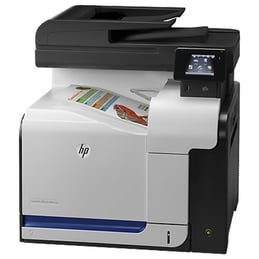 6. HP LaserJet Pro 500 color MFP M570dn $$$ / print – 31 ppm / scan – 29 ipm. Although this printer has a higher price tag for where it resides on our list with comparable copiers, this color copier is sufficient in speed and equal to the rest of the field with other features like networking, mobile printing, etc. However, it was lower in scanning and copy print resolution (300 x 300 dpi) than any of the others in the field.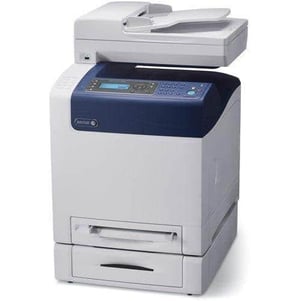 7. Xerox WorkCentre 6505/DN $$ / print – 23 ppm / scan – not available. This copier is at the lower end for a reason. The speed is below average; it does not even mention the speed that it can scan or copy. This may be because it comes standard with 256 MB of memory. The duty cycle is a maximum of 40,000 copies per month but continues to have regular features like the other models like Ethernet (10 – 100 Base-T), mobile printing, and faxing capabilities.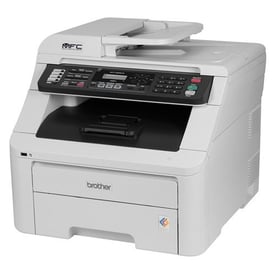 8. Brother MFC9325CW $$$ / print – 19 ppm / scan – 19 ipm. This is the second Brother model we reviewed and although it has a higher purchase price than the other model, this one suffers in cost, speed, and quality. It comes with all of the standard features like networking (both wired and wireless), mobile printing, and fax. Brother markets it as the fastest "all-in-one" printer, but as a copier, it just didn't keep up with the rest of the group.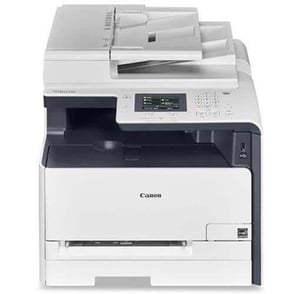 9. Canon imageCLASS MF624Cw $ / print – 14 ppm / scan – 10 ipm. This second model of Canon's color copiers is an example that you're getting exactly what you pay for. It's low on price and has much of the same features as the rest of the copiers we reviewed, but it's missing a fax and it's slow at printing, copying, and scanning. Don't let the price fool you. Even though it's very affordable, you may end up paying more for the supplies. And make sure you understand that this model has a maximum duty cycle of 30,000 copies per month.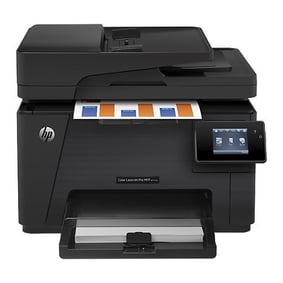 10. HP Color LaserJet Pro MFP M177fw $ / print – 4 ppm / scan – 5.5 ipm. Last and least, this color copier is slow like a turtle. That's probably because it only has 138 MB of memory. The maximum duty cycle for this device is 20,000 copies maximum and HP doesn't publish a recommended monthly volume. By estimating from the other copiers that we reviewed, this copier would have a recommended volume of about 400 – 1,800 copies per month. Not a lot to work with here. The copier does come with all of the same features as the other copiers, but it was short on speed.
Cost Legend:
$ = less than $500
$$ = $500 - $750
$$$ = $750 - $1,000
$$$$ = greater than $1,000
Note: Purchase price only. Does not include lifetime costs (toner, maintenance, replacement parts, etc.)
The Final Word on the Top 10 Color Copiers for Small Business
When considering the right copier for your business, make sure you take into account all of the characteristics we provided above and compare all the different models. At first glance, you may think that the purchase price and a few features are the most important areas for consideration, but this is only scratching the surface. Speed, quality, operating costs, supplies, capacity, and expandability should be considered in your decision making process.
At AIS, we decided to weigh all of the different options before making a recommendation on the top color copiers. It is our goal to help small business owners in their buying decisions and become more educated buyers. If you are interested in learning more on which copier is best suited for your business, please contact us using the phone number at the top of our homepage, the convenient chat feature, or by sending us an email at info@ais-now.com.
For more information in choosing a copier or some interesting information about copiers, please review the links below:
7 Signs You Need to Hire a Copier Repair Service Company
Tips to Keep Your Copier in Good Working Order