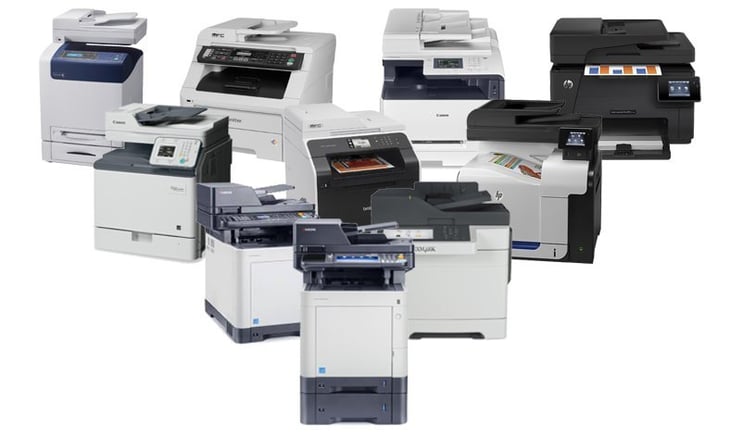 When you own a small business, it's important that you make the right buying decisions, especially when it comes to office technology. Typically, a copier is an investment that you want to perform different functions in your business like copying, printing, scanning, and faxing and anything else to help you manage documents or workflow.
You also want to make sure that you purchase a device that can grow with your business (match your volume needs), one that is affordable at the initial purchase, and doesn't bankrupt your business when purchasing toner or maintaining it.
We have reviewed 10 of the top color copiers for small businesses so you can see which one may be best suited for your needs.
Small Business Copiers
The following is a list of color copiers we rated to develop our top 10 list.
Kyocera ECOSYS M6235cidn
Kyocera ECOSYS M6630cidn
Lexmark CX517de Color All-In-One
Xerox WorkCentre 6515DNI
Xerox VersaLink C405
LexMark MC2535adwe
Canon imageRUNNER 1433iF
Brother MFC-L8850cdw
HP LaserJet Pro 500 Color MFP M570dn
LexMark MC2425adw
How We Rated our Copiers
The following is a list of features we used to determine the best copier and how each of these affected our scoring. We scored them 1 – 10 with 10 being the greatest value and 1 being the lowest. We graded the top 10 color copiers for small businesses in the following categories:
Price:
All the printers in this review had a cost ranging from $350 to $1,300. Many of these printers had a range of costs because each supplier has priced them differently. All pricing reviewed was for new devices. We did not include "refurbished" unit pricing for any of these copiers.
Costs:
There are many costs associated with color copiers, some short-term and some long term. Outside of the initial purchase price, there are costs for supplies, replacement parts, maintenance contracts, and drum replacement.
All of these cost areas should be considered for how they relate to the lifetime value of the copier according to your business needs. Each copier that we reviewed had varying costs and volume limits for toner, monthly duty cycles (maximum monthly print/copy volumes), and replacement limits for drums.
Even toner volumes differed for individual copiers and toner color. For example, some manufacturers store more black toner in their cartridges to increase the length of time between replacing black toner. This is due to more black toner being used when printing both black and white and color.
One last item that we calculated was the cost per page to compare each of the printers for the costs associated with similar volume requirements. Toner is an important cost and every business should make sure that they aren't cutting any costs by using something other than original or genuine toner, cartridges, and parts.
There are a number of companies online selling "compatible" toner cartridges or parts, but these will inevitably leave you with added costs, could void your warranty, or even cause you to replace your copier altogether. Don't forget to watch out for the "Toner Pirates!"
Quality:
We reviewed all of our copiers in two different areas in quality, the quality of printing and scanning. Each copier specifies the resolution that it can print and scan. The majority of the copiers we tested had a minimum print resolution of 600 x 600 and the same average scan quality.
Some of the printers used software (interpolation) and although the physical scan quality was 600 x 600 they are able to simulate double the resolution when imaging scans.
Fax Capability:
Although small businesses are sending more email than any other form of communication, we found that all but two of these copiers included the ability to send and receive faxes.
Features:
This was an easy way to review, compare, and grade copiers. Each copier's manufacturer posts the number of prints their device can print over time. This is represented using "ppm" or pages per minute. In addition, they are able to specify the number of pages their copier can scan per minute.
This rating is characterized using "ipm" or images per minute. Another feature that differed between color copiers was the amount of paper capacity. This differed from copier to copier. This was not highly weighted in our review since it's not an area of concern for most small businesses.
Warranty:
All machines that we reviewed had a 1 year warranty on their equipment. And a few of them even had a longer warranty on their drum, but this was not a big differentiator.
Memory:
The amount of memory in color copiers is an important feature since this can affect the time it takes before an image prints the first time, the number of pages it can scan and store before it's full, or the time it takes to print a single image or multiple images.
Of the color copiers we reviewed, we found that the amount of memory directly correlates to the print and scan times. They ranged from a minimum capacity of 138 Mb in memory to 1Gb of memory, and four of the top performing machines had options to upgrade their memory to a larger storage capacity.
Additional Options Considered:
In today's small business, a color copier needs to communicate with your business. It's important for the devices to be networked so that your staff can print or scan, send, and distribute files to a directory, email address, to their inbox, or to other employees.
All of the color copiers that we reviewed had 10 -100 Base-T Ethernet network ports and the majority offered Gigabit (1000 Base-T) Ethernet connections. Just a few offered wireless networking capabilities, and all of the color copiers offered some form of printing from mobile devices.
How they ranked: The Top Ten Color Copiers for Small Business
The following are the results from reviewing color copiers.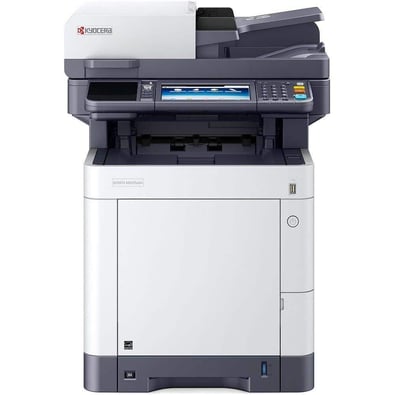 1. Kyocera ECOSYS M6235cidn:
The ECOSYS M6235cidn color MFP elevates desktop power and flexibility to the next level. This MFP prints 35 ppm in B&W and color that comes with business applications and powerful document imaging. The M6235cidn also comes with a tablet-like color touch screen, adding effortless operation at the device while also giving you the option to use wireless printing with the standard Apple AirPrint feature. If you're looking for a budget conscious, small footprint device, this one's for you. (1)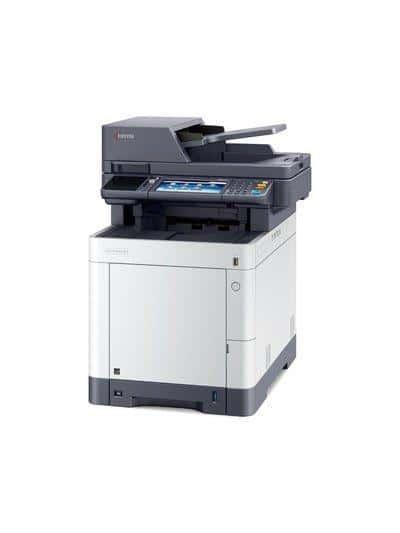 2. Kyocera ECOSYS 6530cdn:
Kyocera developed these new A4 color devices, designed specifically for small and medium-sized work groups, offering both reliability and fast output speeds. This Kyocera comes with a high-speed scan up to 60 ipm via 75 sheet reversing document processor, mobile printing and includes up to 5 input trays for various media types. This is one of the more expensive MFPs but with this, you truly get what you pay for. (2)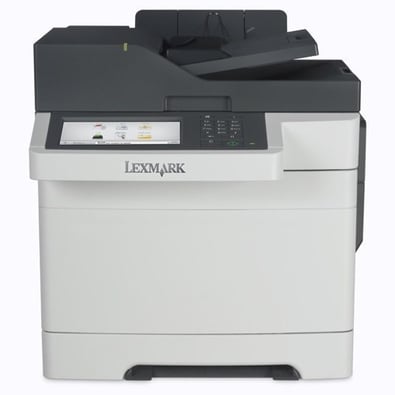 3. Lexmark CX517de Color All-In One:
The CX517de delivers color printing, copying, and scanning up to 32 pages per minute and also includes gigabit networking, advanced security and duplex scanning, and mobile print capability. Lexmark's exclusive Unison Toner keeps your cost of printing low, with toner yields that provide great value at budget friendly prices. You can also add optional trays up to 1,450 sheets, so you won't have to add paper as often. (3)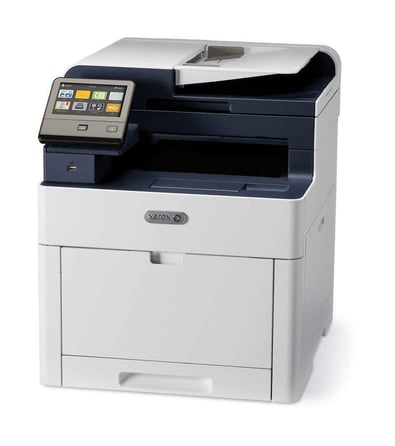 4. Xerox WorkCentre 6515DNI:
This Xerox Color MFP is perfect for your small or medium-sized business. This MFP can print up to 30 ppm and scan up to 21 ipm, a paper capacity of 250, and includes 2GB of memory. It also includes mobile solutions and mobile device apps such as Mobile Express Driver, Apple AirPrint, and Google Cloud Print. Even better, it comes with a one-year warranty. (4)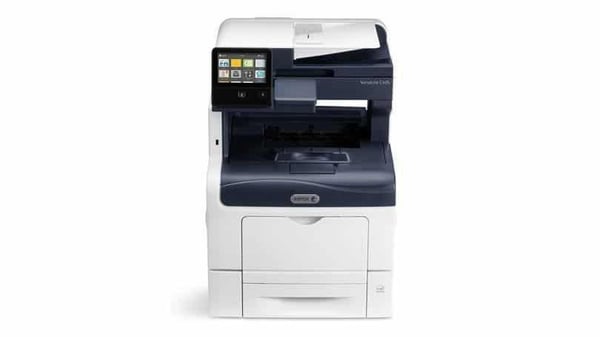 5. Xerox VersaLink C405:
The VersaLink C405 Color Multifunction Printer is built on Xerox ConnectKey Technology offering flawless reliability, seamless integration, and advanced productivity. The C405 provides cloud connection and includes a mobile-ready app which is easy to personalize. The print quality ranked high as the print resolution, delivering up to 600 x 600 dpi with exceptional color vibrancy and fine line detail. The machine can print up to 36 ppm and up to 80,000 pages per month. We ranked the cost to be very affordable, and a one-year warranty is included. (5)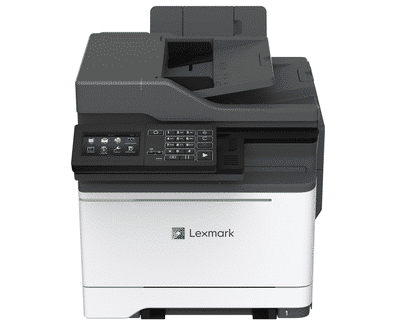 6. LexMark MC2535adwe:
The MFP Lexmark MC2535adwe builds on color output of up to 35 ppm with a 4.3-inch color touch screen. Beyond included USB and gigabit ethernet, this device lets you connect wirelessly via built-in Wi-Fi, as well as AirPrint, Google Cloud Print, and Mopria on any network with existing Wi-Fi access. Their security features help keep your information safe—in the document, on the device, over the network, and at all points in between. We ranked this to be very affordable and also like that it comes with a one-year warranty. (6)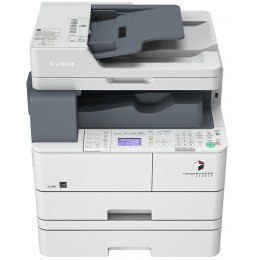 7. Canon imageRUNNER 1433iF:
Canon is a long time leading brand in the color copier field and this model can print 37 ppm and scan 29 ipm. This copier is an all-around solid product. It has a duty cycle of up to 60,000 pages per month. It has all of the features the other printers in its class have including gigabit ethernet, mobile printing, and faxing. It also comes standard with a paper capacity of 500 sheets of paper and the only other copier manufacturer to use toner bottles, eliminating toner cartridges. Like Kyocera, Canon offers excellent color quality and a host of document management and security options. (7)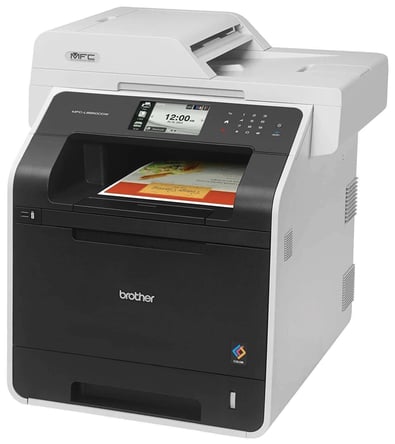 8. Brother MFC-L8850cdw:
This laser all-in-one printer is ideal for a mid-sized business with high printing demands. With speeds of up to 30 ppm, and a print resolution of 2400 x 600 dpi, you really can't go wrong. This machine also comes with a one-year limited warranty and has advanced security features to help secure your documents, network, and the device itself. Based on all this can do, we have ranked the price to be very fair and affordable for just about any business out there. (8)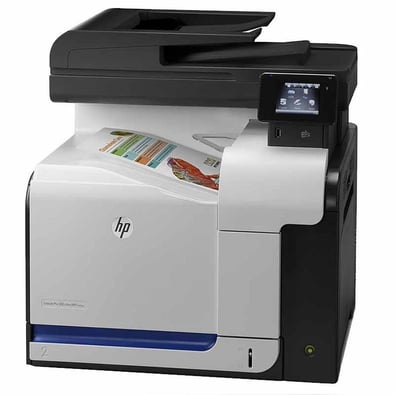 9. HP LaserJet Pro 500 Color MFP M570dn:
This HP LaserJet might be the perfect desktop printer for your small business. This MFP has a resolution of up to 600 x 600 dpi for both B&W and color, a monthly duty cycle of up to 75,000 pages, and can print up to 31 ppm. You have the ability to print from your smartphone or your tablet with HP ePrint. Not only is this machine great for the environment, but your wallet as well. (9)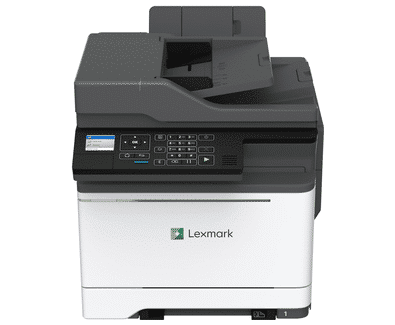 10. LexMark MC2425adw:
The Lexmark MC2425adw packs reliability, productivity and secure color multifunction performance into a small-footprint package with output up to 25 ppm. With its small footprint, the MC2425adw is easy to find a place for. The new front-panel power button and direct-print USB port, 2.4-inch color LCD with keypad and secure browser-based device management make it easy to interact with. With its steel frame, long-life imaging system, ease of upgrades and robust paper feeding system, it's ready for lasting performance in any environment. (10)
*Note: Purchase price only. Does not include lifetime costs (toner, maintenance, replacement parts, etc.)
The Final Word on the Top 10 Color Copiers for Small Business
When considering the right copier for your business, make sure you take into account all of the characteristics we provided above and compare all the different models. At first glance, you may think that the purchase price and a few features are the most important areas for consideration, but this is only scratching the surface.
Speed, quality, operating costs, supplies, capacity, and expandability should be considered in your decision making process.
Visit our Office Copy Machine Ultimate Resource Page for additional info on pricing & costs, and just about anything else copy machine related.
At AIS, we decided to weigh all of the different options before making a recommendation on the top color copiers. It is our goal to help small business owners in their buying decisions and become more educated buyers. If you are interested in learning more on which copier is best suited for your business, please contact us using the phone number at the top of our homepage, the convenient chat feature, or by sending us an email at info@ais-now.com.
*This article was updated 7/2/18 from the original posting on 2/17/18.
Sources:
https://www.kyoceradocumentsolutions.eu/index/products/product/ecosysm6235cidn.html
https://www.kyoceradocumentsolutions.co.uk/index/products/product/ecosysm6630cidn.technical_specification.html
https://www.lexmark.com/en_us/printer/11134/Lexmark-CX517de
http://www.office.xerox.com/latest/65XSS-02U.PDF0
https://www.office.xerox.com/latest/VC4SS-02U.PDF
https://www.lexmark.com/en_us/printer/12479/Lexmark-MC2535adwe
https://copyfaxes.com/media/d/canon_1400_series.pdf
https://www.brother.com.au/brochures/MFC-L8850CDW_Brochure.pdf
http://www.hp.com/hpinfo/newsroom/press_kits/2012/FallBizPrinting/HP_LaserJet_Pro_500_color_MFP_M570.pdf
https://www.lexmark.com/en_us/printer/12478/Lexmark-MC2425adw