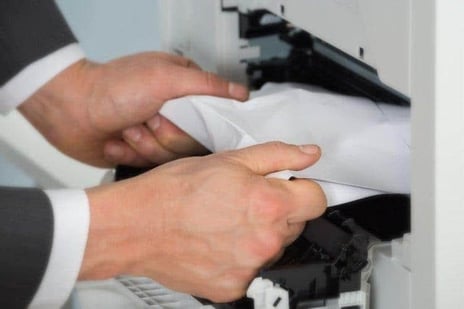 Most people load paper into their multifunction copiers without ever giving it a second thought. But did you know that the kind of paper that you put into your copier can have a huge affect on productivity and performance?
If you like the challenge of a good paper jam and frequent visits from your service technician, then by all means continue to ignore paper. But, if you cringe at the thought of your copier being down, read on.
Let's start with the product itself – paper. Fun for origami and airplanes, but there's a lot more to it when you take the time to notice.
Cut & Size
While there are standard sizes of paper (letter, legal, tabloid, etc.) be wary of a "good deal" and remember – you get what you pay for. It's like buying clothing from a value retailer where products are produced in such high volume that attention to consistency is lacking – the tag might say it's a certain size, but when you try on multiple pairs of the same size you may notice a difference in the fit. That's cheap paper.
While the price is appealing (and who doesn't love a good deal??) less expensive paper products have been known to have inconsistencies in the actual cut of their paper. Even the slightest irregularity in a standard paper size can cause it to jam in the machine. Value paper can also be dusty which, over time, mucks up the paper path.
Tip: If your machine is jamming all the time, try a different paper stock.
Texture & Finish
You've probably noticed that there are different types of paper stocks out there – laser, inkjet, color, photo, glossy, matte, etc. Types vary mainly by texture and finish. Each type of stock is designed for different needs and will produce best results in combination with the right type of ink/toner and setting on the laser printer or copier.
Laser paper tends to be flatter and smoother. Inkjet paper tends to be a little rougher so that the ink can soak into the paper. Glossy paper may not work on all devices because of the extra coating that could melt off on the rollers in the machine.
When in doubt, check with your device's manufacturer on the types of paper that have been tested and certified to work in your machine. Many manufacturers even create custom media guides with specific paper brands and types guaranteed to perform.
Tip: Different paper stock requires different settings for great results.
Paper Type and Paper Tray Settings
Digital copiers are great at multitasking your print and copy jobs but they aren't mind readers (yet). They need a little help from you when it comes to paper types. Devices have recommended paper tray settings for different kinds of paper, and these settings are usually defaulted to the most frequently used types in an office. Check with your user manual or training specialist on how to access your device's paper tray settings. In most cases, you can change the setting at the device, but you may need to dive in to your user tools to change defaults for more than one copy.
Telling your device what kind of paper you are using (type and weight) is important because the machine can, and will, change the way it pulls the paper through the machine to ensure that the image is properly fused (i.e., printed or copied). Heavier stocks such as card stock or index weights typically perform better with fewer turns, so the bypass tray is usually a safe bet for a paper source. Just remember, when paper is thicker, it should pass through the machine at a slower speed than your average copy paper.
Tip: Paper weight and coating determine how the paper moves through the device, but you have to ensure the settings are correct.
Color Copy Paper
Many customers ask us if there is really a difference between color copy paper and black and white copy paper – they're both just white paper right? True, in most lighting conditions, you may not notice much of a visual difference. Differences in white is only noticeable when compared against a differing brand of white. (The same can be said for the white base paints at your local home improvement store – whites vary more than you think!)
The main difference lies within the process – a black and white print is just black toner fused on to a sheet, whereas color is a mixture of four toner colors (cyan, magenta, yellow, and black). Because of the mixing process, color copy paper tends to be a little bit harder so the toner is not absorbed and colors can be blended. Paper also has a brightness rating from 80-100, where 100 is the brightest. For color, you can get the best results with 24-28# weighted stock with 90-100 brightness, and for black and white, 20# bond with 85-90 brightness is the general standard.
Tip: Not all whites are the same. If you need crisp color output (especially for customer-facing documents), pay attention to the paper you're using.
Moisture
Moisture and an impatient colleague that reloads the machine with just a few sheets of paper (leaving the rest of the ream open and exposed on the shelf) are a paper ream's worst enemies. That's why it's good practice to dedicate a controlled area (cool, dry, and organized) for paper storage (maybe even under lock and key!). Less expensive paper can also have a higher moisture content which causes the paper to curl over time. When paper is rippled in any way, it will likely jam, so it's best to just recycle it or use it for scrap.
Tip: Humidity; bad for hair, bad for the paper running through your copier. Never leave half-opened reams of paper exposed.
Direction
Now here's the big one. Brace yourself. There is actually a right and wrong direction to put paper in a device. It's true! So, the next time you fill your copier trays, check the packaging for an arrow showing which side is the recommended side to copy. If the packaging does not have any arrows, you can determine the copy side yourself. Hold the ream at both and take note of how the paper bends. Flip the stack over and observe the other side. The side that has the most curve, is the copy side. In most devices, the copy side will face up, but it's always a good idea to check your trays for guides on how the paper flows through your specific machine. Proper paper direction can greatly reduce jams.
Tip: Put paper into the copier right-side-up. Yes, there is an "up" side for copier paper.
Fanning
Last but not least – fanning your stack of paper with your thumb from the bottom to the top
of the stack once it is in the tray is also a good habit. This helps separate pages with a little air. High end production devices usually have internal fans in place that actually do this automatically to ensure smooth paper supply, but regular office copiers can use the extra help from you.
Tip: Fan the paper edges to help prevent jams.
It's easy to forget, but paper IS technology. Who knew that paper was so complex and that the wrong paper could screw up your day? So, when it comes to what you put in your machine, don't go cheap and take care in the process. While it may cost a little more upfront, quality paper will not only make your finished product look better, but may actually end up saving you money from a service standpoint in the long run.
Visit our Office Copy Machine Ultimate Resource Page for additional info on supplies, and just about anything else copy machine related.