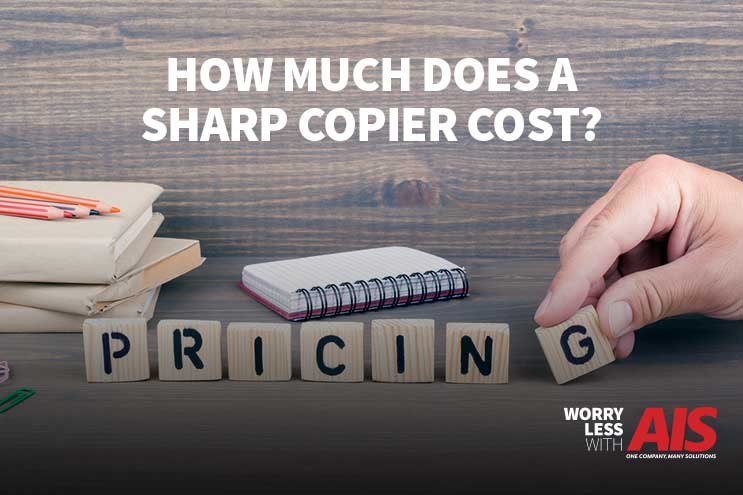 Is your business is in need of a new Sharp copier, but you're stuck trying to figure out which copy machine is best for your business based on the costs associated with this hefty piece of equipment?
If you answered, "Yes" to this question, you came to the right place! As a business owner or purchasing manager for your office, it's important you take some time to look into how much a Sharp copier costs as well as the extra add-ons you can purchase separately with your machine.
The costs associated with Sharp Copiers range in price, depending on your specific business needs and goals. While some Sharp B&W Digital MFPs (multi-function printers) range between $925.00–$4,800.00, other Sharp Color MFPs range between $2,900–$10,000.
Have you ever heard of an MFP or a "multifunction printer?" An MFP is the combination of a copier, scanner, and printer—an all-in-one device designed to help make your copying and printing tasks easier to complete, in a shorter amount of time.
Let's face it; office equipment is pricey. Sometimes it seems that even if you bite the bullet and spend a lot on your office machines, you're still facing with unreliable technology or poor customer service.
We feel your pain and understand your frustrations when it comes to office copiers and business solutions. However, we made this process a little easier for you to go through and have some answers to share about Sharp copier costs and what your business will be spending with a new Sharp copy machine.
Authorized Sharp MFPs are designed with user simplicity and data security, while also keeping your budget in mind. There's a variety of Sharp copiers on the market, leaving you with endless options to choose for your business.
Follow along as we go over the average costs of Sharp copiers, the features of Sharp copiers and MFPs, and the best ways to find a Sharp copier for your business.
Are you wondering the benefits of purchasing a copy machine in the first place? Read the article "The Balance Small Business" published, Before You Buy a Copier for Your Small or Home Office.
Pricing and Costs Explained: Sharp Copy Machine Cost
We've categorized some of the most common Sharp copiers by sorting them by price, pages per minute (ppm), and the color quality.
Sharp MX-B201D
This sharp MFP is one of the more basic MFPs Sharp offers, but for a small machine, good for any small business or office.
The average price of this machine is around $800.00 with 20 ppm—ideal for smaller-medium sized workgroups. If your office doesn't print much or has a less than average print volume, snagging a few of these MFPs might be your best bet.
Sharp Black & White Digital MFP
Sharp's B&W Digital MFPs are great machines for medium-large sized workgroups, who don't necessarily need color printing for their documents and printed materials.
The ppm of these machines range from 21–30 ppm, with prices ranging from $925.00–$4,800.00.
Depending on the model, these MFPs can include a built-in retractable keyboard, high-resolution touchscreen display, and a standard security feature.
Sharp Color MFP
Sharp's Color MFPs range in size, color quality, and print speed; so choosing any of these really depends on your business and the type of work you do. For this category, we are only looking at the color MFPs that rang in ppm from 31-45 ppm.
These color MFPs are all different, and all come with individualized features, ranging in price anywhere from $2,900–$10,000.
If you need a little extra help assembling your reports and pages, some of these MFPs include stapling, making your job a lot easier.
A Variety of Sharp Series
Sharp also offers three different series of printers and MFPs that you can also use as a guide to sort and categorize their office equipment.
The Advanced Series are solution-integrated document systems for smaller workgroups, but with demanding workflows and even high-volume and network printing needs.
The Essential Series are more value-based document systems, meaning they are more specific to your individualized line of work or business needs. These office copiers offer expandability for growing businesses or departments.
Lastly, the Pro Series is all about high-performance for larger, more time-consuming projects. If your business is more deadline-based or on-demand assignments, this series is probably for you.
Still wanting to learn more about how much a copier costs? Read our article, How Much Does a Copier Cost? A Quick Overview.
The Functions and Add-ons For a Sharp Copier
In our ever-evolving market of technology, Sharp knows the importance of keeping up their business solutions through the integration of applications and features.
Below are some of the more popular ways Sharp copiers keep up with the times by the features and apps they've added into their office copiers, printers, and MFPs.
Customizable Touchscreen Interface: The touch screens featured on some of Sharp's MFPs allows users to customize the interface to their needs and the needs of their workgroup. The modes, themes, and features of the touchscreens are user-friendly and easy to use.
Sharp Open Systems Architecture (OSA): Sharp's OSA technology helps improve the document management of their machines, workflow, access control, cost management, and other integration capabilities.
Advanced Scanning Features: On the machine with scanning capabilities, the advanced scan technology includes double-sided scanning, network scanning (the option to scan-to-email), document filing, and document archiving. These features not only improve organization and productivity but helps secure your documents as well.
Security: Speaking of security, all of Sharp's MFPs have embedded a secure operating system that helps to protect against cyber attacks, security threats, viruses, and unsecured connections. This comes in handy for remote users, or if your business has more than one location.
Software Solutions: Most of Sharp's software solutions are great for increasing productivity and decreasing the amount of time your employees spend waiting for their documents to print or assemble. Some of these software applications track operational costs, manage documents, and use the integration of smartphones.
Now that you've become more familiar with the pricing and costs associated with a Sharp copier and the features these MFPs have, it's time to start thinking about finding the best service provider or company you'll use to purchase your office copier.
To learn about finding the best copier companies, read our article, How To Find The Best Copier Companies Near Me.
Visit our Office Copy Machine Ultimate Resource Page for additional info on the costs and pricing associated with copiers, and just about anything else related to your copy machines.
At AIS, we've been helping businesses in Las Vegas, Palm Desert, Orange County, Riverside County, and San Diego, find the perfect copier solutions for their business and their employees. If you'd like to learn more about office copiers, or any of our services, click here to speak with one of our business technology consultants. For the latest and great tips on your office equipment, visit our YouTube channel, The Copier Channel. We're here to give you peace of mind to help you win more business.
SHARP is a registered trademark of the Sharp Corporation.