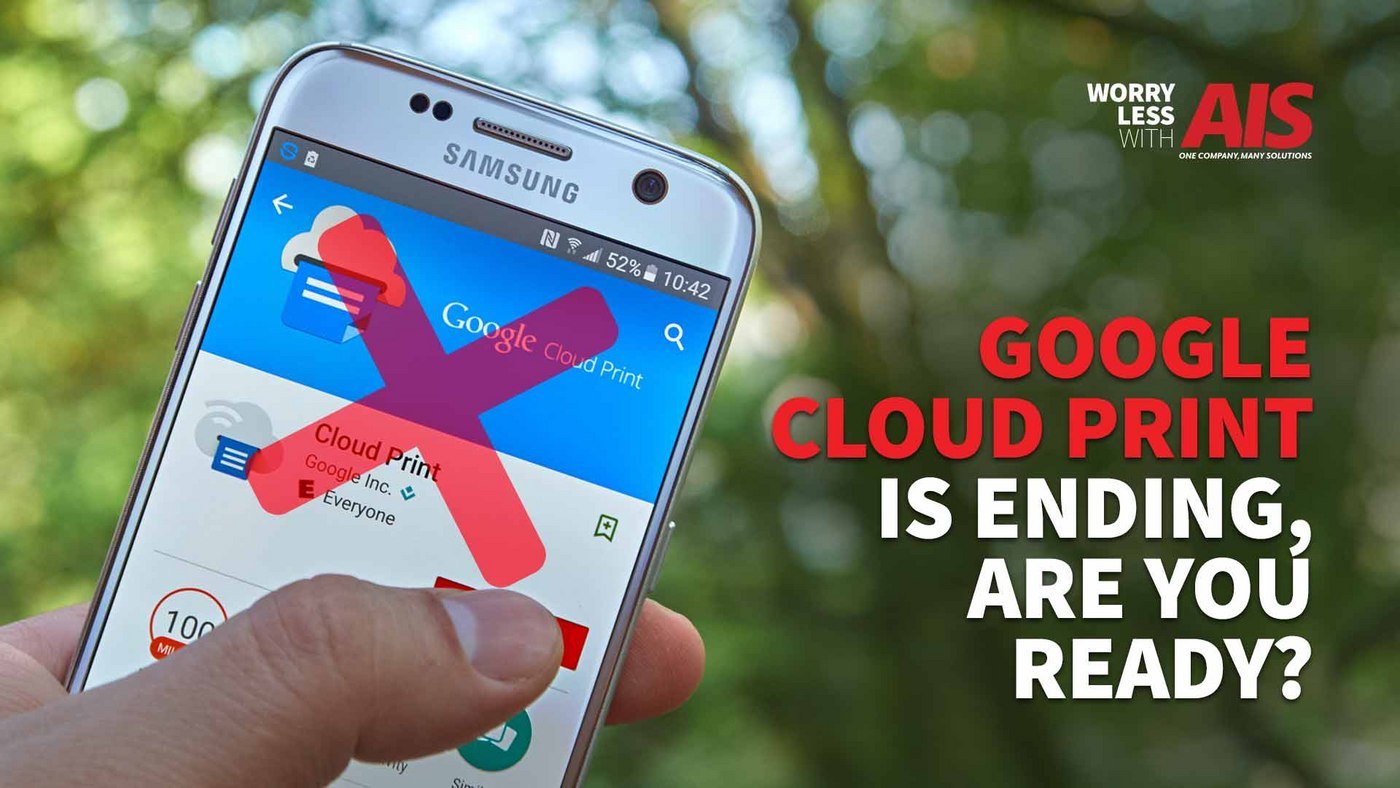 READ TIME: 4.5 MINS.
If your organization is currently using Google Cloud Print on your output devices at the office, you'll soon need to find an alternative solution before the end of 2020. You have two main options in terms of what this means for your business and how you can still get what you need:
Purchase or update your existing hardware
Print your documents without the Cloud
For just about all of us, printing without the cloud is not an option. So, where does this leave your business? Are you ready and prepared for Google Cloud Print to end?
The good news for you is that you have options for finding alternatives to Google Cloud Print. Follow along, and we'll fill you in!
The End of Google Cloud Print: Learn Your Options
Google Cloud Print alternatives to take a look at include native printing options configured by a Google Workspace administrator. Or, another option is to consider a third-party cloud-printing solutions provider or office technology vendors.
Below is a breakdown of some of the options to learn about to help you make the best decision for your organization.
Alternative Cloud-Print Services
Several office technology vendors, like AIS, offer printing solutions designed for organizations of all kinds. Some of these offerings include support for secured printing, wireless and remote printing, and print management features to help control costs.
There are two cloud-print applications that we highly recommend:
Papercut Mobility Print: Papercut is an innovative approach to Cloud Print technology. Chromebook and Windows users can print remotely and outside of their network by sending print jobs over the internet. By the way, support for Mac users is coming soon, too!
Papercut Mobility Print also allows for easy local printing from tablets, smartphones, and laptops. It's compatible with every printer brand, such as Kyocera and Xerox, and setting it up is as easy as cake. The best part about Papercut Mobility Print is that it's 100% free—how nice is that?
Here are some additional features you'll enjoy through Papercut:
Native UI Printing
Cloud Print
Secure printing
Printing is lightning-fast
Full visibility on who's printing what, where, and when
Cutting costs with detailed reports
Papercut works closely with Google to optimize printing on Chromebooks and is one of Google's chosen providers as the best alternative for Google Cloud Print. As a premier partner Google Cloud partner, Papercut works closely with the Google team providing only verified and supported solutions.
For more information about migrating to Papercut, read this article, How to Migrate from Google Cloud Print to Mobility Print.
MyQ Print: MyQ supports users whose cloud transformation is already underway and decided to move their internal systems to the Microsoft 365 cloud. The idea is to provide convenient printing options to users working from home (WFH) or remotely. Like Papercut, MQ can provide cloud printing services to customers affected by the termination of Google Cloud Print.
MyQ describes its services based on two different types of cloud print users:
Google Cloud Print Users in Chrome: For those of you using Google Cloud Print in Chrome Enterprise environments, your IT administrators can quickly fix and implement your Google console by arranging cloud printing via a safe IPPS protocol—allowing you to print from Chromebooks natively.
Free-of-Charge Account Users: Another group of users affected by the end of Google Cloud Print is those using free-of-charge accounts outside managed environments. If this pertains to you, keep in mind that other MyQ services are available, such as web upload print and e-mail print for entirely remote printing—outside of your office's network.

Add A Printer in The G Suite Admin Console
Another option to consider since Google Cloud Print is ending is adding a printer in the G Suite Admin console. A G Suite administrator has the option to add and share a printer from within the Admin console.
Here's how to do so:
Sign in with a G Suite administrator account by visiting:

https://admin.google.com

.
Choose "Devices | Chrome Management" (from the left-side menu) | Printers, then select the button in the lower right corner to add a printer.
If you're already signed in with a G Suite administrator account, you may go directly to

https://admin.google.com/ac/chrome/printers/

. When you add a printer this way, you enable printing from Chrome and Chrome devices to printers on your local network.
Add a Printer from a Chromebook
If you use a Chromebook or Chromebox, you also might add a printer on your network from any of your devices. Here's how to do it:
Select the time (in the lower-right corner) then choose Settings | Advanced | Printing | Printers, then select the printer icon to the right of Add Printer.
This allows users to print from Chrome and Chrome devices to local network printers.
Consider Outsourcing Options
The last option to consider is choosing outsourced print services. Some businesses might choose to outsource their print services solely to vendors such as big box retailers like Office Depot.
These vendors typically let you submit print tasks online for pick-up at their location later. However, users who want to print documents that contain sensitive data or information should possibly consider other options.
What Are Your Next Steps for Cloud Printing Migration?
Change is sometimes scary, and with the termination of Google Cloud Print right around the corner, you'll want to make sure you know all your options.
So, what are your next steps? Put aside a little time to reach out to an office technology solutions company like AIS. Speaking with an expert will help ensure you're making the right and easiest transition for your organization, employees, and customers.
At AIS, we are dedicated to giving our readers and customers industry-related news and information. As the tech world continues to evolve, we want you to know we're here every step of the way to help equip your individual needs. Make sure to reach out to one of our business technology consultants today to learn more about the products and services we offer. We're here to give you peace of mind to help you win more business.