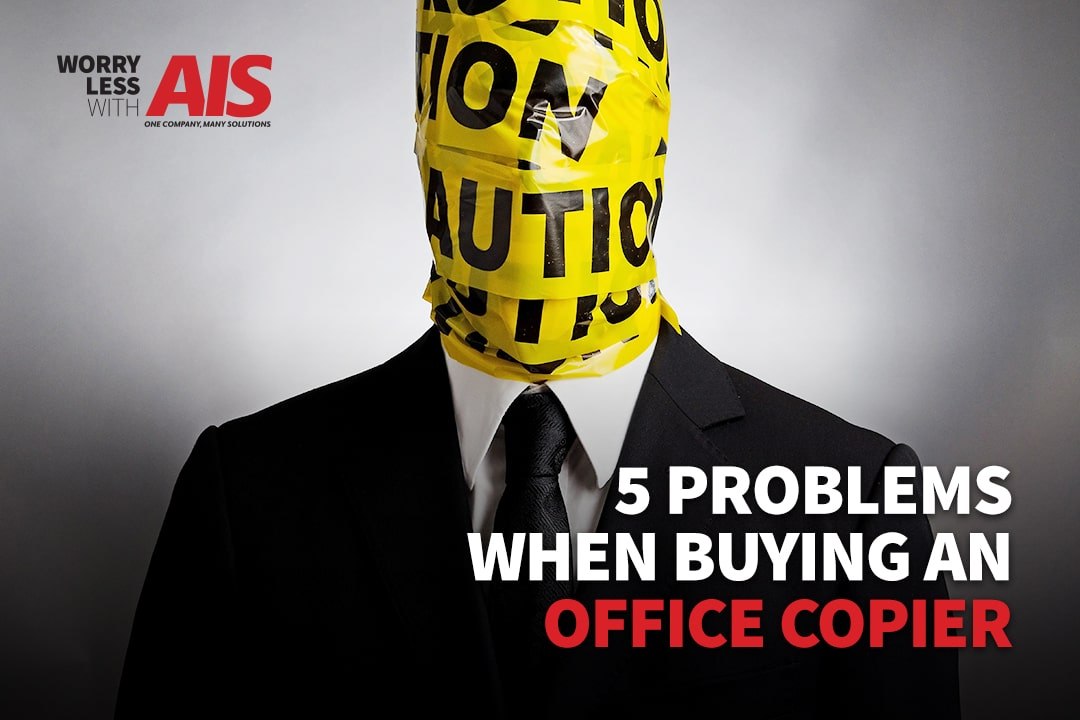 READ TIME: 5.5 MINS.
We've said over and over again that buying a new office copier for your business is a big decision to make.
Since an office copier isn't an everyday purchase (or even every year for that matter), it's common to feel unfamiliar with the devices and features that have hit the market over the past few years.
When we talk to our customers about purchasing a new device, we've found it easier to go over the top five problems they could face when buying a new office copier. This way, the issues are addressed on the front end, eliminating the headache of being stuck with a new copy machine that doesn't fit their business needs.
One of the most important considerations when purchasing a new office copier is focusing on the future. It's not always the most straightforward task to do, but it's essential to make sure your new copier or multi-function printer can grow as your business grows.
Buying A New Office Copier: Most Common Mistakes To Avoid
Over the years, we've learned a lot about the best and the worst purchasing decisions small and medium-sized businesses are making in office technology.
What many fail to realize is that an office copier is like any other piece of technology. As you know, technology can malfunction and break down. And nowadays, almost all technology devices typically serve more than one purpose—or can perform more than one task.
It's essential to assess your copying, printing, and assembling needs first to weed out the copiers that aren't a practical solution for your specific office demands.
1. Selecting The Wrong Applications
The copier industry has made significant advancements, and it's not stopping anytime soon. You may not even know which applications are available specifically for your line of work or industry to save you serious time and also money, cutting into your business's profitability.
Is your law firm having issues tracking billable hours? Does your school need a better way to connect MicrosoftⓇ applications with all of your output devices? Would it be easier for your sales team to access Salesforce directly from the touchscreen of your multifunction printer (MFP)?

Take some time to think about your current frustrations when it comes to the day to day operations of your business.
You'd be surprised to learn the number and variety of office copier applications that could make your workdays easier. Not to mention, many office copier applications save time, increasing employee productivity.
2. A Lack Of Features
Similar to applications, the features of your office copier devices are ones that many purchasing managers tend to overlook. What's an office copier good for if it can't meet the individual demands or requests of your employees and customers?
How much do you print each month? Are you utilizing color copying or only black and white? How often do your employees scan large documents? Does your business use finishing functions, such as hole punching and stapling?
As you research new office copiers, you'll find that many devices come with add-ons. The mere option of an add-on feature, such as an additional paper tray, is a great way to prevent a bad purchasing decision.
During this novel pandemic, did you know that there are copy machines with voice-activated features so you can perform many of the daily routine tasks creating a "contactless" environment protecting your staff other than replacing the device with paper or toner?
As I mentioned earlier, you want a copier that grows with you. Your printing demands may increase as you gain new business. So, something like additional trays for printing ensures your device can keep up with the pace of your organization.
3. Misunderstanding The Contract or Service Level Agreement
How often do you skip over reading a 20 page (or more) contract just to get to the last page to sign your name?
Or, how about companies that have squeezed those 20-page contracts down to one page with type so small that it would hurt just reading through it. If you're nodding your head because it's true—know you are not alone! We all do it.
However, dodging or even skimming over your contract or service level agreement (SLA) is something to absolutely avoid doing when it comes to your office copier device.
By the way, a contract and an SLA are two different things. A contract is an agreement between two parties (for example, you and your office technology provider, or copier dealer) that creates a legal responsibility for your company and the vendor to perform particular actions.
Through a contract, both you and your copier vendor are legally bound to deliver the designated responsibilities, which should be defined in the contract. In simpler terms, a contract is a shared agreement between both parties.
A service level agreement (SLA) is specifically centered around measuring the performance of service and quality agreed between the business and a vendor. The primary purpose of an SLA is to inform you (the receiver of services) on the level of service that will be provided.
An SLA is a great addition to have within your contract so that you and the vendor are both on the same page as far as measuring expectations, responsibilities, and compliance.
If you don't understand sections of your contract or SLA, speak up! Legal jargon can be confusing to dissect, and your office technology provider should have the full capability to answer any questions or concerns. If they can't, you may want to think twice about the provider you're choosing. Don't forget to ask if your business technology provider about any warranties or guarantees
4. Partnering With The Wrong Copier Provider
You have options when it comes to who you purchase your future multi-function printer from. You can either buy the device directly from a manufacturer, or you can partner with an office technology solutions provider (dealer).
The most important thing to understand when it comes to your provider is that whoever you choose, it's a partnership. Your office copier vendor is your technology solutions partner dedicated to assisting and growing your business alongside you.
A great office technology provider, like AIS, will walk you through your entire purchasing journey, and should even do so after signing the agreement.
You should feel like your copier dealer is reliable, trustworthy, and gives you an array of options that best support your company.
It's also crucial that your copier provider has top-of-the-line devices. Selecting a vendor who offers credible and industry-favored brands, such as Xerox and Kyocera, shows they care about the quality of products they sell. 5.
5. Over or Underbuying
Think of your office copier purchase as you would a home. How many bedrooms and bathrooms do I need? Do I need a fenced-in yard for my family or dog? What additional items would I like my home to include but aren't considered a necessity?
Think about the device itself and the specific features you know you need. By doing so, you'll have an easier time purchasing something that isn't too large-scale for your small business and can effectively produce your work promptly.
Preventing over or underbuying is another reason to ensure your office technology provider is one of experience and trust. A copier company should be able to assess your current printing demands and pain points and then provide you with multiple devices best suited for your team.
The Final Say: Top 5 Problems You Should Know When Buying A New Copier
Make sure to note; these are just what we consider the top five problems when purchasing a new office copier. Of course, there's plenty more. However, we think after reading this, you'll have a solid understanding of what to ask as you discuss your options with your current or new provider.
AIS is dedicated and passionate about educating our readers and customers. Purchasing office technology isn't the easiest decision to make, and we want to make sure you have a quality resource like us to turn to. To learn more about purchasing a new office copier or any of the products and services we offer, reach out to us. We're here to give you peace of mind to help you win more business.