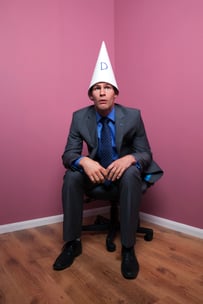 Unless you're running your business entirely on paper (and since you're reading this, I'm guessing you aren't), you need to invest in information technology. Email, networks, servers, line-of-business applications, storage, security, etc. all require careful budgeting and planning so that you get the most bang for your buck.
But what happens when you don't consider Managed IT services a priority? What if you consider it as just another cost – and one you should pay as little as possible for regardless of what you actually need? (I wrote about why this is a bad idea already: Opportunity or Cost? Your Success Depends on How You View Technology.)
When IT drops to the bottom of your priority list, here are five consequences for your business – and how managed IT services can help.
1. Lost or Stolen Data
Hackers are everywhere. The FBI estimated that ransomware was a $1 billion business in 2016. One in 131 emails contains malicious code – phishing for your unwary employee to click on an attachment or link to gain entry into your network.
Do you have a plan for what happens if you lost vital company information? Would you be at risk of HIPAA non-compliance? If you lose personally identifiable information (PII), your business could lose it's reputation and customers.
Most SMBs are low-hanging fruit, ripe to be picked by hackers because you think – wrongly – that you're a small business and no one will target you.
Managed IT benefit: Security professionals create and monitor a security and data protection plan to minimize security risks.

2. Unpredictable Budget
When you repair as you go (the break/fix model of IT repair), budgeting is unpredictable – and usually costs you more in the long run. Are you frustrated with confusing invoices and big swings in your IT spending from month-to-month?
Managed IT benefit: Our flat fee maintenance program and quarterly reviews allow us to help you plan for all of your tech expenses.
3. Large Recovery Costs
Do you have a recovery plan? Are your backups working properly? If a disaster struck or your equipment failed, do you know what your costs would be?
Managed IT benefit: Redundant systems and testing processes ensure that an IT service partner can get you back to business quickly with minimal impact on your operation or bottom line.
4. More Downtime
Security holes and poor hardware maintenance can lead to downtime. Even the best run IT infrastructures will sometimes have a hiccup. What's the response time of your internal team? If you have a current partner, is their service level response acceptable? Or do you have a hard time getting them to respond to your issues? When your network is down – your business slows to a crawl.
Managed IT benefit: IT services partners operate fully manned help desk centers. 24/7 network monitoring helps to prevent downtime – as does preventive network and hardware maintenance. Help desk response time is immediate – AIS promises that we'll answer in two rings during live help desk hours.
5. Reputation damage
What happens to your reputation when your data is hacked or your network goes down on frequent basis? Would YOU want to give your business to a company like that? Worse, what happens if you can't deliver on your commitments through a preventable IT lapse? Customer loyalty is hard to gain and easy to lose.
Managed IT benefit: A managed IT services partner will proactively manage your network and hardware to prevent outages. Regular maintenance keeps equipment running in peak condition. You get peace of mind.
A managed IT program can help you in all of these areas and more. Contact us today to see how we can help you improve your business.
Given the possible consequences, is it really worth ignoring IT?
Whether you do it yourself or outsource, please don't ignore the importance of IT to your business' success.
If you want to know more about outsourcing your IT infrastructure, click on the image below to read our free eBook.