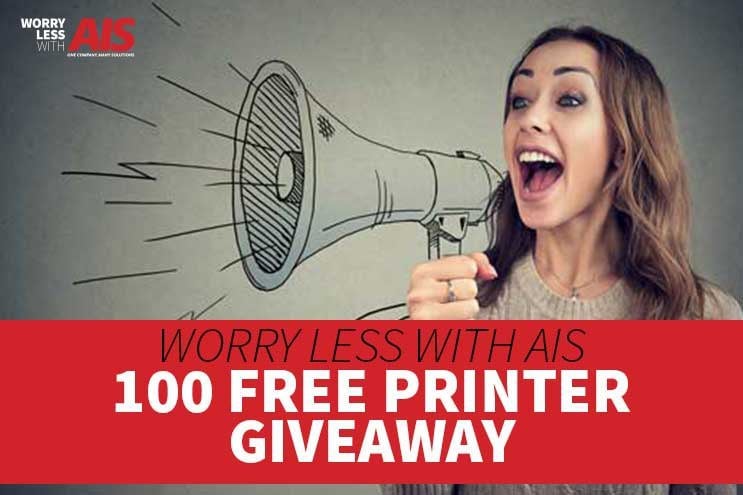 Is your business in need of a new office printer? When's the last time you even purchased a new printer for your office?
Well, you're in luck! AIS is giving away 100 FREE, brand new printers. Does it sound too good to be true? It's not! All you have to do is enter to win! Twenty charities will receive free printers too!
NO gimmicks!
NO contracts!
NO hidden fees!
NO purchase necessary!
What do you have to lose? We are so confident in our products and services, we are giving away printers for you to experience the AIS difference. We aren't like any other copier, printer, or office technology company and we continue to dedicate ourselves to our current and future clients.
What's this all about?
It all begins today, August 1st. AIS is giving away 100 free printers to local businesses in Southern Nevada and Southern California. All you have to do is enter to win by filling out the form on our printer giveaway page, here.
Are you thinking there's a catch? There isn't one. There are no gimmicks. Nothing to purchase. No hidden fees or contracts. All we ask is that you use the printer for 12 months and if you like our product and service, let us know. We'd love to hear your feedback on not just the printer, but the experience you've had working with AIS.
We are so sure you'll enjoy the experience of working with AIS, that you will want to work with us in the future.
Beginning Friday, September 7th, we will select our first round of 25 winners, and then 25 new winners each additional week in September. You don't have to be present to win, and there's nothing to purchase.
Check our Winners Page to see if you've won. You really do have nothing to lose.
All winners will be contacted by one of our business technology consultants. An AIS service technical professional will then deliver and set up your FREE printer at a time that is convenient for you. It's that easy!
Each printer will be installed and is ready to start printing. If you want to upgrade, try a service contract or auto delivery of toner (when you run low). But that's not required. That's all up to you.
Just tell your business technology consultant or our service tech at the time of delivery, and we'll take care of the rest.
You have questions and we have answers!
You probably have some questions- let's see if we can answer any of them for you here!
Q: Why are you giving away 100 FREE Printers?
A: We want to show you how you will Worry Less With AIS. We are so confident in our service and our products, we know our winners will fall in love with our services the second we step into your business to set up your new device. And plus, everyone likes free stuff, right?
Q: Who is AIS?
A: AIS is a business technology company that specializes in managed document services, IT managed services, 3D printers, document and process management, and telephone systems. We believe in accountability and are always here for our customers whenever they need us.
Q: What kind of printer is this and how much does it retail for?
A: The printer is a Kyocera P2040DW office printer. To take a look at the specs of this printer, click the link, here. This printer has a retail value of $650.
To view our full FAQ list, click here!
You Get, & You Give: Delivering More pPrinters to Local Charities.
We are passionate about giving back to our community, and we'd love to give your favorite charity a chance to use a free printer. All you have to do is submit a summary of why you think we should pick the charity of your choice.
Even if your business isn't one of the winners, you (and anyone else at your company) has the opportunity to give the non-profit or charity of your choice a brand new free printer of their own. In your name. Isn't that awesome? We think so, too.
First, enter your information on our contact form, here and tell us why you think the non-profit or charity of your choice is in need of a new printer.
We will select 20 lucky winners to donate a printer to your favorite charities. You, nor the charity, have to be present to win and there's nothing to purchase. This is a win-win, for you, for us, and for the winning charities! Plenty of good to go all the way around.
The Takeaway
If we can sum this up for you, here's what you need to know for you to win a free printer from us:
REGISTER:

To win a brand new, Kyocera P2040DW black & white office printer, submit your company contact information. Registration is open between now and August 31, 2018.
GET:

Each week, we will be notifying our participants to check our winner's page to see if they've won. We will be giving away 25 at the end of each week on Fridays in September. Don't worry you don't need to be present to win…
GIVE:

We're giving away an additional 20 printers to your favorite local charities in the month of October. Have anyone in your business register. Find out details on our registration page!
Now go sign up to WIN! Click the link here to check out our video to learn more about our 100 FREE printer giveaway. Good luck and thanks for entering!


Who is AIS? AIS is all about you, (our clients). Founded on the premise of providing excellent customer service and business solutions that work, AIS has steadily grown from our HQ location of Las Vegas, NV to four additional locations in Southern California: Riverside, Palm Desert, San Diego, and Orange County. We provide copiers, printers, managed IT services, document and process management, copier and printer repair and maintenance contracts, telephone services, and are an authorized dealer of 3D printers. AIS is proud of our employees, our culture, and our commitment to service. We are grateful to all of our wonderful clients. Interested in speaking with one of our business technology consultants? Visit our contact page, here.