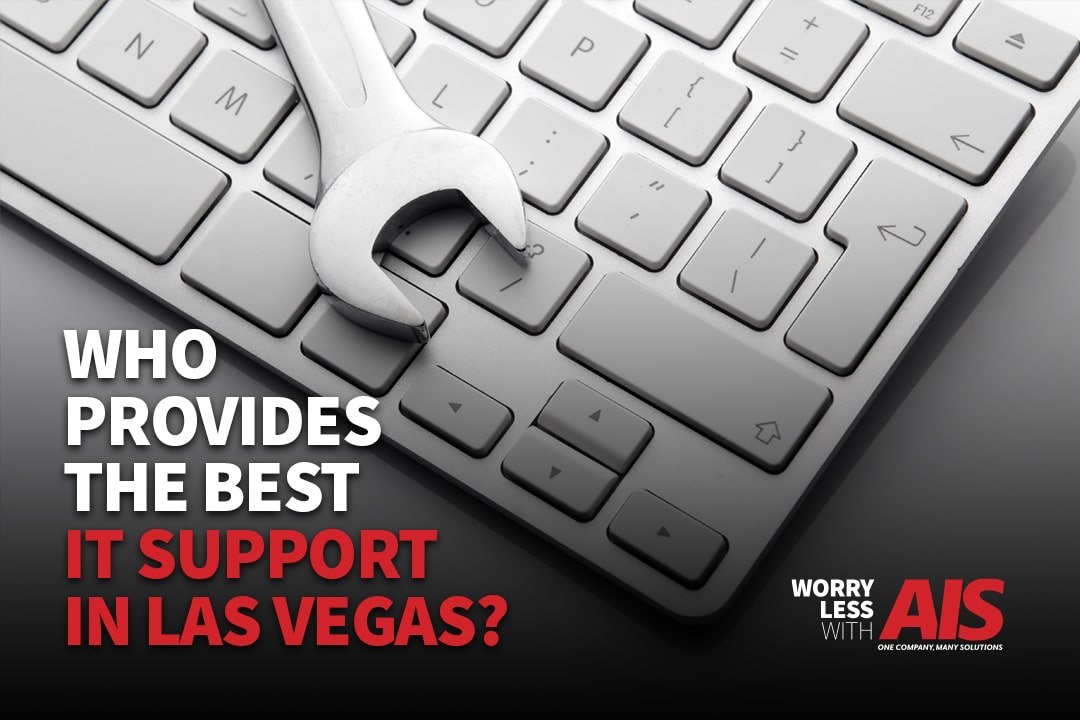 READ TIME: 5.5 MINS.
Whether you're a remote worker or someone who works from an office building each day, reliable and up-to-date IT support is something that no employee should ever go without.
The challenging and ever-changing needs of office technology can seem overwhelming, and might have you wondering who provides the best IT support in Las Vegas? What should you look for in an IT support company that ensures they're the right fit for your business, employees, and customers?
As you're probably learning, finding the right IT support company nearest you isn't the simplest task to do. It's imperative you find a reliable company you can trust to ensure business development and growth.
As a business owner or decision-maker, it's essential to first ask yourself some questions as to what brought you in searching for the best IT support in the Las Vegas area.
Do you need better (or additional) IT support to support the current or future growth of your business?
Are you too busy (or underqualified) to manage your IT department?
Have you outgrown your current IT Support? Where could your business go with stronger leadership and more experienced IT staff, especially in times of the COVID-19 pandemic that we're currently facing?
Are your remote workers facing challenges, such as network connectivity or security issues? Moving your entire workforce to working (WFH) from home is no easy task or change.
If you've asked yourself any of the questions above, it's great that you landed on this page! You certainly came to the right place as we're about to dive in and give you the best tips for finding the best IT support in Las Vegas. Let's go!
The Best IT Support in Las Vegas: What Does Your Business Need?
Before we get into naming a few local businesses that offer IT support, it's critical to learn and understand the factors that make up a great technology company.
Most IT support companies or providers focus on a multitude of IT services. Because of the variety of services offered, it can make your decision a little more challenging when determining what's worth investing, and what's not.
Just because a company specializes in a specific service doesn't mean they're the best at doing so. It also doesn't mean those services are beneficial to your business.
Take a look below at the qualities, and key performance indicators that we practice and feel are essential for every great IT support company.
Quick and Efficient Response Times For All IT Troubleshooting
The purpose of outsourcing your information technology department is so that someone who is qualified and knowledgeable can assist your network issues as soon as a problem arises.
More times than not, an IT team can fix your issues through remote support (a service desk or help desk support team) without even having to make a trip over to your location or home office.
As a matter of fact, a great IT support company can even identify and solve a problem (and fix it) before you're ever made aware of it. How nice!
Taking a proactive approach (instead of a reactive or break-fix model solution) helps decrease the amount of downtime you might face by eliminating the issues before it gets in the way of you doing your job.
Your Small Business Deserves Certainty and Assurance
What happens to your business if you lose access to your client and employee information, business intelligence data, financial records, corporate communications, and project plans and details?
If you're like nearly every other business today, your business relies on network infrastructure, email communications, and digital documents.
There's a lot of data at stake, and you need to make sure your computer systems are backed up regularly. You also need to make sure you have a thought-out plan in place in case of disaster occurs, such as the one we're dealing with now.
Outsourcing IT services can also provide cloud services and cloud backup, which is both a cost-effective way to ensure your business and files are safe and protected.
Even if you have to adhere to strict compliance rules, such as HIPAA regulations (for medical and healthcare businesses), or privacy concerns, there are cloud providers who specialize in providing compliant hosting solutions.
These cloud computing services have a tremendous impact on keeping documents safe and secure, giving you assurance and the peace of mind you deserve.
Network Security: Keeping Your Business and Employees Safe
Network management and email security are continually shifting targets. Companies that don't have enough resources to dedicate to a server and network security are even more at risk of a security breach (or breaches).
Wouldn't you feel better knowing there's a system in place that continues to monitor all of your company's personal and critical documents? Email security also comes in handy, helping block spam, phishing scams, malware, and other inappropriate email content before it takes over your network.
With the way technology is growing nowadays, it's extremely valuable to have a dependable security system in place that covers all of your office technology products and machines. It's better (and much easier) to prevent a security threat from happening as opposed to trying to get rid of it once your business is attacked.
Speaking of security, it's even more important to focus your attention on the security of your remote employees and business.
Online hackers and cyber criminals are ready (now more than ever) to gain access to your computers, laptops and wifi devices because they know your security measures may not be as robust as they typically are at the office.
It's up to you to learn some of the best practices in securing your network as well as proactive measures you can take that won't leave you hanging in the future. Read more about these best practices here, Best Practices in Cyber Security When Working From Home.
Continual Monitoring of Growth and Analytics
Another essential feature to look for when considering an IT support specialist or company is the detailed reporting of your office technology.
Detailed reporting allows you to see the applications and personnel taking up the majority of your network resources and the demand for each piece of technology your employees utilize each day.
Monitoring also provides insight into traffic bottlenecks and peak periods, so that you can add more capacity when needed and prevent your employees from becoming frustrated.
The more you know about how your network resources and how your employees use them, the easier it is for your business to grow in the right (and efficient) ways.
IT Support In Las Vegas: You Have Options
At AIS, we're big on giving our customers and readers options. We believe that the more options you have, the better purchasing decisions you'll make. And, the better purchasing decisions you'll make means you're putting your business in a prominent spot for continued growth.
For this reason, we're happy to give you some great options (besides us) of local IT support companies in the Las Vegas area.
IT Services of Nevada provides managed IT solutions for small businesses as well as professional computer repair services for home users. They specialize in end-to-end IT management and comply with HIPAA and PCI regulations.
CYGOOSE IT Services provides IT Services and a NextGen software technology that automates most of the repetitive tasks and procedures performed by in-house IT support—as well as cybersecurity awareness training.
NVizion IT begins with an assessment of a customer's current IT environment and then identifies any major gaps in their infrastructure, and offers solutions to shore up those deficiencies.
Rogers Tech provides managed IT services and proactive support for all desktops and services within your small business organization. They also offer cloud computing and hardware services management.
The Final Say on Finding The Best IT Support in Las Vegas
As a reminder, it's essential to set aside time to do research when searching for an IT support company to partner with. It's even helpful to make a list of the current pain points or challenges your business and employees are facing when it comes to IT.
The more aware you become of what you need from a technical support team, the easier time you'll have making a well-educated decision.
For more information on everything to do with Managed IT Services, check out our resource page here.At AIS, we continually look for the newest and best information to bring to our current and future customers. Our job is to serve you and help you establish your specific business needs to help you reach your short term and long term goals. We want you to have the ultimate customer experience! To learn more about IT support or any of the products and services we offer, reach out to one of our business technology consultants. We're here to give you peace of find to help you win more business.