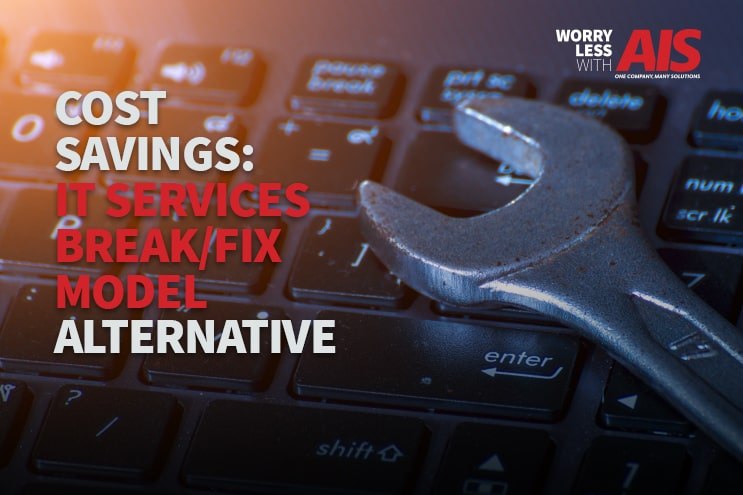 READ TIME: 4.5 MINS.
Is your company's IT repair and maintenance service not meeting expectations? Do you feel like your business is in an unending cycle of "break/fix model" as you are forced to stand by and watch the company's IT services and expenses rise?
If your company is still using the basic IT break/fix model, this may be the problem.
Not long ago, the IT break/fix model (pay for IT issues when they arise) was the standard solution for businesses of all sizes. But as you know, times sure have changed! There's been a major shift in technology and the services required for sustainable business growth.
Companies (now more than ever) require dependable, cost-effective IT management solutions, especially as customers' demands continue to increase. This is when companies turn to a managed services model. If you've never heard of these services, let us explain.
In a nutshell, managed IT services are a way to outsource the day-to-day management of your information technology needs. The specifics vary on the services provided by managed IT services providers, also known as managed services providers (MSP).
Some IT services providers offer an "a la carte" choice of services, while others offer a complete, interlocking suite of core services.
For example, some companies offer network monitoring and alerts only (your internal IT must fix the issues) and additional services for complete monitoring and problem resolution. Other companies, however, can monitor, alert, and resolve your issue as an all-in-one service.
The type of pricing model you choose is entirely up to you and the needs of your business and your employees. Managed IT services could also provide a high level of reliability by offering unlimited IT repairs and maintenance services for a fixed monthly fee.
To learn more about the ins and outs of managed IT services, read our article, What is Managed IT Services? How to Tell If You Need Them.
So why are companies making the switch from the standard break/fix model to managed IT services?
IT Break/Fix Model to IT Services
There are several common reasons why companies are making the switch from the IT break/fix model to a more proactive method of managed IT services. Noticed, we said, "proactive."
It's important to note that when it comes to your office technology, taking a proactive approach is better (and safer) than reacting once a problem or data breach occurs. Trust us on this one.
Managed IT Services: A Better Alternative
Cost-Effective: The IT break/fix model can be costly because most of the time, IT professionals charge by the hour. Plus, the more complex the problem, the more they can charge.
This also puts you at the mercy of your IT repair technician. So, the longer it takes them or their team to identify, assess solutions, and fix the problem, the more you have to pay. As you can imagine, this could significantly rack up a hefty IT bill that your business might be prepared to pay.
Consistency:
Under the IT break/fix business model, you never know how much the services will cost until they're done. We don't know about you, but that's a tad unsettling. This uncertainty makes it nearly impossible to budget for your annual IT repair and maintenance expenses.
Instead, you will be forced to pay for each repair on an as-needed basis, whether it fits within your budget or not. We think having peace of mind on your IT expenses is a much better option, especially if you're unsure of all the technology services your business, employees, and customers need.
Shorter Downtime:
It's important to keep in mind that IT expenses aren't the only costs you need to consider. Unfortunately, for every hour your computer system is down, productivity comes to a halt.
How many hours of downtime can your business afford? If we had to guess, we'd say, "Zero." Even a few hours of downtime can wreak havoc on your company's overall production, which can affect not only profits but the vendor and customer relations as well. Not only that, but It's also bad for morale.
Proactive vs. Reactive:
Earlier, we mentioned the importance of staying proactive instead of reacting to an IT issue after it occurs. The switch to managed IT services will take your company from a reactive stance into a proactive one.
Instead of merely coming to make the repairs, handing you a bill, and walking out the door, your managed IT service team looks for viable long-term solutions to maximize all of your latest technology operations.
Learn more about proactive monitoring and maintenance by reading an article we recently published, IT Help: Can Your Managed IT Services Provider Do All This?
Will Managed IT Services Work for Your Business?
Unlike providers offering IT break/fix services, your managed IT service provider shares your short term and long term goals of maintaining a smooth operating system.
Rather than charging an hourly rate or fee every time they come to repair, they only charge one flat fee for service, per month.
Instead of your company taking the many risks associated with maintaining your IT operations, your managed IT services professionals can easily take this burden on themselves.
Ultimately, this means that the fewer repairs they have to make, the more profitable their company is. This gives them an incredible incentive to make sure the repair and maintenance services are done right and done right the first time.
The Final Say: IT Break/Fix Model Alternative
Remember, you're in control of your small business and the expenses that come with the services you and your employees need. You don't have to let IT repair costs bog your company down anymore.

Take some time and do your research on making the switch from the IT break/fix model to IT services and obtain the fast, hassle-free, and affordable IT repair and maintenance services your company requires – and deserves.
Once you change to proactive IT maintenance, you will never have to worry about how much it's going to cost you when you make a call to your IT repair team.
Learn more about managed IT business solutions and its benefits by visiting our resources page here. Also, click on the image below for our comprehensive, free eBook.

AIS is not just a business technology provider, but also your partner and educator in the most beneficial ways that support your business growth. We are always looking for the most helpful tips to give you so that you can make successful purchasing decisions for your business, employees, and customers. To learn more about managed IT services, or any of the products and services we offer, reach out to one of our business technology consultants here. Also, check out our video channel on YouTube, The Copier Channel. We're here to give you peace of mind to help you win more business.