Haven't Upgraded Your IT Services in Three Years? Here's What To Do
July 28th, 2022 | 4 min. read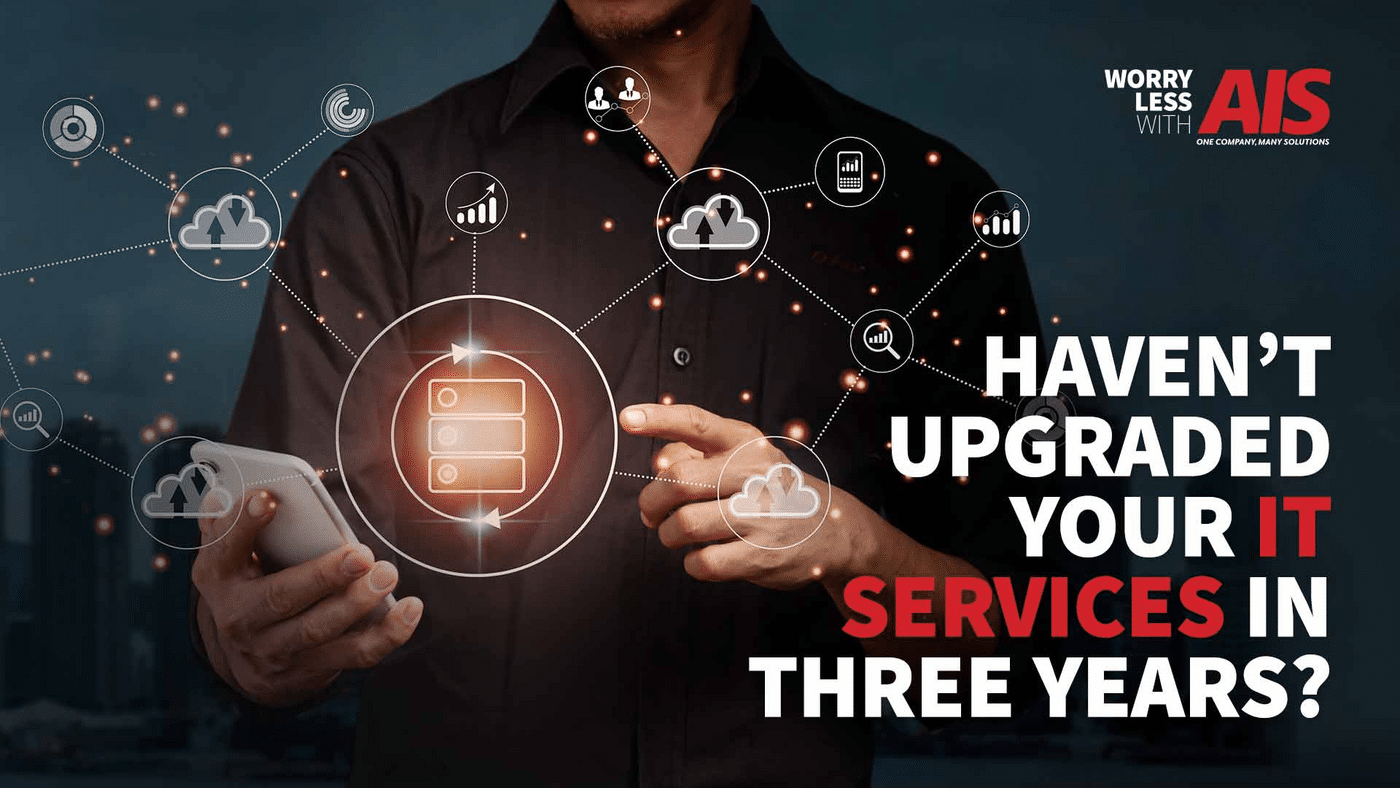 READ TIME: 4.5 MINS.
Out-of-date IT services hold your business back. As a modern business operating in a digitally driven economy, you will need up-to-date systems to operate at peak efficiency.

As you haven't upgraded your IT services in three years, you are likely not at par with the rest of the businesses within your niche.

Not to worry, though. Here's what you can do to upgrade your IT systems and bring your business improved performance.
Start with a Strategy

As you haven't upgraded your IT services in three years, you want to start by first figuring out what needs to be upgraded. You want to figure out who you will trust with the upgrades if you have trusted IT technicians onboard, what systems need to be upgraded and how these upgrades will give your business an edge.

Before you get the ball rolling, ensure the entire strategy is outlined. Note that a proper system will include a breakdown of the costs, risks, and action plans.

Related Article: How Can I Afford Managed IT Services?


Focus on Eliminating Possible Bottlenecks

As you embark on upgrading your IT services, you want to focus on eliminating bottlenecks. The first step towards this endeavor is to explore some barriers your business might face regarding growth, efficiency, and delivery. Be on the lookout for immediate problems that an IT services upgrade can solve and sort these out first.

It is prudent to mention that you want to avoid implementing unnecessary upgrades as these will only end up disrupting your business and increasing the costs of upgrades.
Use a Phased Upgraded Plan

As you upgrade your IT systems, it would be best to do so in phases. You want to avoid embarking on any upgrades haphazardly. Further, you want to ensure that the new IT services upgrades have proper justifications.

Be sure to measure and test performance parameters that matter most to you regarding IT systems. These might include speed, efficiency, cost, and complexity. If the new IT systems meet your expectations, you can then format the current system.

Overall, this is the best way to upgrade your IT system; this way, you end up posing less risk to your business operations and data. The consequence is more significant savings on the time and testing of the systems.

Look at it this way: you get live field performance results without needing to halt essential business functions.
Progressive Deployment

At this point during the upgrade process, chances are that you are well versed in the benefits of upgrading your IT systems. You might be tempted to jump right in and roll out all these upgrades.

However, this is not the right way to go at it. It would be wise if you were to deploy the upgrades progressively, one system after the other.

Pacing the upgrades poses less risk and allows you to continue with normal business operations as you integrate upgrades over time. Besides, by progressively deploying the IT system upgrades, you can spread the cost over time, making what would otherwise be expensive upgrades somewhat attainable and cost-effective.
Engage with Your Employee Pool and Culture

As highlighted, you have had your current IT systems for the past three years. Changing this system abruptly without proper engagement with your employee pool and culture could be detrimental and possibly cause perturbations in current work systems.

The thing is, you can simply not look at an IT systems upgrade as a matter of changing technology. This is because said technologies cannot sustain themselves and need your employees to accept and embrace them.

It would be best to engage the employee pool to ensure that the IT system you want to upgrade aligns with the company's culture. You want to start by pointing out the new habits your employees will need to adapt to keep pace with the IT system upgrades.

It is essential to remember that technological architecture evolution will often involve a cultural shift that requires upgraded structures and competencies. Both represent significant stumbling blocks you must take care of before updating your IT systems.

You want to encourage the different departments and employees to play a more active role in the update efforts. You want to ensure that your employees feel like they were part of the process.
The Final Say: Upgrading Your IT Services Through Outsourcing

Love or loathe it, outsourcing your IT services is the best chance to keep your IT services up-to-date. You will essentially pass non-core duties to an external specialist, which is cheaper and ensures more effective workflows. In doing so, you will be taking advantage of the broader access to the Internet and technology advancement.

As for why you should consider outsourcing the IT services upgrade, upgrading can be pretty sensitive, significantly if the goal is increasing your operational efficiency. When you outsource this function, you get to utilize the skills of highly skilled technicians.


The latter can better point out any areas that require you to look at. Besides, they save you the headache of going through the upgrades to find what could have been done better. Overall, partnering with a managed IT services provider eliminates some of the stress you'd incur regarding system upgrades.

Outsourcing your IT services in a bid to upgrade legacy systems is a sure way of redefining your IT function. Once you outsource these services, you are sure that your IT will be dynamically managed and that each component of the IT system is effectively managed. Overall, you get better security, increased efficiency, and enjoy reduced costs.

At AIS, we work with you to ensure you can afford managed IT services. We go beyond just being an office technology company. Our experts stay up-to-date on the best way to support your business, employees, and customers. We step in even when you have legacy systems ensuring that you operate at the same level with companies with updated systems. Reach out to us today, and let's talk about what your business IT systems need. We're here to give you peace of mind to help you win more business.
A true southerner from Atlanta, Georgia, Marissa has always had a strong passion for writing and storytelling. She moved out west in 2018 where she became an expert on all things business technology-related as the Content Producer at AIS. Coupled with her knowledge of SEO best practices, she's been integral in catapulting AIS to the digital forefront of the industry. In her free time, she enjoys sipping wine and hanging out with her rescue-dog, WIllow. Basically, she loves wine and dogs, but not whiny dogs.