Security Compliance: How A Managed IT Services Provider Keeps Your Business Safe
September 25th, 2020 | 5 min. read
By Dave Clark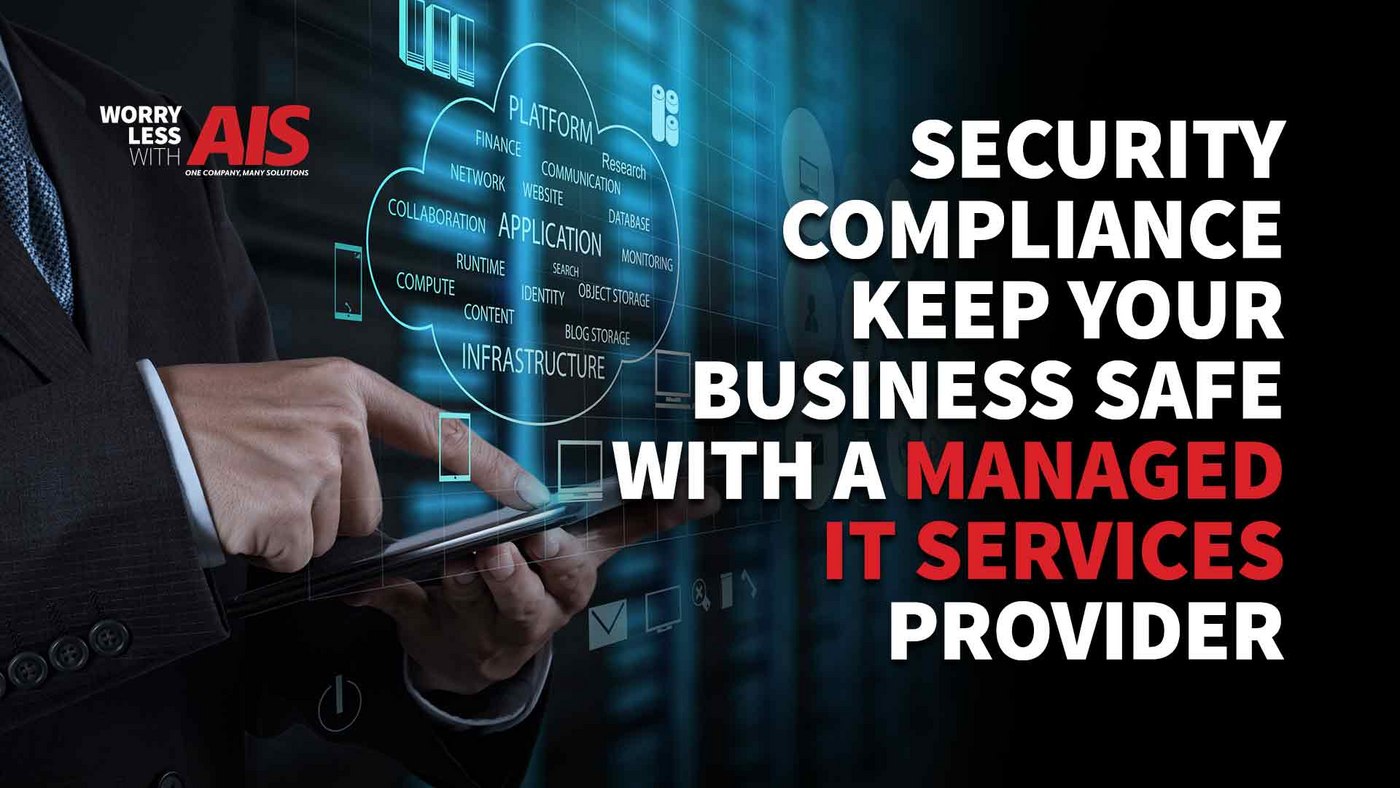 READ TIME: 5.5 MINS.
Data privacy and security compliance is an on-going concern that is becoming more and more challenging to manage. In response to consumer privacy cries, the industry and government pass more laws and regulations to manage data storage, curtail data sharing by businesses, and protect consumer information.
From a business perspective, keeping up with these regulations and still focusing on efficiently serving customers can become difficult. Because of these requests, keeping your business safe with a managed services provider (MSP) is a great way to maintain and ensure security compliance. Hence, the need for a dedicated team of managed IT services professionals.
Today, sensitive business projects and personal customer data (including credit card information, social security numbers, and more) are at risk as cyber threats and data breaches become more advanced.
As all of our IT privacy needs grow, more of us are finding it hard to dedicate time to infrastructure management on our own.
As businesses expand, their IT specialists become overwhelmed, downtime impedes workflow and efficiency, and cybersecurity defense becomes inadequate.
MSPs provide individualized teams that specialize in data privacy and cybersecurity. Outsourcing your IT in terms of privacy services (along with many other benefits) has quickly become one of the most reliable options to keep all company data secure.
What Is A Managed Services Provider (MSP)?
A managed service provider (MSP) refers to a company that remotely manages customers' IT infrastructure and end-user systems – usually on a proactive basis.
Today, the terms "managed service provider" and "cloud service provider" are often used synonymously, primarily when a service level agreement (SLA) supports a provider's service, and they deliver it over the internet.
An MSP monitors your IT network and systems around the clock to ensure your data and applications are healthy and secure. Due to its proactive nature, an MSP finds and fixes potential problems before they occur and affect your business and customers.
Related: Cost Savings: IT Services Break / Fix Business Model Alternative.
MSP's also provide backup and recovery services for your software and hardware to protect your business from natural disasters or planned cyberattacks. Some MSPs can also offer IT support (through a data center) and helpdesk services. This type of resource allows your employees to focus on other essential aspects of your business, including top customer service to clients.
Other services that new generation MSPs may provide include:
Remote monitoring and management
Cloud storage and cloud computing
Network design and implementation
Mobile phone and tablet management
VoIP phone services
Office 365 email
Why Do You Need An MSP For Security Compliance?

There are various benefits to partnering with a qualified and well-versed office technology company. So much so, we couldn't possibly name them all in this article.
But, it's powerful to know that whether you're working at the office or have moved your operations to your kitchen table, an MSP has the tools and knowledge to help acclimate and grow with you every step of the way.
1. Protection from Cyber Attacks
Businesses face real, evolving, and sophisticated cyberattacks daily. SMBs, for instance, face time and resource constraints that can severely impact their responsiveness to data and network security.
Unfortunately, cybercriminals have become proficient at exploiting vulnerabilities to conduct cyber-attacks. This means that all businesses, large and small, must remain hyper-vigilant about their security 24/7.
The right managed IT services company can help with the following services:
Conduct Vulnerability Assessments: To know what is at risk, a managed IT services provider must first conduct a vulnerability assessment. The right MSP should have a ready team of people dedicated to assessing your IT infrastructure and network for vulnerabilities before selecting the best way to provide security.
Monitor Networks: Firewalls are not sufficient security to protect your networks. You need someone to monitor the health of your systems around the clock to detect and prevent intrusions. An MSP should provide the hardware, software, monitoring, and support required to ensure a healthy and secure IT infrastructure.
Email Monitoring: Businesses that don't scan their emails are at risk for malware attacks. An MSP provides email scanning capability to review and quarantine suspicious emails, reducing your risk of cybercrimes.
Endpoint Protection: This kind of protection ensures all your network's access points are secure, making it safe no matter how (or where) your employees work or connect to company data and files.
Managed Security Through Antivirus: Many businesses use off-the-shelf, or sometimes free, antivirus applications that they install and then leave to update automatically. These applications are slow to respond to threats in real-time, and often nobody monitors them to ensure correct usage. MSPs offer managed antivirus applications with automated alerts.
Encryption: Encryption protects the virtual perimeter of your company plus the data inside. MSPs offer data encryption services that ensure your sensitive information remains secure both at rest and in motion.
Skilled IT Staffing: Security-oriented IT staff is expensive and hard to come by for many SMBs. An MSP is a cost effective strategy as they absorb the expense of hiring and training cybersecurity professionals. These additional services included in your contract give you more peace of mind in the realm of business security
2. Regulatory Compliance
Maintaining compliance in regulated industries is always a growing concern. However, as cybersecurity incidents continue to increase, more enterprises will eventually fall into the regulatory category.

Like AIS, an MSP understands the compliance landscape and can help you select the security technologies and services you require to ensure that you remain compliant with all the regulations that apply to you.
3. Disaster Recovery
No matter how suitable your security partners are or how careful your employees might be, it is impossible to secure your business 100 percent. Hence, the need for a disaster recovery plan.

Your MSP should have the capability to ensure your business is back up and operating at near-normal capacity in as little time as possible following a cyber-attack or data loss event.
4. Periodic Network Upgrades and Maintenance
Hardware and software eventually become outdated, along with installing any necessary software and hardware at the start of your contract to get your network up-to-speed.
An MSP also ensures your network receives periodic upgrades to run on the latest available technology.
Final Thoughts: Security Compliance And An MSP
The threats to businesses are ever-increasing, and many companies struggle to meet the industry and government requirements needed to keep their data safe. A managed services provider that offers security services can adequately help you protect your business and take the worry off of your hands.
However, outsourcing IT security components to an MSP requires you to invest in a solution you can trust; otherwise, you risk the cost of switching managed IT providers.
At AIS, we dedicate ourselves to understanding all your unique business and privacy needs. We can conduct risk assessments and network reviews and develop an effective management and remediation plan. We also set cybersecurity policies, create complete security solutions for businesses, offer several IT privacy services, and secure your entire network with round the clock monitoring, alerts, and other proactive services. Make sure to reach out to one of our business technology consultants to learn more. We're here to give you peace of mind to help you win more business.
Dave Clark is our VP of Strategic Sales, based out of our headquarters in Las Vegas, NV. He's had an illustrious 28-year career in business technology and continues to expand his knowledge on new and emerging office technology solutions. Dave is also the face of many of our videos we shoot and produce for our YouTube channel, The Copier Channel. Outside of work, you can find him hanging out with his two daughters and best friend Jak, his Jack Russell Terrier.