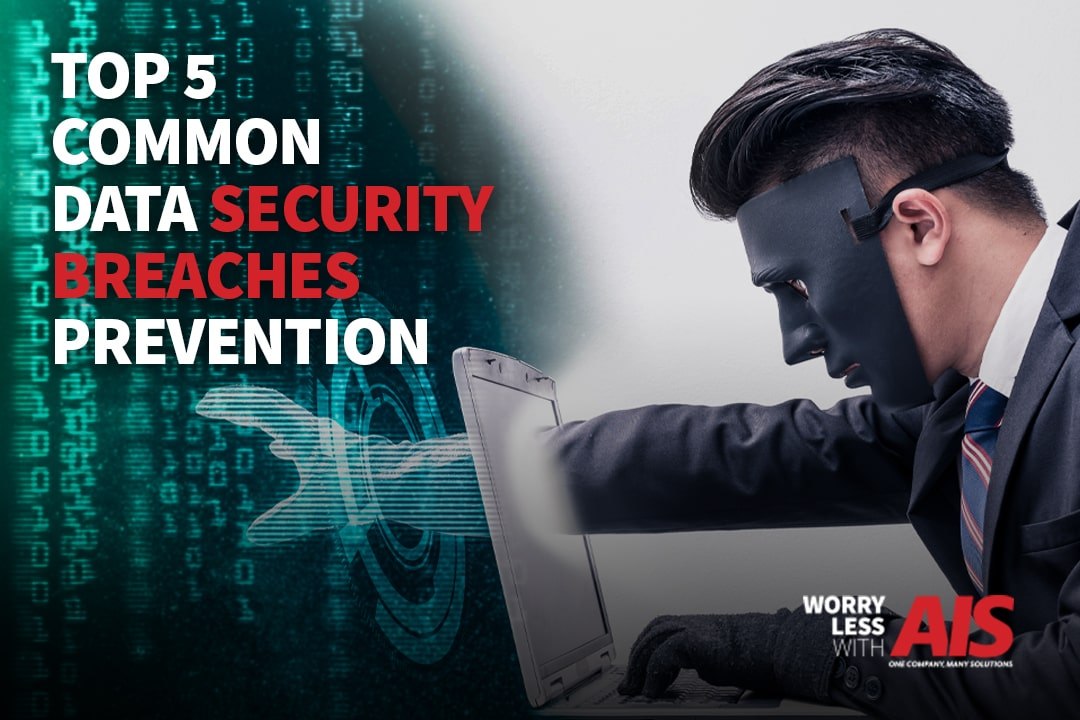 READ TIME: 5.5 MINS.
Cybercrime and data security breaches could be considered the curse of the 21st century. By 2021, it will cost the world $6 trillion annually. With half of the attacks targeting small businesses, beefing the security to avoid data security breaches must be on the agenda.
Cybercriminals usually capitalize on the lack of awareness. Many companies manage to avoid professional IT advice and simple security measures, allowing hackers to steal sensitive data.
As many of us begin to work from home (WFH) or work more remotely than we typically ever have, it's vital we take the steps in protecting our data, network, and IT infrastructure more than ever.
A time like this is a cybercriminal's dream because they know our IT networks could be much weaker in our homes than they are in our office buildings.
It's extremely important to make sure you're up to date on the most common data security breaches and some of the best ways to prevent them from taking over your current IT infrastructure.
Common Data Security Breaches: Learn and Prepare
1. Ransomware
Ransomware attacks involve the cybercriminal taking your data "hostage" in exchange for payment. In most cases, hackers encrypt your data and promise to release it after you pay up.
For the majority of companies, a ransomware attack leads to downtime. We can safely guess that most companies, including yours, can't afford downtime, right?
Unfortunately, paying the criminal doesn't always resolve the matter. The hacker may get the payment but fail to unlock the file. Even if the data is back, you can't be sure that the machine (where the ransomware appeared) is secure for further storage of sensitive information, such as social security numbers, business bank account numbers, or personal identifiable information or your staff or customers.
Ransomware usually comes embedded in a phishing email or gets downloaded to the computer automatically when you visit a malicious website.
Keep your antivirus updated - to keep the chances of ransomware security breaches to a minimum, make sure you are using top-notch antivirus software and keeping it updated regularly.
Ignore pop-up installation messages - if a message pops up when you are visiting the website, asking you to download something, don't do it. Search for a secure downloading source.
Create backup - you are immune to ransom demands if you have all your data backed up. Use a combination of online and offline storage methods to ensure a 100% backup.
Keep your software updated – hackers always look for loopholes in the off-the-shelf software to find a way to seep into your files. Update your software and apps timely to make sure all the necessary security patches are in place.
2. Malware
Malware is malicious software that makes its way into your system to steal or damage your business and personal information. The most common examples of malware are viruses, Trojans, and spyware. Ransomware is a subdivision of malware.
Here's what you should do:
Don't click - if you don't trust the source of information explicitly, don't click the links offered in emails, pop-up messages, text messages, and on websites.
Don't download - unless you are on a secure and respectable website, don't download any files or programs.
Look for the lock - websites without padlocks near the URL aren't secure. Any information you download or copy from them could be infected.
Install a firewall - firewalls block unauthorized access and provide an extra barrier against malware.
Keep software update - make sure all your apps and antivirus software is updated to use the freshest weapons against malware.
Happy clicking and downloading days are over.
3. Unauthorized Access
Gaining access to your sensitive information is possible through employees, human error, lack of security measures, and more. Forgetting to set up a password or leaving an unlocked or open file for others to see could lead to a security breach with costly consequences, or even identity theft of your employees.
Set up a strong password policy - passwords must be strong and contain symbols, uppercase letters, and numbers. They must be changed every 60 to 90 days. If you have numerous passwords, use a password manager for security.
IP or domain whitelisting - you can limit the number of users that interact with your computers by checking them against a list of allowed IPs or domains.
Two-step identification - before logging into your system, a user has to go through a two-step identification, which may involve biometrics, such as iris and fingerprint scans.
Monitoring - your information technology specialist should be monitoring all attempts to access your system. If they find unsuccessful login attempts, it could signal a security breach that warrants further investigation.
Take a look at our video for more IT skills when it comes to access and authentication, Top 4 IT Skills - Basic Things You Should Know.
4. Denial-of-Service (DoS) Attacks
DoS attacks can be highly damaging to a company. During the attack, hackers access and flood the network server with traffic, bringing it down and causing downtime. This can create so much traffic that your customers can no longer enter your site.
They can serve as a smokescreen for stealing sensitive information. While the attack wreaks havoc on the system, criminals proceed with a data breach.
What can you do?
Develop a DoS response plan - you need to know how to react to a DoS attack when it occurs. Your data center must be prepared. Your staff must know the right steps to take. Timely reactions could prevent the majority of unfavorable consequences.
Secure your network - by taking full advantage of network security possibilities, including firewalls, anti-spam, antivirus, VPN, and content filtering tools, you can increase security tremendously. Make sure all your systems are updated.
Engage in strong security practices - a strong password policy, secure firewalls, and phishing email awareness can help you prevent attacks and security breaches.
Know the signs - you can catch the signs of an upcoming DoS attack if you know them. They include slow network operation, poor connectivity on company internet, intermittent shutdowns of websites, and more.


5. Insider Threats and Errors
A threat to your data's safety can come from inside your company. Your employees may either misuse sensitive data on purpose or commit a careless error that leads to a security incident or breach. Since the financial gain of selling such data can be substantial, there is always a risk of an insider criminal trying to hurt your company.
Here are a couple of ways to stay on top of insider threats:
Manage access - to minimize the chances of such a breach; you need to figure out who should have access to which information. If the employee doesn't need access to do a specific task, don't allow it.
Educate your staff - the key to staying safe and preventing security breaches is educating yourself and your employees. The majority of attacks happen due to a human error (clicking the link, setting up a weak password, granting access, forgetting to lock the computer). By teaching your staff proper security measures, you can keep your data safe.
The Final Say on Data Security Breaches: Prevention Starts Now
The number of data security breaches is growing every day. It's important to remember if you want to keep your information, employees, and customers safe, start taking measures now. It's much easier and more effective to have a proactive approach to data security than reacting when it's too late.
Our mission at AIS is to provide our readers and customers with the information you need to support your technology plans and business goals. Whether you're looking for a better way to secure your network, or interested in our office technology products, we're here to help. To learn more, reach out to one of our business technology consultants. Also, check out our channel on YouTube, The Copier Channel. We're here to give you peace of mind to help you win more business.