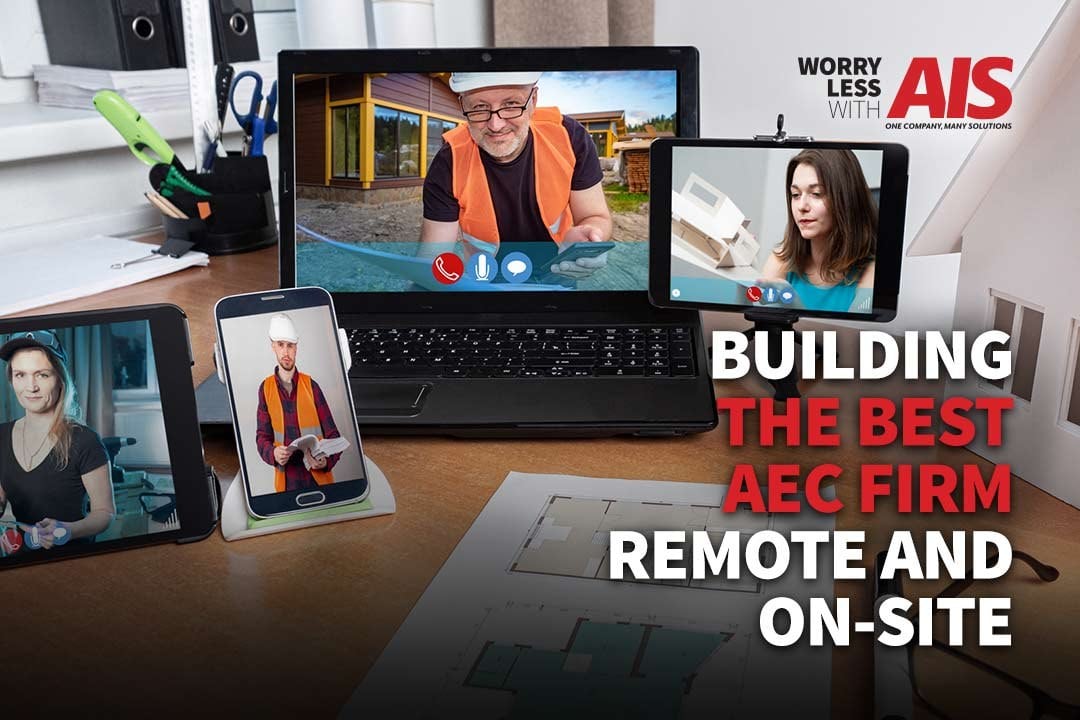 READ TIME: 5.5 MINS.
Living with the new reality of COVID-19 demands rethinking your work arrangements. This is primarily a new dynamic if you work in the architecture, engineering, or construction (AEC) industry that is often based on-site.
Architects and engineers working from home now have to adapt to a new world of interconnectedness where millions of workers are still adjusting to remote working.
With such a shift, new solutions that optimize all of your technology needs are exactly what you need.
We wanted to share a few solutions that will serve you well in your remote working environment (but that you can also carry with you back to the office) to ease this change.
By the way, it's powerful to know that new and emerging technologies are not just expensive devices or platforms for your home office. But, solutions to help you adjust to this new normal.
At AIS, we've been in the industry for almost 20 years, so we've seen many changes and helped our customers adapt along the way. We can work with you to identify your current needs and provide you with tools to better assist you during this transition. Click here to learn more about our Work From Home initiatives.
Remote and On-Site Tools For Your Architecture, Engineering, and Construction Firm
1. Utilize Collaboration Software For Your Firm
Collaboration is a crucial component for architects working from home and need to keep up with their communication needs. This means getting collaboration tools, such as MicrosoftⓇ Teams.
This communicative and collaborative platform allows you to continually engage your workers on various topics while at your home's comfort, meaning all employees can stay up to date with the company tasks.
You can use the Teams application tool to schedule and conduct virtual meetings and customize communication options to fit your team's needs as time goes by.
Another collaboration tool that can also work well for your off-site employees is Zoom, which now allows for more people to join in your video conferencing. Nowadays, video conferencing is everything as meeting in-person isn't always the best option when it comes to the safety and health of our employees and customers.
2. Make Use of File Sharing and Data Storage Applications
Accessing and sharing content is another new element with work from home (WFH) employees, which can be solved using a platform like Microsoft Office 365Ⓡ.
If your firm needs to share files externally with other team members, Office 365 gives you the ability to do so while bringing your security needs to the forefront. With this application, you can post up to 320 types of new projects and plans from your clients, including CAD (Computer-Aided Design) files.
A second tool that comes in handy for WFH architects is Microsoft OneDriveⓇ, which helps you collect an RFI (Request For Information) with your documentation. You can also select who to share your files by simply copying and pasting a link. Talk about easy collaboration!
If you need help with your tasks, simply send it to your team members to implement changes where they see fit. OneDrive also makes it possible to store your firm's data in a centralized place, cutting out the need for on-site backup servers.
A single data storage option allows your team to copy, scan, print, and email documents from their printers as needed. And have immediate access to them.
Speaking of printers, do you have one for your home office? If not, are you struggling without it? Now is a great time to invest in a copier or multifunction printer (MFP) or copier for your home office. Make sure to reach out to your technology solutions provider, like AIS, to learn about your office's best technology products as your work remote.
3. Automated and Contactless Temperature Scanner
Numerous construction projects need state of the art BIM (Building Information Modeling) technologies, which may not be readily available for architects working from home. As such, you may occasionally need to rush to the office while ensuring you maintain the COVID-19 safety protocols.
With the most crucial control being temperature checks, the only solution is to implement screening protocols for all visitors and employees at your firm. An automated and contactless temperature scanner will help you achieve this, ensuring that you keep track of anyone with an increase in temperature.
If you are uncertain what to look for when getting an automatic temperature scanner, here are a few hardware and software features to check before your purchase.
For useful scanning, take a look at the AATSSV2 Pro automatic and contactless temperature scanner, now offered by AIS. Place it at your access points such as hallways or entrances so the device can read the temperature of any individual who enters your firm.
You can never be too safe during a time of uncertainty. You owe it to yourself and your employees that you're doing everything you can to prevent COVID-19 from spreading throughout your building and offices.
4. Multifunction Printer or Copier
Although we mentioned this point a little earlier, we wanted to stress the importance of a multifunction printer or copier.
While most remote construction projects will proceed without a hitch, multiple parties still need to review certain on-paper documents. So, where do you turn to when such needs occur?
By utilizing an MFP, you can scan, print, and copy documents from your laptop or desktop, and send it to your colleagues and vice versa. You no longer have to rush to your offices to send an important file.
Additionally, your remote employees can benefit from utilizing add-on software to increase their team's efficiency and control their access needs. Keep in mind that many MFPs help you meet industry compliance guidelines by using secure out-of-work machines and networks.
5. Adopt Cloud-Based Solutions
Now is the time to embrace the world of cloud services and cut back on your company's on-site infrastructure. Cloud solutions can allow architects to work remotely to enjoy the benefit of more data storage, topnotch security, and software management tools such as SaaS solutions.
As a very general definition, SaaS solutions are software that you pay for on a subscription basis, such as Office 365.
Below are a few SaaS solutions that could help your firm with project management and the sharing of files, as it pertains specifically to the architecture, engineering, and construction industry:
The above-listed tools allow you to reduce manual tasks, with the result being that you get to cut down on costs and enjoy efficient processes for your firm.
But before getting a cloud or SaaS solution, consider looking at your IT infrastructure. Ensure that it is up to date and can handle the increased speed delivery and secure connections needed for cloud services.
Also, it's essential to use and practice cybersecurity safeguards. Increased remote working can pose security hazards for your firm, and as such, you still need to make sure that your documents are safe. Adopt safe cybersecurity practices to ensure your work stays only within your close network of associates.
The Final Say: Optimizing Your Firm, At Home And The Office
Working at home can come with the risk of reduced workflow, given the unexpected and abrupt turn of events. But just because you are away from the office should not mean taking a back seat and leaving your business unattended.
You can still adopt some of the latest technology solutions for your architecture, engineering, or construction firm. Keep in mind that some may come at an extra cost, but in many cases—a dependable, collaborative, and productive WFH environment is priceless.
At AIS, we specialize in technology solutions for optimized work-from-home needs. Our solutions also cater to office technology, cloud systems, phone system integration, temperature scanners, and software applications. These solutions are designed to help your business excel in the wake of new work arrangements. To learn more about these services, contact us today. We're here to give you peace of mind to help you win more business.