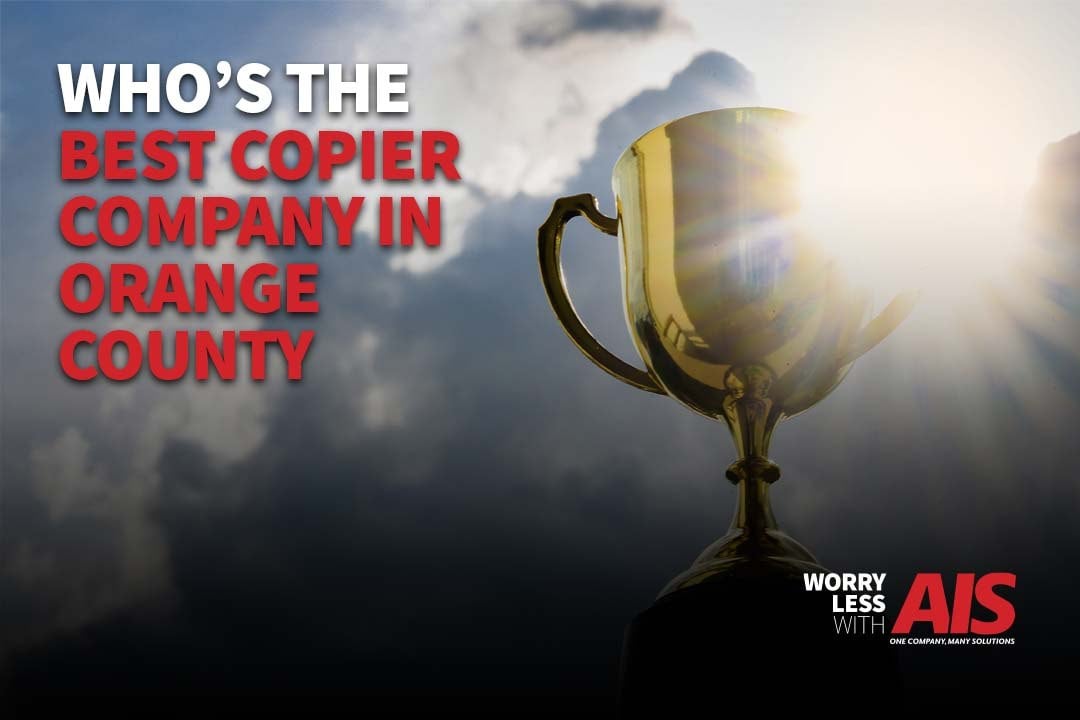 READ TIME: 6 MINS.
If your business or employees are based in Southern California, you might have come across a few challenges when searching for the best office copier company in Orange County. Or, how to find an office technology company that is experienced and reliable.
After all, an office copier is often one of the most critical components in your office workflow. Without it, you might not have the ability to get some of your most important jobs done in a timely matter. If it's not, you may want to look at how it set up and how it could be.
Not to mention, during a time of social distancing and working from home, many print or copy shops that you once relied on may not be available for you to use anymore.
Finding the best office copier company in Orange County can take time more time than you may have planned. You'll begin to notice that like any other piece of technology, it's never just about the variety of copier machines or the costs of the equipment.
Instead, it's a combination of all that's offered, such as customer service and reliability.
Do you need a new office copier or printer due to an increase in the number of employees who are now required to work from home (WFH)? Can they support you in this "new normal?"

Do you need extra functionality, such as stapling, binding, or folding?

Is your current office copier

company

lacking in response times that significantly slows down your productivity?
Some or all of these questions are what brought you to your search in finding the best office copier company. But now, it's up to you to decide whom to purchase your next piece of office equipment from and who can best support the needs of your growing and changing business.
Who Can Help You Navigate Your Office Copier and Equipment?
Before we get into naming a few local businesses that offer great support when it comes to office copiers and equipment, it's critical to learn and understand the factors that make up an excellent office technology company.
You deserve an office copier that can get the job done efficiently. Whether one person or an entire organization is using an office copier, there are big decisions that need to be made. You can have all sorts of features and add-ons within the copier – and the investment must be a sound one.
At AIS, we make it a point to show our customers (current and new) that we are reliable, experienced, and focused on the specific pain points a customer may be experiencing. Some of the critical components we discuss with our customers are about:
Color and black &white printing/copying

Collation and stapling capabilities

Remote printing

Managed document services

Wide-format or production printers
You might be surprised by what the various office copier machines are capable of. In some instances, there may be a need for more than one device, depending on what functions you and your employed need.
It all depends on output, features, remote location setups, and how many people are going to be using the machine. A great office copier company will recommend various devices that support all of your operations, once you meet with them on the functions you require.
We can even talk to you about the different brands we offer, discuss the benefits of certain features, and help you to compare machines so that you know what is going to provide the best value.
Investing in a copier is not a decision you want to take lightly. When you purchase a machine (or even lease one), you want to be confident in what you ultimately choose. That's why we're here to answer your questions along the way to ensure you get a machine that supports your business growth.
Office Copier

Company

: Finding The Best For Repairs
If your copier machine goes down, what happens next? Unfortunately, you could end up with a long queue of documents that need to be printed. It's critical to partner with a copier company that can provide you with fast, affordable repairs.
By the way, your office copier company is a partnership, not just someone you pay each month for service and supplies. The overall goal of a copier company is to support you as your needs continue to change and grow.
When inquiring about how a company responds to the repairs of your office equipment, it's necessary to find a company who has technicians that can be dispatched to your location quickly.
A great office copier company will be able to diagnose the problem, and, in many instances, provide the repair on the spot. This type of exceptional service allows you to be up and running in no time at all.
In addition to repairs, a qualified copier company can also talk to you about preventative maintenance tips, even if you and your employees are working remotely. The more you know about the maintenance of your machine, the more efficient it will run for years to come.
Productivity Questions, Answered
As you know, technology has improved on copiers drastically over the last several years. When you're ready to invest in a copy machine, there are plenty of new features and apps that you can benefit from. Some of these added features and apps can even increase your overall productivity and make your job easier.
If you're standing around stapling groups of printed material or waiting on someone else to finish their lengthy print job, it would be extremely beneficial for you to discuss those issues with the copier company you're considering.
Some machines, such as Xerox® and Kyocera®, even have automation in place, taking away some of those mundane and time-consuming tasks. How nice is that?!
There are plenty of productivity tips to make it easier for you to get work done. But, investing in better office technology and making a few minor changes could really surprise you of the extra tasks you'll accomplish each workday.
Office Copier

Companies

in Orange County: You Have Options
At AIS, we're big on giving our customers and readers options. We believe that the more options you have, the better purchasing decisions you'll make. And, the better purchasing decisions you'll make means you're putting your business in a prominent spot for continued growth.
For this reason, we're happy to give you some options (besides us) of the best local office copier companies in the Orange County area.
Copy Tech has been providing repairs and services since 1985. They provide quick response times to their customers and offer a variety of products and brands.

OC Copier provides its customers with copier and scanning solutions that claim to have competitive pricing within the industry.

KC Digital Solutions Inc. is a Southern California based copier and printer

company

providing solutions for document processing, distribution, and management.
Managed IT Services and Your Office Copier

Company
As a side note, did you know that IT services and office copiers go hand in hand? It's kind of like peanut butter and jelly—you can't have one without the other!
As you search to find the best office copier company in Orange County, be sure you look at how they can help you with everything related to office technology, including managed IT services, and even telecom.
There are quite a few key advantages of having managed IT services in place and how these services further support your office copying and printing needs.
Rather than investing in an entire IT department that will sit on your payroll, you can rely on a company that specializes in IT. This type of IT support ensures that you get help when and where you need it.
A well-versed office technology company offers support on your copying and printing devices as well as managed IT services. Most of the time, with IT, everything is handled behind the scenes so that you can focus on running your operations as smoothly as possible.
To learn more about managed IT support, make sure to visit our Managed IT Services Resources Page.
The Final Say On Finding The Best Office Copier

Company

in Orange County
Whether you're in the market for a multifunction copier/printer or you need your copier fixed, it's critical to partner with a company who is reliable and efficient. Make sure to look for office copier companies who take on more than just your average copier company so that you receive the best solutions and offerings.
Office productivity is always of utmost importance. And, with so many of us working remotely, it's even more significant to find new ways to better support your small business, employees, and customers.
At AIS, we are committed to giving our customers and readers with the knowledge they need to make the best business purchasing decisions. Your office technology is a valuable asset that helps keep your business growing. To learn more about finding an office copier company, or any of the products and services we offer, reach out to our business technology consultants. We're here to give you peace of mind to help you win more business.