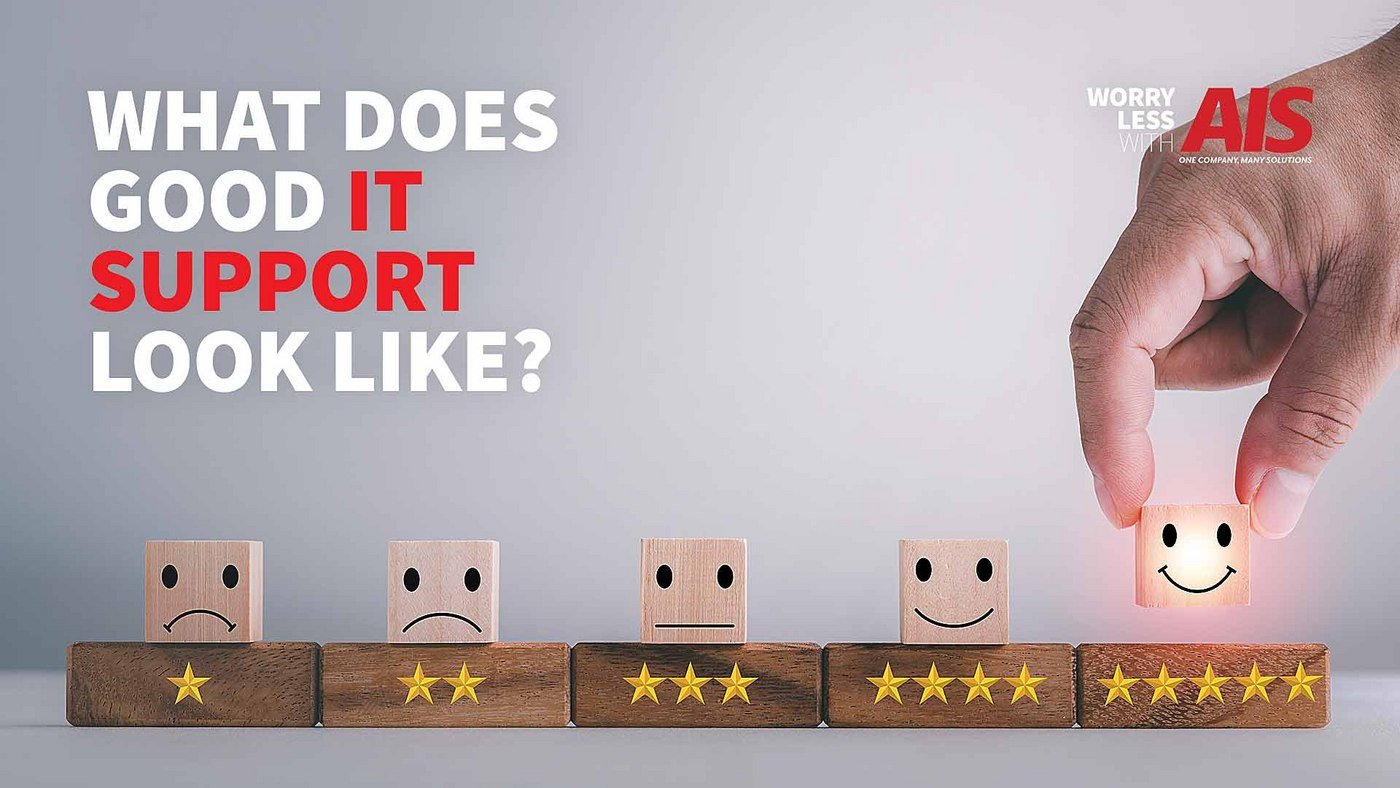 Read Time: 4.5 mins.
Having the proper IT support for your business can make a huge difference in your overall productivity and function. With solid IT support, you'll have less downtime, fewer tech problems, and more time for your employees to spend on their crucial job tasks.
Many businesses, however, aren't even entirely sure what good IT support looks like.
What elements should you expect from your managed IT services provider--and how do you know that the provider is offering the support you really need? Take a look at these critical elements.
1. IT Support is Easily Accessible to Every Member of the Team.
Whether you have a team member who needs help resetting a password or a crisis involving software that simply isn't working the way it should, every team member should have easy access to the IT team.
Requests should not need to go through a complicated series of tickets involving multiple people before you have a resolution to potential problems. Instead, team members should have confidence that they can reach the help they need quickly and effectively.
2. The IT Team Should Provide Quick Resolutions to Problems.
Slow resolution to minor problems can lead to substantial downtime for your business. An employee who can't log in may lose the ability to perform many of their usual job tasks—and they may end up struggling to make up that time later or, in some cases, cost the business over time.
While some IT challenges simply do not have fast resolutions, a promising IT support team will provide efficient resolutions to any problem that comes their way.
They may prioritize requests that can be handled quickly or assign specific team members to manage those more accessible requests. In contrast, other team members deal with issues that have greater levels of complexity.
3. The IT Team is Proactive in Handling Potential Issues.
People often think of IT teams like those who come in and clean up after problems have already been identified: an emergency response team that handles those issues.
Effective IT teams, however, are proactive in handling potential issues. This may mean a variety of services that can ultimately benefit your business.
For example, a proactive IT team will stay up-to-date on the latest apps and technology, then make recommendations about the technology your business needs to excel.
A managed IT team may even provide you with access to some of the latest apps and tools you need to keep your business running smoothly.
Furthermore, your IT team should keep up with the latest patches and updates to the apps you regularly use—including installing those patches and updates at the time when it's least likely to disrupt your business.
Finally, they should notify you about potential problems with your hardware as it ages and let you know well ahead of time that you may need to take care of a potential problem.
4. The IT Team Offers a High-Level of Security for Your Business.
Cybersecurity has become increasingly important to many businesses. 43% of small and medium enterprises lack effective cybersecurity defense plans.
While they may have the absolute basics in terms of antivirus and overall security measures to keep them in compliance with local standards, they may have few additional resources and tools—and they may lack a plan for what will happen if they do suffer a breach.
Unfortunately, with cyberattacks on the rise across nearly every industry, it has become more critical than ever that your business has a solid cybersecurity plan in place.
An effective IT team will provide exactly that. Your IT team should keep you up-to-date on the latest cybersecurity threats and the measures to protect your business. They should also implement a high level of security across your organization; based on the budget you're willing to allocate to cybersecurity and the tools you have available.
Often, your managed IT team can make you aware of what options you have for increasing your cybersecurity, including going beyond compliance into a higher level of security.
Additionally, a managed IT team can conduct remote monitoring of your system, which can help track any potential threats and allow you to deal with them as soon as possible.
5. The IT Team Provides You With Data Storage and Protection Options.
Your company runs on data. Today's businesses collect and transmit more data than ever. Losing that data could quickly prove catastrophic to your entire business.
Unfortunately, many businesses lack an effective data backup program that will allow you to quickly and effectively restore lost data in the event of an emergency.
You can lose data for a variety of reasons, from user error to a cyberattack. Failing internal servers can also leave you struggling to recover the data housed within.
However, an effective IT team will help you prepare for that eventuality, including assisting you in initiating more effective data backups that will allow you to restore more of your data if a crisis occurs.
6. The IT Team Provides Support for the Tools You Use Most Often.
Many businesses rely heavily on technology to keep their businesses running effectively, protect their employees, and achieve maximum productivity within the office environment.
From scanners and copiers to thermal temperature scanners, you need to keep those tools functioning at their best for your business to perform at its best.
You need an IT team that will provide support for all the most essential pieces of technology in your business, rather than leaving you scrambling to deal with a wide range of vendors and support providers to get answers to your questions.
The Final Say: Finding The Best IT Support
Ask yourself this: are your technology needs being met? Is your in-house IT department (or IT guy) spending too much time troubleshooting network connectivity, patching and updating virus protection, struggling to include security for mobile devices like smartphones?
Are you paying monthly for unexpected IT break-fix services and blowing a hole in your budget? Do you feel confident that you have a plan to grow your IT infrastructure as your business grows?
If your answers to any of these questions left you slightly uneasy, a network assessment could start the process of seeing if managed IT services is a good fit for your needs.
AT AIS, we offer managed IT services that can help keep your business functioning at peak efficiency. Contact us today to learn more about the benefits of our managed IT services and how they can help you.