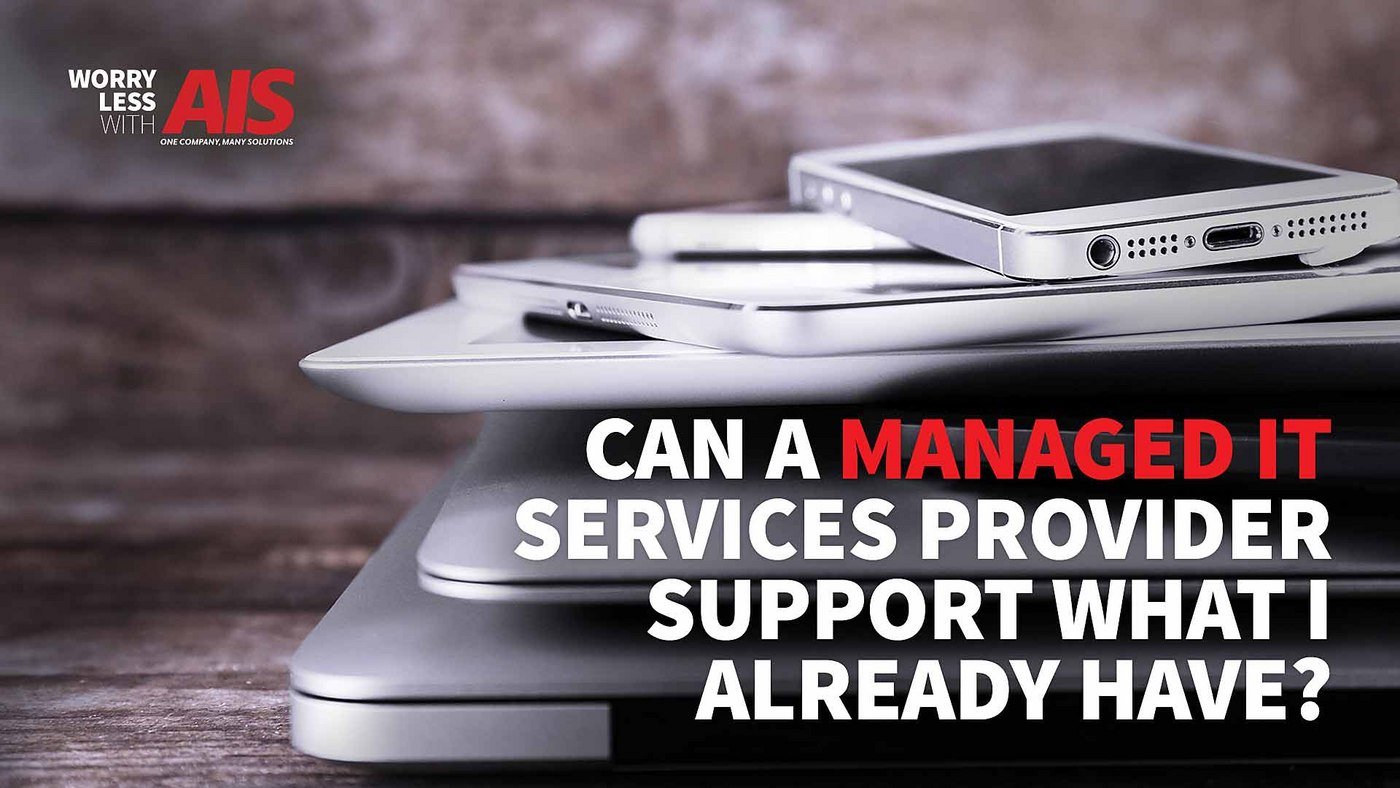 Read Time: 5 mins.
Are you looking to have your IT infrastructure efficiently managed? Are your current IT needs even being met? Did you know that managed IT services providers (MSPs) can deliver network, application, and managed security services for your organization?
With managed IT services, your company benefits from a comprehensive range of solutions, whether industry-specific or tailored to your business, alongside round-the-clock remote monitoring and management.
Having such knowledge, your next question may be, 'Can a managed IT services provider support what I already have?' Well, you're in luck because the answer is 'Yes!'
MSPs can function as outsourced support that comes in to manage or oversee your IT infrastructure, augmenting existing support staff, or on a break-fix arrangement.
When partnering with an experienced managed IT team, your business will experience improved operations, cybersecurity, and recovery time in case of attacks, human error, or power cuts.
Stick around and learn how a well-qualified IT provider can support your current IT infrastructure while also helping grow your business.
Using a Managed IT Services Provider Alongside Your Existing Infrastructure
A managed IT services provider is a vague term for expert support that's better equipped and well-learned on contemporary solutions for your enterprise.
An MSP will handle one or all of your business' IT needs by implementing regular, continuous support or management roles, such as cybersecurity as a service or managed maintenance packages.
MSPs can also combine their native services with another provider's solution, such as cybersecurity, on top of existing cloud-based infrastructure as a Service (IaaS). Besides keeping your business's IT equipment and devices in secure operation, a pure-play MSP may also focus on one technology or vendor as their core offering.
Your choice of options for a managed IT services provider that fits your business strategies and vision can be split into two.
Related Article: Top 5 Reasons to Outsource Your IT with Managed IT Services.
Some MSPs offer services to diverse industries, while others conduct managed services for specified sectors. Such specified segments include government, finance, law, or healthcare. Both categories provide outsourced solutions like framework management, cloud computing, or network and security.
Types of Managed IT Services Providers
Whether you work with an IT MSP on in-house support, complete, or break-fix contract, a certain amount of trust must be invested in your provider. It could be that you feel safer running your infrastructure and being in control of when and why you call a solutions provider on a break-fix assignment.
But in any case, you have to entrust private data and aspects of your equipment, software, and configurations to an outside entity.
The best-managed service provider will seek collaboration, working alongside your internal staff to find specific management plans to fit your particular business. You will draw up a service level agreement (SLA) to outline the services you can expect from an MSP, including action plans, strategic reports, and recommendations.
Besides network monitoring and infrastructure support services, your MSP can offer cybersecurity and software as a service.
Related Article: IT Help: How to Successfully Switch Managed IT Services Providers.
Other managed and supported services that will get integrated into what your organization already has could include:
1. Backup as a Service
Backup and recovery of data are what this service focuses on, where all your business's stored information is duplicated and secured on an off-site server.
A disaster recovery plan or DRP is established to determine the frequency of data backups and recovery procedures. If and when your system fails, the MSP initiates time and point objectives that focus on the speed and age of files to be restored.
2. Desktop as a Service (DaaS)
DaaS hosts back-end Virtual Desktop Infrastructure (VDI), usually run virtually from the MSPs cloud-based systems. VDI adds an extra layer of security while DaaS is easily accessible via software or online.
If your company has lots of remote workers, works with extra sensitive data, or operates on a 'bring your own device' policy, desktop as a service is a perfect solution.
3. Data Analytics
To implement practical business solutions, your MSP will monitor and analyze network data or customer statistics. Data analytics helps your business increase revenue by adapting solutions like changes in production procedures or pushing consumer awareness.
4. Managed Communication
Unified or combined communications integrate email, voice, video, and chat as one service. Instead of staff logging into various applications, your MSP connects the entire organization on a single platform.
As an effective tool for streamlining telecommunication and employee engagement, managed communications can include administrative portals, hosted phones, IM, file sharing, and virtual spaces.
Related Article: What is a Cloud-Based Phone System and How Does It Work?
What's the Alternative to Taking on Managed IT Services?
The services covered above are fully managed packages that offer solutions like an in-house IT team. Your business can combine multiple packages or depend solely on support services like troubleshooting and helpdesk.
Everyday problems such as software updates, user authentication, or resets will cover your mobile devices, computers, printers, and tablets.
At a minimum, your MSP, whether providing complete or managed packages or services, should offer some security, proactive monitoring, backup, and technical support.
What Is a Break-Fix MSP?
An MSP using the break-fix model only comes to offer support when called. While not a suitable model in today's business landscape, integrating it into your existing infrastructure is seamless, as little control is traded off.
However, this contract involves sitting with your fingers crossed that nothing that your in-house team can't handle happens.
Break-fix MSPs charge for consultation, repairs, or expertise delivered and hourly labor wages. There's no way you can budget for such occurrences, and there are no preventative measures left in place. With break-fix, you're leaving your business open for costly surprises.
What Is an In-House IT MSP?
With an in-house model, the MSP has someone on-site at your premises to deal with any occurrences. A designated engineer works alongside your existing IT team and prevents the laying off of staff.
This partnership frees up time and responsibilities for your employees, so they focus on the bigger picture.
The Final Say: Can A Managed IT Team Support What You Already Have?
In business and IT, the rule of thumb is anything can go wrong unless you're well prepared and have a managed service provider's support.
Rather than hiring employees conversant with each aspect of your organization's infrastructure, an MSP with expertise, equipment, and quick response time can be contracted more affordably and integrate with your current systems, programs, and applications.
AIS is a business technology provider and your partner and educator in the most beneficial ways that support your business growth. We are always looking for the most helpful tips to give you to make successful purchasing decisions for your business, employees, and customers. To learn more about managed IT services or any of the products and services we offer, reach out to one of our business technology consultants today. We're here to give you peace of mind to help you win more business.