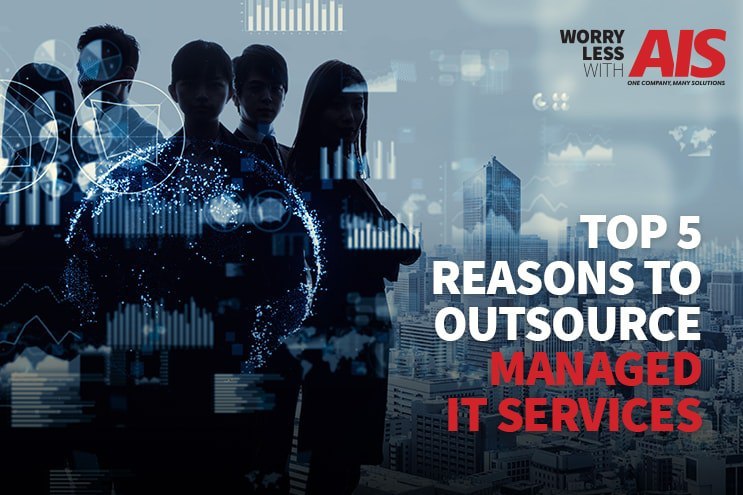 READ TIME: 5.5 MINS.
Have you ever heard of managed IT services and that these services are essentially IT outsourcing? Truth be told, IT outsourcing only scratches the surface of what a managed IT services program or team can do for a business.
At its foundation, managed IT services is the transfer of your business' IT functions to another organization that will provide service and support for your employees, systems, applications, and infrastructure, typically for a monthly fee.
Now, because of the critical nature of IT, outsourcing your managed IT services might not always be a simple business-vendor relationship. When you decide to outsource your IT, you are investing in a partnership, built on a foundation of mutual respect and trust. It's similar to a relationship two friends might share. Your friends should rely on you as much as you rely on them.
There are thousands of managed IT services providers out there that are all offering their take on IT support and solutions, and how they can keep your business operations running smoothly. There's one common thread though, and those are the types of services that businesses could utilize from these providers. Some of these services include:
Remote and onsite support of desktop software, printing, and networking
Remote monitoring and management of software patches
Backup of network and files
Disaster Recovery
Vendor management
Virtual Chief Information Officer (vCIO) / Technical Account Manager (TAM)
Malware protection
Security management
Professional services
Typically, these service offerings are defined a little differently depending on which managed IT services provider you contact. However, these technology services are the essential, and bare minimum, that any managed IT company should offer.
How Can Managed IT Services Help Your Business?
"How do I know these services will help my business grow?" "Is outsourcing my IT just a waste of my money?"
We hear these questions a lot, as other managed IT providers probably do too. The challenge usually lies within the business owner or decision maker doesn't see the value in outsourcing their IT, meaning they have no interest in spending the money.
However, let's look at a real-life example, and maybe you'll begin to understand the significance of managed IT services.
In 2013, Target, unfortunately, experienced a pretty damaging data breach. This data breach is so essential to learn about because Target wasn't the one who was directly hacked. The breach came via a Target vendor, an HVAC company.
To learn more about the details of the data breach, read an article published by Forbes, Target Data Breach Spilled Info On As Many As 70 Million Customers.
There are a few information technology outsourcing services that could have helped prevent the data breach from occurring, that we find very beneficial, such as:
Remote monitoring and security management could have detected unusual or suspicious activity and acted on it.
Having a vCIO could have helped explain the risks that led to the breach. Never heard of a vCIO? Read our article, How Can a vCIO Benefit Your Business in 2019.
Malware protection could have prevented the malicious code from spreading.
Even though we're speaking about such a large company, like Target, doesn't mean your small or medium sized business doesn't need managed IT services.
The problem is not the size or type of business. The problem is cybercriminals and how they don't discriminate. They know that most small businesses can't afford the same IT equipment, infrastructure, data protection, and services like larger companies can, making small businesses an even larger target.
Benefits of Managed IT Services
There's a never-ending list of benefits to outsourcing your IT needs, and you can read more about those here. Below are a few reasons we think will stick out to you the most:
1. vCIO
We briefly spoke earlier on a vCIO and the monitoring capabilities of outsourcing a position like this. One of the most significant benefits of managed IT services is access to a Virtual Chief Information Officer (vCIO).
A vCIO can provide your business with a wealth of knowledge and experience to solve a variety of IT challenges your company might currently be facing. Some of these challenges could be the planning and implementation of a new CRM (customer relationship manager), ERP (enterprise resource planning) tools, or other business applications.
2. Resource and Business Planning
Another great benefit of managed IT services is the ability to have a strong foundation of resource and business planning, such as creating a technology roadmap and budget.
Strategic planning ensures your business continues to grow, by keeping up with newer trends and advanced technology that's to come. Building a technology roadmap takes time, but the payback far exceeds the effort or cost.
3. Cost Savings
You probably don't consider a regular monthly cost to be an advantage of managed IT services. However, hear us out. The benefits to your business may surprise you.
There's so many different IT services and features you can choose for your business and let's be honest, what's better than having options? You get to decide where you're investing your business dollars.
Maybe you're mostly interested in network monitoring and storage capacity and feel you could do without specific software updates. That's up for you to decide!
Depending on the type of work your business does and your specific IT needs, you are in control of the IT services you'll be paying for each month.
Don't forget, outsourcing your IT not only lets you tap into experts in their field but also reduces your labor and benefit costs that you would associate with building your own internal IT department.
4. Time Saver
Are you a business owner or even an employee whose function isn't IT, but you spend a lot of your day fixing IT issues for yourself and other employees at your business? If you answered, "Yes," managed IT services are probably exactly what you need. More times than not, anything IT related is time-consuming.
An excellent managed IT services team allows business owners and employees to focus on the business and their particular job duties, rather than IT functions. Managed IT services gives you that time back that you could use throughout your busy days.
Speaking of your busy days, what's something that takes up a lot of time? Troubleshooting, common or complex. IT glitches and malfunctions that continuously tend to come up, such as patchy wireless network connections, ineffective virus software, or storage issues within cloud computing, only takes you away from completing your daily tasks.
How To Find a Qualified Managed IT Services Team
We understand that you've probably had some issues when it comes to finding a qualified and knowledgeable managed IT services company. Unfortunately, many companies say they offer IT outsourcing, but once the layers are pulled back, they don't.
So how do you separate the good from the bad? It's a process:
1. Do some searching on the internet. A Google search for managed IT services yields over 600 million results, and it doesn't tell you if those companies are good. So, that's when you turn to reviews on their business page or website.

2. Word of mouth is a great way to find a great IT team. Talking to other companies similar to yours or ones located nearby is a great resource to use in collaboration with Google or Yelp.

3. Ask your current vendors for recommendations on a great service provider they may have used or are currently using.
Just like an interview between you and a potential employee, you should structure a managed IT team in the same way. You should bring in more than one managed IT services team so you have options, and can easily compare what you want and what you don't want.
Once you've narrowed down your options, make sure to dig a little deeper on the company and their staff. It's important to:
Ask for references and see what their reputation is.
Ask how long the company has been in business for?
Ask what services are covered within the contract or service level agreement, and what isn't.
Remember, you can't just think of your managed IT services team as an "IT Guy." Managed IT services provide far more value than someone who just fixes your computer.
For more information on everything to do with Managed IT Services, check out our resource page, here.
At AIS, we strive to educate and inform you on the best ways your business can get the most out of a managed IT services provider. It's important to us that you are making the best overall buying decisions when it comes to managed IT support. If you want to learn more about managed IT services, or still have questions, we're here to answer them! Reach out to one of our business technology consultants here. Also, check out our video channel on YouTube, The Copier Channel. We're here to give you peace of mind to help you win more business.