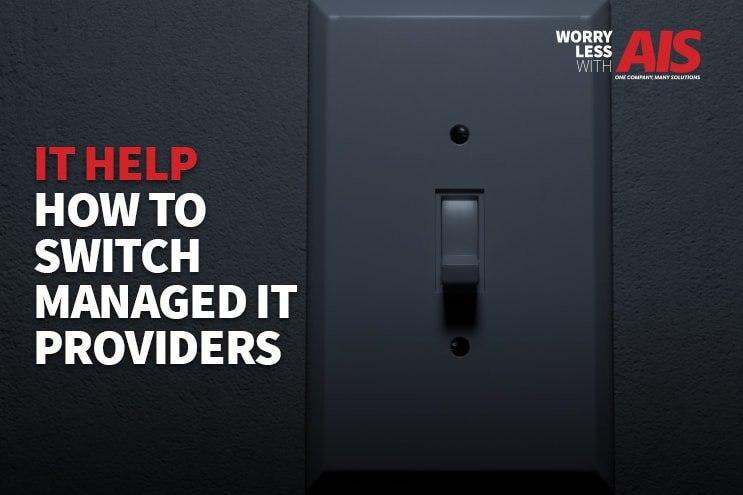 READ TIME: 5.5 MINS.
Your managed IT services provider just isn't cutting it anymore and has left you frustrated and wondering, "How can I switch Managed IT Service providers so that my business won't have to suffer any longer?"
Maybe, you've only been using the popular IT "break-fix" model solely rely on your IT team when a problem arises. However, you could be noticing that the best way to have a sustainable business IT infrastructure is by being proactive; and a "break-fix" approach is more of a reactionary solution.
Before we identify some common technology problems your business could be facing, and how to successfully switch providers, let's briefly go over what managed IT services are.
Managed IT services is essentially IT help. It's a group of services that a Managed Service Provider (MSP) or third-party company provides to businesses in information technology. These services can include:
Remote monitoring of your network
Technical support
Technology & device training (tools your staff use)
Network security methods keeping you locked down
Virus protection (to keep you safe)
Data backup & disaster recovery (insurance)
Business continuity (reducing downtimes)
Technology road mapping & planning (for your future)
Virtual CIO (subject matter expert)
Help desk support/data centers (staff support)
Application & database development (custom projects)
Network management (efficiency)
Compliance
Hosting & cloud services (access to your information from anywhere)
In a nutshell, managed IT services are a way to outsource the day-to-day management of your information technology needs. The specifics can vary on the technology services provided by different managed IT companies.
Managed IT services also provide three traditional business models:
Flat Rate (all-you-can-eat model)
Per-User
Per Device, and bundled together as a single monthly fee
As you can see in the three business models above, some service providers offer an "a la carte" choice of services. Others offer a complete, interlocking suite of core services. The decision of how "hands-on" you want your IT team to be is up to you.
Whether you're new to managed IT services, or wondering how you can switch providers, so the IT of your business is in better hands, we've got you covered! Follow along as we go over the best, and easiest ways to successfully switch providers and how to find the most reliable managed IT partner for your business needs.
Learn about some of the benefits of managed IT services by reading an article published by itNews, Top 5 Benefits of Managed IT Services.
Switching Managed IT Services Providers: Finding The Right Partner
When it comes to IT, it's usually pretty easy to over-complicate things. The ever-evolving technology world we live in makes it hard to keep up with the times, and just when you feel like you're ahead of the game, something newer and better hits the market.
One of the best ways to ensure your business is taking the right steps in managing the needs of your employees and customers is to have a simplified plan that identifies your current problems and what solutions you think are best for business growth and success.
Are your employees spending more time fixing their computers and phone systems, and less time closing deals or running marketing campaigns? Maybe there isn't enough staff in-house to service all the technology needs of your employees, especially if some work remotely. Where can additional IT help come into play for your business and employees?
If you're experiencing technology downfalls that continually interrupt your workday, the first step is to make a list of all your pain points. The quicker you identify your problems, the easier time you'll have at finding resolutions.
If you seem to have an influx of technology problems and you're currently partnering with a managed IT services team, it's probably time to switch providers. Read our article to learn more, What is Managed IT Services? How to Tell If You Need Them.
So, now that you've got a list of your current IT problems, what's the next step? First things first, it's necessary to check the terms of your contract if you're currently partnering with a managed IT team.
Contracts or service level agreements (SLAs) can vary depending on the company and what network services you signed up for in the beginning. It's beneficial to re-read those terms before canceling your services because you don't want to be left with cancellation fees in violation of contractual obligations.
Best Practices Before Switching Providers
Before you make the switch to a new managed IT services provider, there are a few critical steps to take to ensure the transition is smooth. The last thing you want is poor communication between you and your current IT team.
Make an effort to obtain previous quarterly update records from your current IT team. If they are unable to give you a collected history of these updates, request you at least have a report of the last 90 days.
It's critical you know every single thing they've been managing for your business, such as ticketed IT requests, upgrade information on hardware or software, and managed security and performance measures.
You have the right to know what IT efforts have been taken care of by your current provider, and will want to give the list to your new provider so they're familiar with your infrastructure.
You also want to make sure that before you make the switch, you take inventory of what products are yours, and what are from the managed services provider. There might be some equipment your business is using that needs to be returned to the IT company.
Another great idea for a smooth transition is identifying where your data is being stored, and who owns your data. When someone is managing your IT infrastructure, it can become easy to forget where all of your information is located.
Many managed IT services providers who manage your infrastructure have complete control over your usernames, passwords, and any of the account credentials of your business and employees.
Have you ever thought about what it would be like if you canceled your Facebook account? What would happen to all of those linked accounts that are connected to your Facebook account? Your business might have one large domain account that hosts ten other accounts within it.
Find a managed IT services company that uses a software program to group all of your domain and subdomain account credentials all in one place, such as IT Glue. Using a software tool like this enables you to access all your account information in one place, and you can take it with you once switching providers.
To learn more about IT glue, read the article, 5 Reasons Why Your Clients Need MyGlue.
Managed IT Services Who Understands Your Needs
One of the most essential aspects of successfully switching managed IT services companies are choosing a provider who has the knowledge and tools to tackle your problems head-on, without any hesitation.
Finding a managed IT services team can be challenging, and it might seem difficult to narrow down the best provider for your individualized needs. To learn more about choosing the right provider, read our article, How to Find The Best Managed IT Services Company Near Me.
Another great way to successfully switch managed IT services providers is by reaching out and meeting with multiple companies to learn how they implement the technology strategies your business truly needs.
What do their pricing models look like, and how are they better than the current model you have? What knowledge and experience can they provide that your current company can't? What kind of IT help is available for your business? It's critical you ask these questions when meeting with a new potential IT team.
Remember, any outsourcing services your business is paying for is a partnership. They should value you and the goals of your business just as much as you value the work they do for you.
It can be tricky to navigate the best ways to switch managed IT services providers but don't feel like you're alone. Dedicate some time to researching the best companies in your area, and how these companies can give you the products, tools, and services you and your employees deserve.
For even more resources on managed IT services for your business, visit our Managed IT Services Ultimate Resource Page.
At AIS, we're not just a technology company. We are your ultimate resource in providing you the tools and strategies you need to continue on the path of growth and success. The more informed you on what managed IT services can do for your business, the easier time you'll have in making the best technology decisions. To learn more about managed IT services, or any of the other products and services we sell, reach out to one of our business technology consultants, here. Also, check out our video channel on YouTube, The Copier Channel. We're here to give you peace of mind to help you win more business.