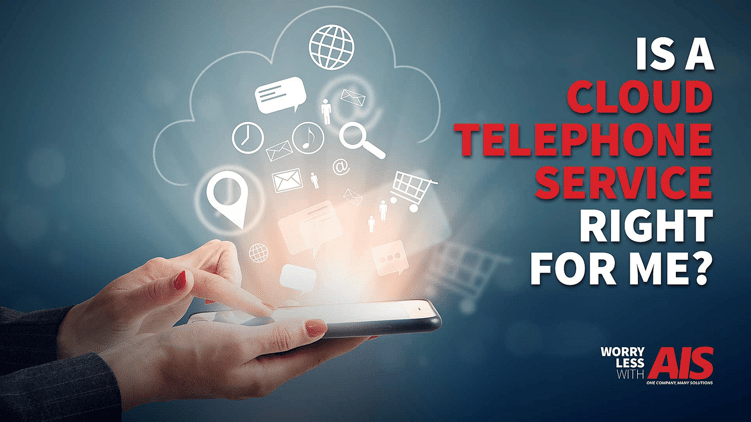 READ TIME: 6 MINS.
The cloud has changed so much in our office technology space, especially how we use telephone services and communicate. In the past, telephone services were provided through an on-premises system requiring complex hardware installation. This was expensive and inflexible.
Now, businesses can make and receive calls using an internet connection with a cloud telephone service. This is much cheaper and more flexible, as enterprises can scale up or down their use of the service as needed to suit their needs.
This also means that if a business experiences a significant increase in activity, it can upgrade and receive more services at no additional cost.
What do Cloud Telephone Services Entail?
Cloud telephone services are a type of VoIP (Voice over Internet Protocol) that has gained popularity in recent years due to its many features and benefits, such as low cost, scalability, and flexibility.

A cloud telephone service allows businesses to make and receive calls over the internet, eliminating the need for costly on-premises hardware and infrastructure.

Several devices can be used with cloud phone systems, including smartphone apps, traditional phones with adapters, VoIP-enabled telephones, or computer software. All data and information are stored in the cloud instead of maintaining software through a server such as a PBX (Private Branch Exchange) on the premises.

Since all updates can seamlessly be done via the cloud, it saves a lot on costly updates and maintenance.

However, cloud telephone services are not suitable for everyone. To determine if a cloud phone service is right for you, it is essential to understand how cloud telephone services work and what features and benefits they offer.
Cloud Telephone Service Vs. a Traditional Telephone Service
A traditional phone service utilizes an on-premises system to make calls, whereas cloud phone services operate by using the internet.

Traditional telephone systems connect telephone systems to public networks, which use PSTN or ISDN. A cloud phone system can utilize VoIP to connect to a public network that uses the internet. These are then connected back through a switchboard to an operator, who can route calls as needed.

While a traditional phone service is limited in how many calls they can receive or make, the limits are no longer an issue with cloud phones. In addition, it may require an additional fee for certain features like call forwarding or voicemail.

However, the flexibility of a cloud phone service comes at a cost. Several types of clouds exist, and each serves a different purpose and type of business.
How Cloud-based Telephone Systems Work
As mentioned above, cloud-based telephone services rely on the internet to make and receive calls. This means that all data and communications are sent over the internet instead of depending on a telephone carrier.

This system works by sending your voice as data after breaking it up into small digital packets. The call is then routed to the recipient through a cloud-based PBX.

As long as you have an internet connection, you can access cloud-based telephone systems through several methods, including:
A traditional phone connected to a VoIP adapter: This method works by connecting a VoIP adapter to the phone lines and plugging the adapter into your router. The adapter then links your phone to the cloud-based PBX system.
VoIP-enabled telephone: A VoIP-enabled phone connects to an internet connection and allows you to access several features of cloud services, such as call forwarding or voicemail.
A smartphone: You can download a cloud-based phone app on your smartphone. This will allow you to use cloud telephones without a computer, software, or additional hardware.
A computer: You can access cloud-based phone services by downloading and installing a third-party program such as Skype, Apple FaceTime, or Google Voice.
A dedicated VoIP phone: This is the only type of phone that you can utilize for cloud-based phone services. It is powered by a router and has a calling plan for business phones, wireless lines, and residential services.

Cloud Features and Benefits
Cloud phone systems are an excellent choice for businesses that need to cut down on their costs due to the flexibility of not having to purchase or maintain expensive hardware. They allow for budget-friendly pricing and quick scalability as needed.
The dynamic features of cloud telephone services offer some of the most significant benefits of cloud telephone services. These include:
Video conferencing: Working remotely has recently become commonplace, and businesses need easy-to-access and reliable video conferencing solutions. Fortunately, video conferencing is offered as part of cloud-based telephone systems, and you don't have to worry about the cost of any related add-on feature.
Unified communications: Unified communications provide businesses with efficient and cost-effective solutions to contact their business clients and customers, regardless of the method they prefer. It is a collection of different cloud-based platforms that allow you to connect with the right person at the right time, no matter your communication method.
Artificial intelligence (AI): Artificial intelligence is a big part of the modern world, and you need to consider using artificial intelligence in any type of voice-based system, especially with cloud telephone services.
Integrations: Integrations are the key to success in any business, and cloud-based telephone systems offer you a wide range of integrations with third-party platforms and tools. You can connect your cloud telephones with different platforms such as Google Drive, Dropbox, Skype, and many others.
Auto attendant: Auto attendants and call-routing tools allow you to manage the workflow of your business so you can stay connected with all your contacts.
Pros and Cons of a Cloud-Based Telephone System
Cloud-based telephone systems offer several advantages, but they do come with their own drawbacks.
Pros
Some of the most significant benefits include:
Flexibility: Cloud phones give you the flexibility of doing business on the go and allow you to access all of your contacts and information wherever you are.
Portability: You can take your cloud phones anywhere and still operate without needing extra hardware.
Cost-efficient: Cloud phones allow you to cut down on costs related to your phone system by reducing the need for an expensive hardware system.
Scalability: Cloud telephones allow you to scale your business with minimal and quick effort.
Hosted PBX: Hosted PBX doesn't require you to invest in a traditional PBX. It allows you to change your phone numbers and offers various calling features as needed.
Reliable: Cloud telephone services are highly reliable. They allow you to connect with others through various devices, including smartphones, desk phones, and computer programs.
Cons
A few potential downsides include:
Requires faster networking equipment: Cloud telephones need faster networking equipment to handle this type of service. Switching your system may also require upgrading to a more rapid internet plan.
Few currencies of latency and jitter: Cloud telephone systems are subject to latency and jitter, which is the time it takes for packets of data to travel from your phone, through the cloud, and back to the recipient. These values are vital to the quality of your call, so you must consider them when choosing a cloud phone service.
Stable internet connection: Cloud-based phone services require a stable internet connection, which can be an issue for businesses with marginal internet connectivity or located in different parts of the world.

The Final Say: Moving Your Telephone Services to the Cloud
Moving to a cloud-based phone system is a big step for your business. You need to be sure that you are using a professional and experienced service provider who can make the transition as seamless and cost-effective as possible.
AIS offers you the best and most cost-effective options for your cloud telephones. We were founded to focus on the needs of small and medium-sized businesses, which means we understand the value of your business and take pride in helping it grow. Make sure to contact us today if you are looking to migrate to cloud-based telephony. We're here to give you peace of mind to help you win more business.