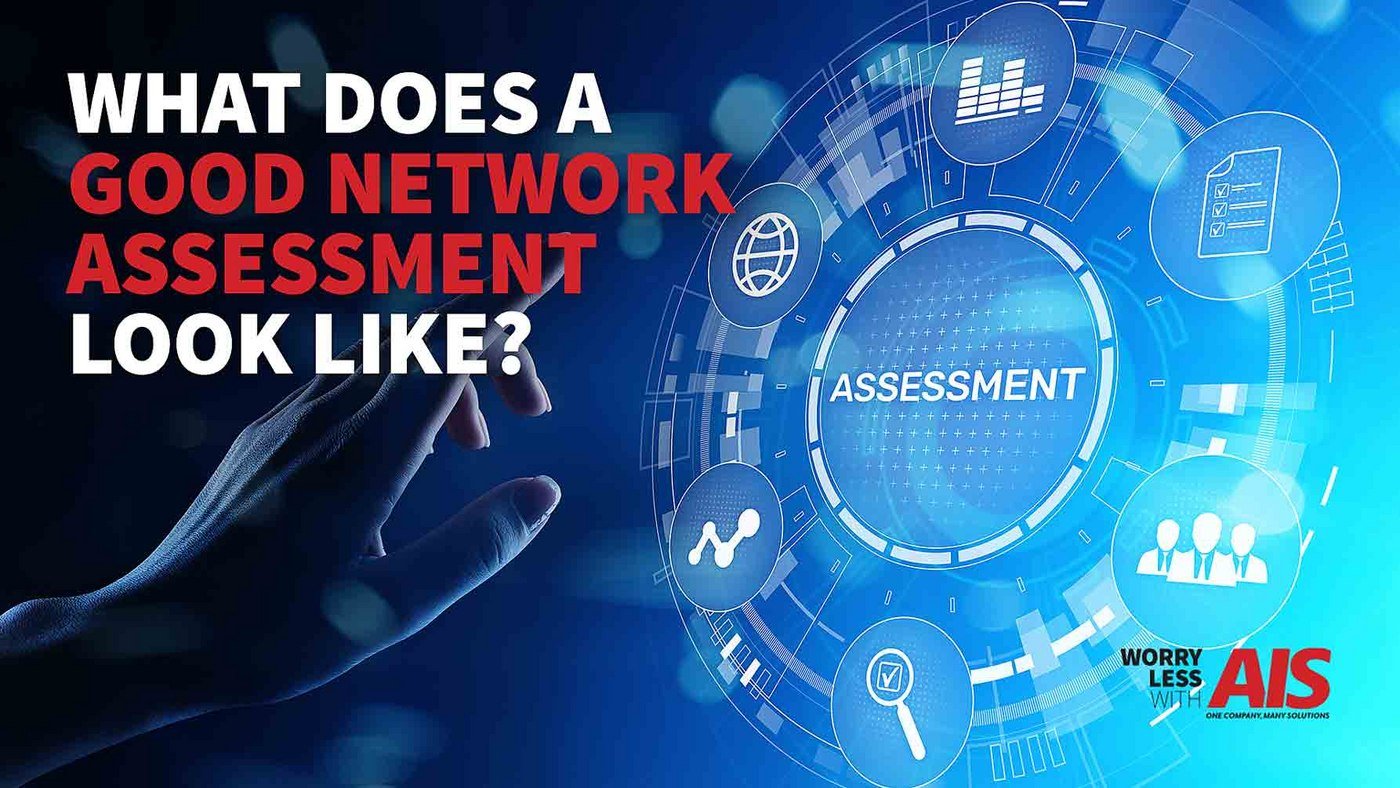 READ TIME: 5.5 MINS.
A network assessment is one of the most essential and fundamental things a managed network provider should offer before implementing any new IT devices or procedures within your company.
A network assessment is essential when assessing your current IT needs or holes in your data security you may not have even known were there. But what does a good network assessment look like? What are all the ins and outs of an assessment like this that an IT provider should be looking at and analyzing?

In this article, you'll learn some of how we here at AIS assess the IT infrastructure of our customers. Keep in mind that we're just using us as an example so that you can get a better idea of what your assessment will look like.

And by the way, we've been in the office technology space for a while now—20 years, to be exact. We're highly dedicated to providing relevant and helpful information about technology to businesses of all kinds. Our goal is to educate and inform you so you can make the best business decisions for your employees and customers.
What Should Be Included in a Good Network Assessment?
The typical network assessment process enables an IT provider to identify vulnerabilities and security concerns; while also uncovering areas to increase efficiency and reduce costs in your current IT environment.

As we mentioned above, we're going to use AIS as an example so that you can get a clear understanding of what to look for when a network assessment is taking place (and what should be included in the assessment) at your business.
1. Did The Managed Network Provider Set The Expectations Specific To Your Business?
Like any other vendor you partner with, it's got to be a good match between the customer and the company providing the solutions or services. The goal of any managed IT services team should make sure they are an excellent fit for your IT needs.

Here are a few questions we like to ask ourselves to make sure we're a good fit for a specific customer:

1. Does the company have a recognized need for IT? Meaning, will you gain benefits by
working with us?

2. When talking about pricing, does the IT provider do an excellent job at explaining the
value vs. the cost of an outsourced IT solution?

3. Do we have the knowledge and tools to offer a viable solution to the customer?
2. Are You Given A Non-Disclosure Agreement (NDA) To Review and Sign?
Since a managed IT company will need to access your entire network infrastructure, they should provide you with an NDA before gaining access to your usernames and passwords.

Before the assessment, an NDA should be explained, understood, and signed by both parties. It should also contain addresses of all locations that will be assessed and site contact information.

During your assessment, the managed service provider will need to access the server(s) to perform a successful Network Health Scan. They'll also need access to perform a physical site walk-through, such as taking pictures of the server closet and other IT-related devices.

Some businesses may see this as a bit of an invasive process. So, it's essential for you to trust and feel comfortable with the IT company you're working with. Here's an article that gives more insight on trusting an IT provider, Can I Trust a Managed IT Service Provider With a Network Risk Assessment?
3. What Technical and Financial Information Did They Provide You With?
While assessing your network, it's imperative that you have a complete list of information that will be collected and a breakdown of associated costs the company offers.

From a technical standpoint, the assessment should:

• Collect detailed information on every asset, including those not physically connected to the network

• Identify all risks, from misconfigurations, network vulnerabilities, and user threats

• Support all environments, from on-prem to remote, to the cloud, to work-from-home

From a financial standpoint, the assessment should inform you of the following (potential) associated costs:

• The monthly current IT provider services: The base monthly payment for services, additional annual overage charges, and break/fix or hourly support costs.


• Data backup and disaster recovery services: Original hardware purchase amount, original software purchase amount, monthly cloud backup cost, and monthly onsite backup cost.

• Managed Firewall, Router, or Switch Services: Monthly managed hardware costs, original hardware/software purchase amount, original wireless router/WAP purchase amount.

• Maintenance costs for Line of Business (LoB) applications: This could include applications like Salesforce, Remote Tech, or Microsoft Office.

• Internet and Phone: Monthly internet cost and associated bandwidth and monthly phone cost and services.

• Email and Filtering Services: Monthly email filtering cost, monthly hosted exchange or email cost, and original exchange purchase amount (hardware, software, licenses, and labor).

• Antivirus Subscription: Monthly or annual.

• Any additional IT services and associated costs
4. Is The Managed Service Provider Conducting Stakeholder Interviews?
A well-versed and experienced managed IT company should take some time to interview several people at your organization. This type of proactive communication helps ensure both you and the IT company are on the same page and that you understand any current issues with your IT infrastructure.

Some of the employees we focus on interviewing when we run a network assessment are an Owner, CFO/Accountant, COO/Operations, Administrator/Manager, or anyone else involved in making internal IT decisions.
So, what exactly should be discussed during these interviews? Here's some of what we talk about with our customers:

• Major known issues

• Loss in productivity

• Co-worker complaints

• Examples of issues

• Impacts on current processes

• The day-to-day impact of current IT processes

• Impacts on employee morale

• Implications of issues

• Goals and initiatives
5. Did They Discuss the Assessment, Recommendations, and Findings?
Once the interviews are conducted, the managed services team will then collect all of the assessed information and present you with a detailed report. The company will create a proposal and meet with you to review it during this step.

This part of the network assessment is when you're presented with the current health of your entire IT infrastructure. The current IT problems are examined, the associated costs are discussed, and the solutions (or recommendations) are presented.
Key Takeaway: Make Sure Your Network Assessment is Thorough
As you can tell, a lot goes into the performance and evaluation of a network assessment. There are typically many people involved from both parties and a complete data and network inventory review of your current IT infrastructure.

Now that you've become more familiar with the ins and outs of a good network assessment, it might be time to take the next step and review the difference between a good Virtual Chief Information Officer (vCIO) and a bad one. A vCIO will work with you and your employees to provide the proper IT support—based on your network assessment.

At AIS, we are a full-service technology company. From copiers and printers to phone and IT services, we're here to equip you with the best products and services specific to the needs of your business or organization. To learn more about a network assessment or our entire IT support plans, make sure to reach out to us today. We're here to give you peace of mind to help you win more business.