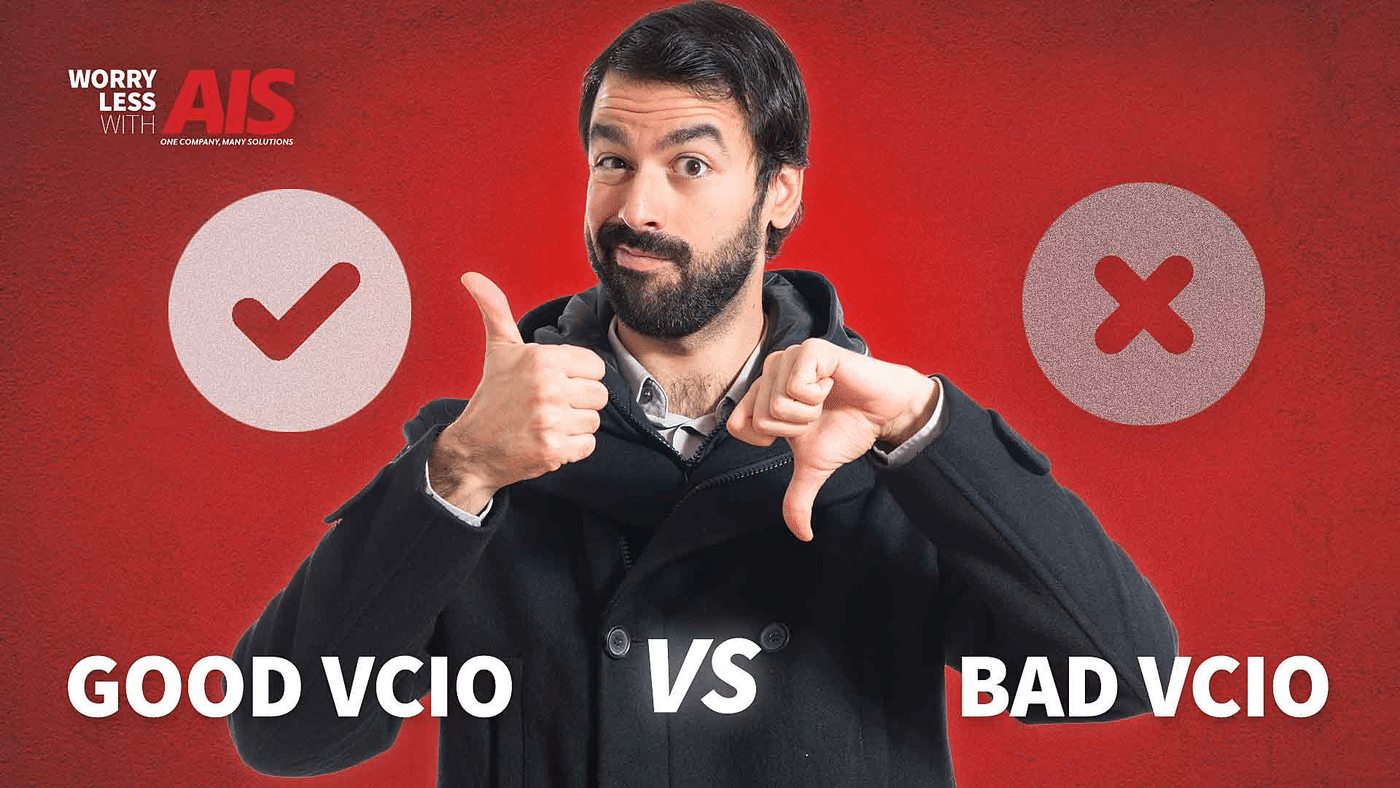 READ TIME: 4 MINS.
As your business grows, so do your technology needs. Because technology is ever-evolving rapidly, many organizations seek more help to manage their IT, such as a Virtual Chief Information Officer (vCIO).

One of the most appealing things about utilizing a vCIO is that they can either work with your current IT team or replace your IT team to provide full support to you and your employees.

The roles of a vCIO sometimes vary based on the needs of a business—but there are specific responsibilities every vCIO should possess. This raises the question, How do I know the difference between a good vCIO and a bad one?

By the way, we're AIS, an office technology company—and we're glad you stumbled across us! We've been providing IT support for more than 20 years and are here to give you well-versed and top-tier insight on precisely what to look for when searching for a vCIO.

After reading this article, you'll feel much more confident in who you choose to partner with based on what qualities a particular vCIO can offer your company and employees.
What Makes a Good vCIO?
A vCIO typically works remotely, hence the word "Virtual" in the name. This means that your entire IT infrastructure is managed by a person or team of people monitoring your systems at all times of the day.

When looking at the bare minimum, a good vCIO must be able to:
• Develop a thorough technology roadmap specific to your business, employee, and customer needs
Formulate strategic and long-term IT goals
Review and maintain all IT infrastructures

• Organize and assess vendor management
Suggest new or enhanced technology recommendations
Plan the IT budget, either monthly or quarterly
Provide IT expertise and leadership
A vCIO can be a significant and competitive advantage for small businesses to support growth and profitability. A great vCIO takes a broader view of the customer and company, focusing on business and IT alignment.


A Good vCIO is Knowledgeable and Qualified
A vCIO is responsible for the strategic insight on how technology drives a business forward. Essentially, a vCIO is the bridge between both the technology and business sides of a company that links together to meet business objectives and goals.

By outsourcing your IT needs with a vCIO, you can tap into an expert who is up to speed on the most current technology trends and is currently solving business technology problems just like yours.
An experienced vCIO takes the time to map out your current technology and what you might need in the future. They will then stay on top of the plans set in place so your business can compete with others that might have a CIO or more vast resources.
A vCIO is so beneficial as they can take an objective look at your current practices and processes and then make well-educated technology recommendations to improve your business strategies and goals.
A Good vCIO Focuses On Your Network Safety
Especially nowadays, security is an essential factor for any business, large or small. However, small businesses are typically the most prominent target for cyber attacks.
Take a look at the following security measures that a good vCIO should be responsible for measuring:

• Risk Assessment: A detailed report and analysis of your company's existing IT infrastructure, management, security, processes, and performance. The assessment aims to identify opportunities for improvement and get a comprehensive view of and current state of your existing network. This helps you make more informed and strategic business decisions.
Data Protection and Security: Data loss, accidental or by theft, is one the most significant concerns for businesses. A good vCIO could offer complete protection with a secure firewall, servers, malware, and virus protection. They can even ensure patches and networks are up-to-date to prevent opportunities for entrance.
Continuous Diagnostic Monitoring: Proactive security and 24/7 monitoring of your network allow attempted hacks to be spotted early, as well as anti-virus patches and other software updates to be done quickly. Your overworked IT staff may schedule a patch update a few days after it's available, which means you could be at higher risk of hacking. A vCIO is responsible for keeping network protections up-to-date to eliminate potential gaps in your network's security.
A Good vCIO Seamlessly Integrates and Migrates New and Old Technology
Nowadays, information grows fast and spreads fast. It might even seem challenging to keep up with new and emerging technology trends.
A great vCIO will help move your data and share information safely and effectively. They help mitigate the risk of data loss, eliminate unreliable data, and even establish data storage and access plans.
Your business and employee data is essential, and there's probably a lot of it. Having peace of mind knowing your data is in the right place at the right times is priceless if you ask us.
Finding a Good vCIO
To be honest, we just barely scratched the surface regarding qualities that make a good vCIO vs. a bad vCIO. But, we wanted to give you some of the basics to point you in the right direction as you search for the best vCIO for your business. So, be sure to ask the following questions when evaluating vCIOs:

1. What are your qualifications and what knowledgeable qualities can you apply to my particular business?

2. What are the specific solutions you'll implement that ensure my network and devices will be more secure and safe from online hackers.

3. What steps do you take to ensure as little downtime as possible when integrating my old systems with my new systems?

Now you're more familiar with what to look for from a vCIO, we've got a great next step for you to take to learn even more—especially when it comes to cost. Read our article, How Much Do Managed IT Services Cost With AIS?
At AIS, we're not just an office technology company. We're your go-to news source as you search for answers or solutions to improve or expand the IT at your business. We are dedicated to helping you reach your goals by providing you with relevant and helpful information. To learn more about a vCIO or any of our services, make sure to reach out to us today. We're here to give you peace of mind to help you win more business.