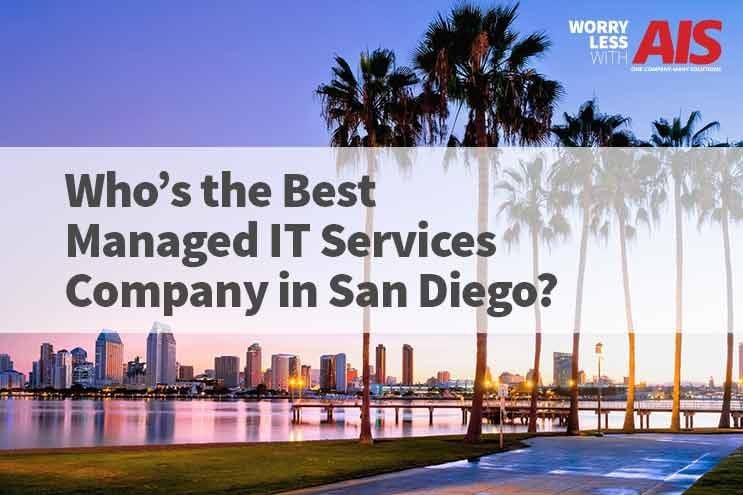 Are you currently searching for the best managed IT services company in San Diego? Having any luck?
Maybe you're unsure which managed services your business even needs?
Finding the best IT outsourcing company in San Diego isn't the simplest task to do. It's imperative you find a reliable company you can trust to ensure business development and growth.

There are many managed IT services companies near your business that provide the IT outsourcing services your business needs.
However, how can you be sure you're choosing the best managed networks services company? What're the best practices in eliminating the bad ones?
Think of managed IT services as your own personal data center with expert IT staff exclusively for your business. It's important you find a company that performs at the level your business requires.
As a business owner or purchaser, it's essential to first ask yourself some questions as to what brought you to choose the best services provider in the first place, such as:
Do you need managed IT services due to the growth of your small business?
Do you run out of time trying to manage your IT department?
Could stronger leadership and more experienced IT staff grow your business further?
What could you do with the savings of outsourcing your IT staff? (salaries, benefits, expenses, space, etc.)
Is your current managed IT services company (or "IT guy") lettings you down?
Are you fixing the same IT problems over and over again?
Do you feel like your business is missing out on new features, updates, and apps that could make your day-to-day tasks easier?
So wait, I can get expert IT professionals at my disposal, at a fraction of the cost of what I am currently paying my own team? And I can take advantage of their knowledge base of features, software update, and new applications. Or I can replace my current managed IT services company with a more competitive one?
There's a lot of great benefits of IT outsourcing and managed IT services. Read more about these services from an article we published, The Top 5 Benefits of Managed IT Services.
Managed IT Services Companies in San Diego
The more options you have, the better decisions you'll make. For this reason, we want to give you some great options of local managed IT services companies in San Diego, California and surrounding areas.
Fusion Factor Corporation: Fusion Factor has been serving the San Diego area since 2005 and provides professional business services that depend heavily on the Internet, e-mail and secure network initiatives.
AMA Networks: AMA Networks provides server virtualization, cloud services, VoIP, IT security, backup and recovery, server support and management, and managed IT solutions.
V.I. Experts: V.I. Experts are located in San Marcos. They offer complete IT support services with maintenance and monitoring of technology systems for a flat rate.
Direct Tech: Direct Tech provides IT services to small and medium-sized businesses in the San Diego community since 2001. They focus on the needs of local San Diego businesses.
Top Qualities of a Managed IT Services Company: What to Look For
Most managed IT services companies focus on a multitude of managed IT services to complete their service offering, making it a little more challenging when deciding which services and features are worth investing your time and money.
Just because a company specializes in a specific service doesn't mean they're the best at doing so. It also doesn't mean those services are beneficial to your business.
Take a look at some of the managed IT services and hosting services we believe are the best to invest in, regardless of the size or type of your company.
Still not sure if your business needs managed IT services? Read our article, 14 Questions to Consider If You Need Managed IT Services.
Responsiveness
The purpose of outsourcing your IT department is so that someone who is qualified and knowledgeable can assist your network's issues as soon as a problem arises.
Even if it 's not 24/7 support, more times than not, an IT help desk can fix your issues remotely, without even having to make a trip over to your location.
Matter of fact, a great managed IT services company can even identify a problem (and fix it) before you're ever made aware of it. How nice!
Being proactive, (instead of a reactive or relying on a break-fix model solution), helps decrease the amount of downtime you might face by eliminating the issues before it gets in the way of you doing your job.
Certainty: Peace of Mind
What happens to your business if you lose access to your client and employee information, business intelligence data, financial records, corporate communications, and project plans and details?
If you're like nearly every other business today, your business relies on your computer's network infrastructure, email communications, and digital documents.
There's a lot of data you need to make sure your computer systems are backed up on a regular basis, as well as having a thought-out plan in place in case of disaster. Outsourcing for managed IT or consulting services provides cloud solutions, and cloud backup is a cost-effective way to ensure your business and files are safe and protected.
Even if you have to adhere to strict compliance rules, such as HIPAA (for medical and healthcare businesses), or privacy concerns, there are cloud providers who specialize in providing compliant hosting solutions.
These cloud computing services have a significant impact on keeping documents safe and secure. To learn a little more on data backup and disaster recovery, read our eBook, What's Your Data Backup Plan?
Network Safety and Security
Network management and email security are continually shifting targets. Companies that don't have enough resources to dedicate to a server and network cybersecurity are even more at risk of a security breach (or breaches).
Wouldn't you feel better knowing there's a system in place that continues to monitor all of your company's personal and critical documents?
Email security also comes in handy, helping block spam, phishing scams, malware, and other inappropriate email content before it takes over your network.
With the way technology is growing nowadays, it's extremely valuable to have a solid security system in place that covers all of your office technology products and machines.
It's better (and much easier) to prevent a security threat from happening opposed to trying to get rid of it once your business is attacked.
It's too late once a disaster or security breach is happening. In business today, protecting your data is right behind protecting the lives of your staff. Managed IT services can be the insurance policy of your data.
"Bright Hub" published an article that goes more in-depth on the benefits of a safe and secure online network, The Importance of Network Security.
Quora published an article you might find interesting on network security, Why is network security important?
Monitoring Growth and Analytics
Another essential feature to look for in a managed IT services company is the detailed reporting of your office technology.
Detailed reporting allows you to see the applications and personnel taking up the majority of your network resources and the demand for each piece of technology your employees use on a daily basis.
Monitoring also provides insight into traffic bottlenecks and peak periods, so that you can add more capacity when needed and prevent your employees from becoming frustrated. The more you know about how your network resources and how your employees use them, the easier it is for your business to grow.

For more information on everything to do with Managed IT Services, check out our resource page, here.
At AIS, we strive to answer the questions that not just our current customers are asking, but our prospective customers are asking as well. Our goal is to equip you with the newest and most helpful information when it comes to your office solutions and business technology systems, based on your business needs and goals. If you're interested in learning more about managed IT services, reach out to one of our business technology consultants, here. We're here to give you peace of mind, to help you win more business.