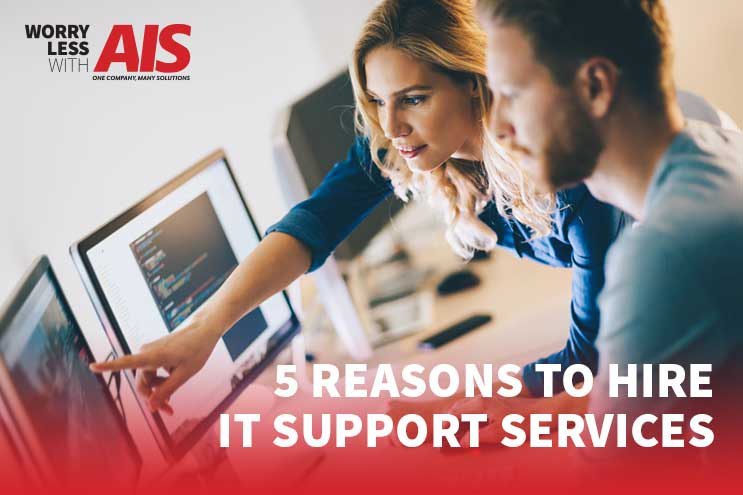 Regardless of the size of your business or the type of industry your business is in, we are certain you and your employees can significantly benefit from hiring IT support services.
IT support services not only takes stress and agony off of your shoulders but truly helps your business grow and expand to its fullest potential.
IT support services can mean a lot of different things to you, specifically when it comes to what your company is most interested in.
Are you looking to have a more secure network?

Are you interested in learning about new ways to gain IT support?

Do you want to learn how IT can automate many of your routine tasks that eat up your precious resources?
Most business like yours, rely on an intricate network of servers, computers, and printers and with the continued reliance on these technologies, it's essential to have IT support services in place for your business.
For your business to grow, you have to grow with technology. If not, you'll be left behind, facing common IT issues in your workplace and your ability to compete will go along with it
Are you currently the one servicing your company's IT needs?

Is it becoming more and more overwhelming to provide IT support services to your employees?

What happens when your server goes down? Are you able to quickly get it back up and running?

Are you faced with IT support issues that get in the way of your regular job duties and tasks?

Are you unsure of the types of IT support services your business might need?

Are you apprehensive to outsource your IT because of costs and other factors?
If you can relate to any of these questions, we've got news for you. It's time for a change in your IT department.
Yes, change can be scary. However, it can also be a wonderful thing once we identify what your business needs, and how IT support services can make your life so much easier.
Follow us as we take you through our top 5 reasons to hire IT support services- you don't want to miss out!
"An IT Support Service Team Can Do What?"
1. Access to the Latest and Greatest: Knowledge is Power
With the increasing amount of software updates and newer versions of applications released daily, a managed IT support service provider is a really smart idea to help save you time, as well as money.
Providing you with the latest IT tools (and time-saving tricks), means you won't have to spend unnecessary costs on things you think your systems and computers might need to perform at their best.
Not only can managed IT support services can provide better management of your company's software, hardware, tools, and other technology, but these services also provide you with the important knowledge you might not know on your own.
The knowledge of an IT support service team or professional ensures better operations; maximizing the results of your IT needs and requests. To us, this knowledge is a powerful thing and something you shouldn't want to pass up.
The great thing about IT support services is the knowledge they can share with you which you can later pass down to your employees. IT professionals make it easy for you to understand what's going on in your IT department, freeing you from the troubles you may be facing.
Remember, the job of an IT support service technician is to:
Equip you with the tools and knowledge you need to have successful technology in your business,
Take care and manage those tricky and unfamiliar IT issues, and
Make sure your systems, servers, and computers continue to perform at their best.
Chron published an article on, The Benefits Vs. Risks of Outsourcing IT Services that we think you'll enjoy reading. This article provides you even more benefits of hiring an IT support service.
2. Ensuring Peace of Mind
As you probably already know, IT issues and system crashes are not limited to business hours. In fact, a lot of IT issues occur after business hours, making it challenging to fix the problem quickly. This is why 24/7 remote monitoring is necessary for your business.
If one of your servers goes down in the middle of the night, a managed IT support service provider can immediately identify the issue and begin working to correct it. This relieves you of the stress of making sure your IT systems are in proper order when you are not around.
There's nothing worse than coming to work on a Monday morning to find your server crashed over the weekend. If you have the option of 24/7 remote monitoring while you're away from your office, why not take it?
We can easily relate peace of mind by giving you the example of protecting your home with a security or alarm system. Think about how much better you feel by having a security system that monitors your house when you aren't there.
You probably love the peace of mind you get of mind knowing that if someone were to break into your home while you were away, you'd know about it immediately?
Your home security system monitors your home when you aren't able to, and it's just the same when it comes to IT support services for your business. Many times, an outsourced IT provider can find and resolve the issue prior to you evening knowing there was a problem.
If you want more peace of mind, think twice about how you monitor your business when you're away.
3. Increased Employee Productivity
Do you know how many times a week your employees have to troubleshoot their own IT issues? It might be more than you think.
If you or your employees are having to troubleshoot your own IT issues during your busy workday, this should be a sign that hiring an IT support service is a good idea.
Instead of taking away valuable time that could be spent doing your daily tasks, a managed IT support service team can manage these issues for you. After all, it's their job to do so.
Hiring an IT support service allows someone else to deal with the day-to-day IT issues that may arise, freeing up you and your employees to concentrate on more pressing and important tasks.
Increasing productivity at your office by an IT support team is also a great way to ensure the issues you're having are properly getting fixed. Trusting an IT professional over your employees is a great way to quickly resolve the issue, without making it worse.
Speaking of specific IT skills and issues, check out our article on, Basic IT Skills - How Do I Teach Myself Basic IT Support?
4. Customizing Services to Your Specific Needs
Every business is different, whether that be the type, size, location, and the work that they do. Making sure your business is getting the specific IT services it needs is important if you want the most out of your managed IT support service team.
A managed IT support service provider can offer you several different, and individualized plans, focusing on different aspects of IT support based on your business.
Choosing different service plans allows you to only pay for what you need while also giving you the freedom to add on services later if necessary. This is where your specific needs come into play by allowing you to customize and design an outsourced IT plan to fit your needs.
Maybe you're more interested in firewall security measures than you are in application and software updates. The different service plan options are up to you and your personal preferences.
Customizing your IT services is a lot like picking your ideal cable package. Are you more interested in children's networks than HBO movie channels? What about smaller sports packages you might want to add on once football season is back?
You might even be unsure of what should be of importance to your company when it comes to IT. However, don't feel like you're the only one. Many businesses have no idea what IT services they should be investing in.
Your hired IT support service professional can walk you through every type of IT management service, making you knowledgeable about what services your business will benefit from the most. The more educated you are on IT and the services your business needs, the happier and more satisfied, you'll be.
5. New Technology Means New Business Opportunities
We've touched over a few times in this article about new and upgraded applications for your computers and the software programs you use.
Advancements in technology are growing at an all-time high, and it probably seems nearly impossible to keep up with the newest and most advanced applications and programs.
An IT support service professional is dedicated, passionate, and always hungry for learning the newest and most tech-savvy trends in the industry. Let them tell you what apps and programs you'll benefit the most from having, based on the specific work you do.
Don't forget depending on the IT support provider you hire, you may be able to take advantage of many different knowledgeable resources within their organization.
Once you allow an IT support service professional to show you what you're missing out on, the sooner you'll be on your way to creating better content while also decreasing the amount of time you spend on tedious projects because of outdated programs you might be using.
Take advantage of the incredible technological times we're living in right now- you'd be pretty surprised to learn how new technology can significantly increase your business profits.
Are you interested in learning even more about the benefits of an IT support service? Read an article we published on The Joy of Outsourcing – Managed IT Services Will Improve Your Business and Your Work Days.
For more information on everything to do with Managed IT Services, check out our resource page, here.

Whether you're a large or small business, hiring managed IT support services is undoubtedly a wise business choice to make. AIS is here for you, whether you need more information on IT services or any other service we specialize in such as multi-function copiers, printers, 3D printers, and phone systems. We are always learning new ways to educate our customers on the best services they need to help their business grow. If you're interested in speaking to one of our business technology consultants, contact us here. Our goal is to give you peace of mind that helps you win more business.
*Editor's Note: This article was updated for freshness on 8/14/18