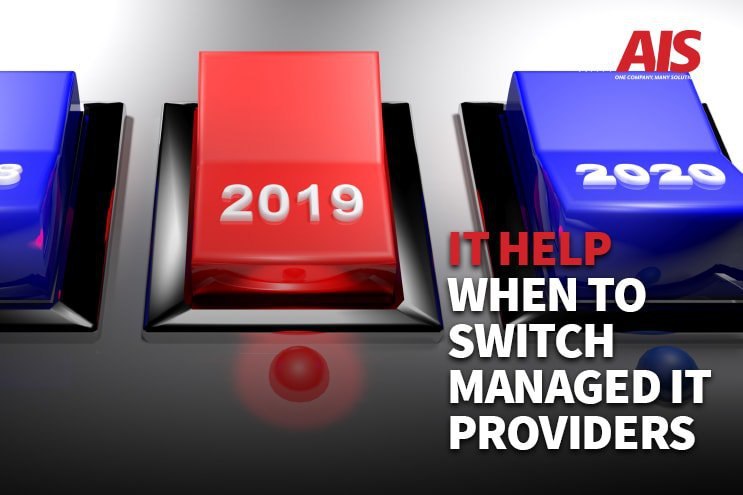 READ TIME: 5 MINS.
How long have you partnered with your managed IT services team? What types of improvements are you seeing within your IT infrastructure that you can directly correlate to outsourcing your IT needs? Maybe you're thinking you need more IT help than what you're getting. Do you know when it might be time to switch managed IT services providers?
If you're having a hard time noticing IT successes within your company, your technology services team might not be the best fit for your business. Within just a few short months of outsourcing some of your technology needs, you should see some noticeable changes.
What many businesses don't know is the depths that a managed IT services team can go to solve basic technology problems all the way to complicated and timely infrastructure difficulties. You've heard the saying, "Knowledge is power," and that couldn't be truer for something like IT outsourcing.
You might think your information technology partner is doing a great job, but it might be because you're inexperienced in the field or don't have the time to analyze the services and offerings of your IT team.
Regardless of how much money you're paying for managed IT services, we'd never want you to waste it on the wrong managed services provider (MSP). We'd also never want you to waste it on the wrong IT help. Each MSP is different, just like your business. The importance of identifying the right company for your individualized needs is critical for the growth and prosperity of your business, employees, and customers.
We're here to give you a lending hand by equipping you with some tips on when it's time to switch managed IT providers so your business can get the most out of IT outsourcing.
Switching Managed IT Providers: When's the Best Time?
Switching managed IT services providers can be a difficult decision to make, and it might even be challenging to nail down the perfect time to do so. There's no perfect time to make the switch, but there are certain red flags that indicate your current IT needs aren't being met.
We're giving you some of the most common IT issues your business could be facing and how to get the best IT help for your needs. These problems are clear indicators that it's time to bite the bullet and make the switch to an IT outsourcing company better equipped for your business demands.
Hardware and Software Inconsistencies
Are you getting sick of seeing system failure or error messages on your office equipment? When it comes to software and IT, it's no secret that it's not a matter of "If" it will break, but "When." Just one breakdown, outage, or failure is one too many.
Unfortunately, when your business technology does break, a simple reboot or restart doesn't always fix it. If you don't have the necessary resources present to replace and repair the software, you're looking at a significant loss, possibly even company-wide.
Many businesses also forget that all technology devices have a lifespan, no matter how advanced they might seem. Manufacturers are in the business of selling you their latest and greatest products. Try to remember that sometimes, repairs can cost more than purchasing a brand new machine or device.
Learning and understanding the life cycle of all IT devices is something that a great managed IT services includes. They take away the guessing work you typically have to do, allowing you to focus on more important and pressing tasks.
One of their main goals should be to standardize your hardware components and software applications so that you never have to experience downtime due to hardware failure. If your IT outsourcing provider isn't doing this for you, this is a major red flag.
Learn even more common hardware and software problems by reading an article published by Top Ten Reviews, 5 common computer problems & solutions.
Non-existent IT Roadmapping Plan
Don't you feel better about your business goals when there are plans in place that help guide you to the finish line? Just like any other department in your company, your IT department should have a plan or roadmap of the processes they'll take to accomplish any goals, long-term and short-term.
As you know, IT is a little different from most other departments, for many different reasons. There are certain things you can do to remain proactive in IT, but not when it comes to a security breach or natural disaster recovery. This is where a plan and a managed IT services team comes in handy.
A technology or IT roadmap is an actual document created to serve the specifics of your business that communicates all technology initiatives. An IT roadmap illustrates the implementation of specific strategies, the need for implementation, and the solutions or tools used for the completion of all tasks.
A technology roadmap is one of the fundamental principles and benefits a managed IT company should create and implement, even before they begin any work on your technology systems. If they haven't yet, it's a great point to bring up.
To learn more about IT road mapping, read our article, IT Help: Can Your Managed IT Services Provider Do All This?
Inexperienced IT Team
You've put your trust into the people or companies who say they can assist your business needs to help take your organization to the next level. Unfortunately, just because an IT company says they're qualified to serve your business, doesn't mean they can.
A great way to assess if your managed IT services team is qualified is how they tackle your most complicated or complex problems. What IT help solutions have they implemented? In many cases, your internal IT department can work with your IT outsourcing team to split up and prioritize specific issues to tackle.
Your internal IT team is an excellent asset to your business, but they have a lot of responsibility being in-house each day. Let your internal IT department handle the smaller projects, or projects that don't take up as much time. This even allows these employees to tackle new projects.
By delegating your IT duties, you can outsource your most complicated network services issues, as well as ones that are time-consuming, such as web monitoring and management or network maintenance. Be observant If your internal and external IT teams aren't collaborating well together.
Remember, your managed IT team should be providing you with the ultimate customer service efforts.
If your managed IT services team isn't capable of handling your complex IT issues, or if you feel like you need additional IT help, it's a good idea to look for a company who can actually better your business. To learn about finding the best IT provider for your business, read our article, How to Choose The Best Managed IT Service Provider.
Switching managed IT services providers might seem intimidating at first, but don't feel overwhelmed. The more educated you are about these services, and how they can help your business perform at its best, the easier time you'll have at finding the company that best supports you.
For even more resources on managed IT services for your business, visit our Managed IT Services Ultimate Resource Page.

AIS is dedicated to providing you with the knowledge and resources you need to make the best purchasing decisions for your business. Our goal is to provide you with the latest tools and information so that you focus your time on what matters most, your business goals. To learn more about managed IT services, technical support, or any of the products and services we offer, reach out to one of our business technology consultants, here. We're here to give you peace of mind to help you win more business.