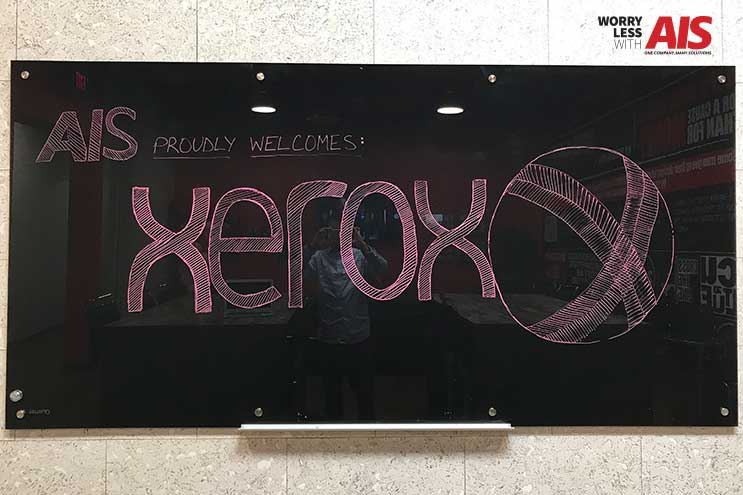 Document Technology Partner Now Offers Production Printing Capabilities and More
AIS is excited to finally announce that after over a year in the making, we have partnered with the Xerox channel partner program and can now provide clients with Xerox multi-function printers, copiers and document management apps.
The buzz around our office is that it's a really exciting time to be a part of the future of AIS. We've talked about forming this relationship for a long time, and everyone at AIS is extremely excited it's finally here. We are one of the premier dealers in the country, and our partnership with Xerox confirms this.
Heard enough and you're ready to buy a new Xerox? First, take a look at our post, What's A Copy Machine Cost? Options to Consider Before You Buy.
"Our partners come in all shapes and sizes - with different product and service specialties, customer targets and routes to market. Regardless, they're joining forces with Xerox for the same reasons - our technology and partner support."

- James Morrissey, Vice President, U.S. Channels Unit, Xerox
So, what attracted us to Xerox? That's easy! Their top-of-the-line technology, astonishing reliability statistics, familiar household name, prestige in our industry, and their integration of programs and apps.
Xerox also offers something very essential that other vendors don't, which was something that continued to grab our attention, and that is their focus and commitment to channel SUPPORT.
A Support Team Is What We Need
Being introduced to our Xerox support team was something we've been dreaming of. Xerox has staff designed to address specific issues we have and particular issues our clients might have as well. To have direct support for each Xerox product truly is one of the most considerable advantages Xerox offered.
You can't have a successful relationship with a vendor or a manufacturer if their support team is nonexistent. So the "all-hands-on-deck" support is precisely what we have been needing and looking for.
Of course, each and every one of our clients is different. However, we feel they typically have cost, productivity, workflow, and manage output (i.e: the tracking of documents, printing volume, etc.) in common. These concerns are even easier for us to address with the products Xerox offers.
Our customers continue to look for products that are reliable with consistent quality, as well as easy integration into other applications to help monitor and maintain the amount of workflow their office produces.
A Partnership Adding Business Strength to Last
This industry as a whole is shrinking about 1.8% per year. So most of our growth comes from doing a better job while also taking business from someone else. The production side of the industry is still growing though, and that's where we have not had the right support and vendor in place to be able to go after our growth.
Another excellent service Xerox is helping us with? Managed Print Services (MPS). MPS used to only be about how a company manages their printers. Now, it's about managed document services and looking at specific business processes and efficiencies.
It's our job to figure out how each business handles all of their document flow and information. It's not just about 'clicks' anymore; it has expanded to all areas of business.
MPS helps separate us from the rest of our competition because of the advantage Xerox has in this marketplace. We can better assess the types of questions our customers are asking, the business issues that customers face, how we can better manage their information, how to control what is produced and managed, and how to resolve problems using cohesive solutions.
Want to learn more about MPS, give a quick read with our article: What is Managed Print Services?
Joining with Xerox and becoming a global partner allows AIS to expand into new and profitable lines of business, connect with Xerox technology that will continue to build our business revenue, and use innovative solutions to solve our customer's problems.
The integration of Xerox will not only benefit AIS as far as expanding our brand but also allow us to give our customers more of what they want and what they deserve.
Production Print and Apps
AIS is rapidly growing and is on an aggressive growth plan over the next eight years to be a large player in the office technology space.. To do this, and to answer to our current and future clients' needs, it was inevitable we needed a more robust product line. Most importantly, production print.
AIS believes that to grow, we have to be the best and have the complete product offerings. Xerox will help us to do just that.
Xerox ensures we stay competitive with our surrounding competition by having more opportunities for business that we previously could not compete in. Primarily in production print, by having a complete product line from low to high-end machines, with all the necessary applications customers need for business growth.
Speaking of applications, we are even more excited to announce all of the apps that Xerox has embedded in their printers and copiers to help support your business goals. Some of these apps in their App Gallery include:
Scan to Cloud Email:

Scanning to Cloud Email gives you the option to scan something on your printer or copier and instead of sending it to an email address, it will send it to your business cloud network. This makes it easy for sharing documents with multiple recipients as well as keeping important files archived on your company's server.
Print to Cloud:

Cloud printing is the technology that enables printers to be accessed over a network through cloud computing. We know this seems a bit high-tech, but don't let it scare you. To your advantage, this feature saves you time and effort when sharing and assembling all of your documents.
1-Touch Scanning:

Using only one-touch, your document can be scanned automatically to email, Word, your printer, or a file folder. This is a great feature to use to save time.
OneDrive:

OneDrive is Microsoft's service for hosting files in the cloud. This app is a great way to store, sync, and share your files with other people on the web. To have something like this as an app on your multi-functioning printer truly is an advance in technology you'll be happy to have.
Google Drive:

Google Drive is an app your business is probably already using via computer; however, now you can set up your Google Drive accounts through the app on your printer or copier. Google drive allows you to store your files securely and open or edit them from any device. This is a great tool for people in your office who work remotely, or for departments who frequently share, edit, and collaborate on documents together (

Cough, Cough… Marketing).
Dropbox:

We've all heard of Dropbox, but how great is it that the files stored on your Dropbox account can now be accessed easily on your MFP? Dropbox allows you to access your files anytime, anywhere… another great way to share documents and files to people throughout your company.
Office 365:

Office 365 is a web-based version of Microsoft Office Suite (Microsoft Word, Excel, Access, Publisher, PowerPoint, and Outlook.). Office 365 requires a subscription to use; however, your company might already have one. And if so, incorporate the app on your printer for even more ways to share, copy, and print your spreadsheets, reports, and presentations.
CapturePoint:

CapturePoint is a cloud service providing you with powerful and secure document scanning. CapturePoint quickly transforms your printed documents into editable documents in the cloud. This enables any user to securely scan and convert paper to a Microsoft Word document, an Adobe PDF, or a Microsoft Excel file.

Mobile Link:

Xerox Mobile Link is a mobile app that can scan, fax and print from your phone or tablet by connecting with a Xerox MFP. It is also able to send data to cloud storage. What more could you want from a printer? Sounds more like a robot to us!
Remote Control Panel:

The Remote Control Panel on your multifunction printer is a great tool for anyone that needs to access the machine from a remote location. The remote control panel is accessed from the CentreWare Internet Services and is simple to use.
Unified Address Book:

The Unified Address Book built-in to your Xerox machine is a standard address book providing a simple and efficient way to find and manage contacts. You have the ability to import up to 5,000 contacts either at the device or from your Xerox Internet Services. You can even "favor" your most frequently used contacts to ensure easy access. How nice!
Firmware Connect:

The Firmware Connect app provides automatic firmware updates to your devices. This app is unique to the industry, bringing a competitive advantage that increases efficiencies, decreases service calls, increases security on customers' networks, improves the customer experience, and increases new sales. How could you say no to this?
McAfee Security:

The McAfee Security app is a diagnostic tool ensuring your devices are protected from threats. The app actively checks your computer for up-to-date anti-virus, firewall, and web security software. If we can tell you one thing about cyber security, we will tell you this app is a no-brainer to download on your machines. Protecting your business should be the number one priority on your list.
XMedius SendSecure and Fax:

XMedius is a global leader in the field of secure file exchange for businesses. Its on-site and cloud-based software solutions enable businesses to exchange sensitive and confidential data in a secure manner. This app is great for those of you who are in the healthcare (or related) field. Your patient's records are private and confidential, and XMedius is HIPPA compliant. Now that's piece of mind!
Adding Value Through Solutions
These days, app equipment is more of a commodity market, and we know clients have a good grasp on what a traditional copier can do. What makes our partnership different and valuable is being able to assess a specific problem a business has, and being able to solve it through apps through a multi-functioning printer.
Many solutions involving apps we can resolve for our customers are sometimes programs they didn't even know existed. These apps are something that makes a company more profitable and even more productive during their workday.
Another added bonus to the technology Xerox provides its users with is how it can be added to existing copiers and printers, such as cloud translation and voice recognition software.
Would you have ever thought you'd one day be able to send commands to your MFP by simply speaking to it? With the use of your ConnectKey technology-enabled Xerox machines and voice recognition technology, you can now interact with your printer or copier by using your voice. This eliminates you from having to go to the machine and touch the user interface.
What about your copier being able to copy or print a document in one language, then send it up to the cloud and have it translated into one of 51 other languages? Xerox's translation app can do just that. Can your copier or multi-function printer do anything like that?
App technology is all about being a strategic technology consultant to our clients, and having Xerox as our partner, we can achieve that! Xerox is just as excited as we are! Read their press release, here, on our partnership.
"With the accelerated growth path AIS is taking, we needed a partner with a brand that embodied a complete top-to-bottom offering while also matching our core values and culture.We consider ourselves a technology company - we're more than just office equipment. We're moving into new spaces such as production print and app development and want to increase our larger-size customer base. Xerox is the ideal partner to support our growth."

- Gary Harouff, President, AIS
Xerox lends well to our culture and where our company plans to go in the future. We are honored to be apart of this partnership, and we feel this match is not only great for us, but for Xerox as well. Want to learn more about how AIS and Xerox can help provide you peace of mind and win more business. Call us and start a conversation with one of our business technology consultants on where you want to grow.