Employee turnover is a fact of life. Retirement, better offers, moving, boredom, and career changes are just a few of the reasons people change jobs. Research shows that typical companies expect 24% of the employees to leave each year and average job tenure is 4.2 years for US employees.
Millennials job hop more often than that.*
Regardless of what generation an employee leaving your business is from, "87% of employees who leave a job take with them data they created in that job, and 28% took data that others had created" including corporate presentations and strategy documents, customer lists, and intellectual property.
That can be a problem for you. Depending on the type of data – and obviously the reason for taking the data – your business could be risking regulatory non-compliance or even loss of competitive advantage.
Some employees take data with the intent to harm their employer, others do so accidentally or simply don't think that it's wrong.
Taking data accidentally is easy to do in today's business environment of BYOD (bring your own device) and cloud applications. Many employees save company data in the "shadow IT" world of cloud storage apps like Dropbox or Box so they can work on their own time. Similarly, company data can end up on cell phones, USB sticks, or laptop hard drives that employees take with them.
Others intentionally leave with documents and data that they personally contributed to because they feel like they own that information – even if they don't. Employees taking information with them when they leave a company in danger of going out of business is often justified by a feeling of "it may as well be useful for me."
The following table illustrates the tip of the iceberg for where your data could be when employees leave.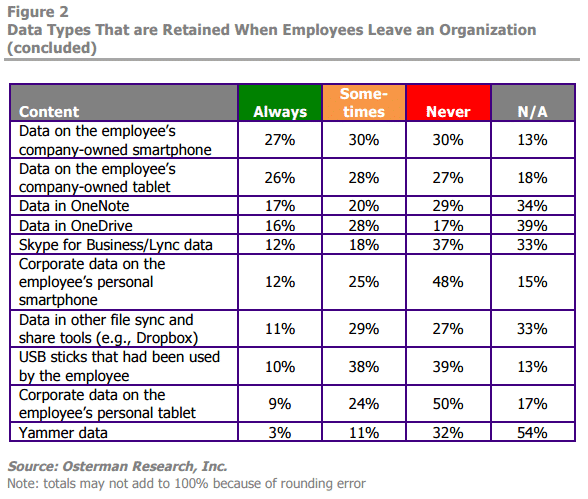 Millennials and Moving Jobs
Even the harshest critic of millennials has to admit that they aren't the only ones who change jobs. However, they do change jobs more quickly than other generations. I wrote about millennials and your business late last year (Your Business' Information Technology and the Millennial Tsunami) and and pointed out that millennials will be half of the workforce in 3 years – you're going to be hiring a few.
So how much more job hopping are we talking about? A Jobvite survey showed that 18% of the workforce changes jobs every one to three years. A whopping 42% of millennials change jobs in that same time. Even if you manage not to hire any millennials; job hopping is still on the rise. The same Jobvite survey indicates that moving jobs is the new normal. The past three surveys show that 34% to 35% of job seekers change jobs after one to five years.
Millennials or not, you need to have an exit plan for your employees and your data.
4 Tips to Keep Data Secure When an Employee Leaves
Like everything IT-related, you should have a policy governing the use and access of your information.
Let your employees know. Almost all employees want to do the right thing. Have a policy and share with your employees what information can be accessed on various devices, applications, and network

Passwords and accounts. Disable their passwords and remove them as a user from your system. If the employee had access to communal password-protected systems, change those passwords too. Disable access to all accounts and forward email to someone within your company. And, of course, take keys, security passes, and such.

Don't allow personal printers. A personal printer allows someone to print confidential data without any monitoring. Network printing at least allows print jobs to be monitored (is there a sudden spike in your vice president of sales' printing for no reason?), though it's not a perfect way to prevent data from going walkabout.

Stop with BYO devices, tools, and applications. Don't get rid of productivity-enhancing apps, just make sure your company "owns" them and communicate that these tools are the only place company data should be used.
I encourage you to download and read the research from Osterman. It has more tips and insights into how to protect your company data.
I'd like to leave you with this final thought – employees will come and go; but the data and information they work on during their time with you should stay where it belongs; with your business.
For information on everything to do with Managed IT Services, check out our resource page, here.
*I've gotta say, I don't understand the sneer in the tone of a lot of the commentary about millennials frequent job switching. Why should someone stay at a job they hate because . . . something about loyalty or sticktoitiveness. There is a fair amount of research about millennials that show they'll stick with a company IF well-treated, are able to use their skills, and get some appreciation (not too much to ask it seems to me).
Statistics and recommendations are from the Osterman Research whitepaper, Best Practices for Protecting Your Data When Employees Leave Your Company