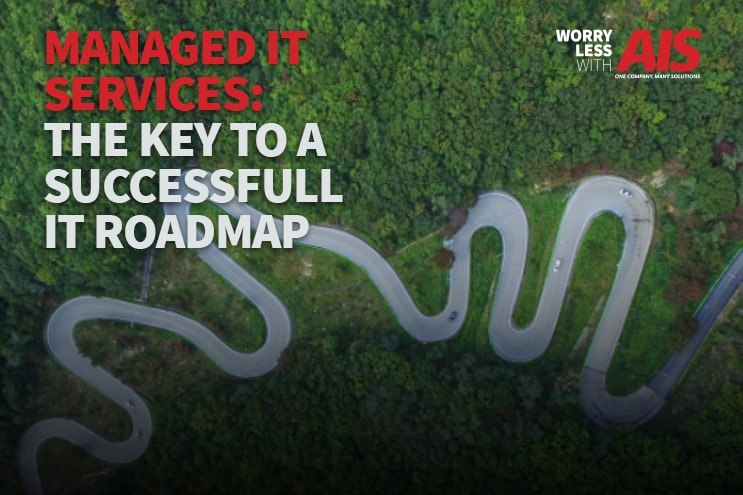 READ TIME: 4 MINS.
What's your favorite way to map to your destination? Are you partial to your car's GPS or a Garmin device? Do you swear by Google Maps, MapFactor, or Waze?
Maybe you forego them all and summon Lyft or Uber. Whichever method you prefer, it involves an intricate roadmap that considers traffic, construction, and accidents. A business' IT roadmap is no different to determine the most efficient way to get you where you need to be in the future using Managed IT Services.
The cumbersome paper roadmaps of the past still make lovely wall decorations thumb-tacked with our travels and dream destinations. But roadmaps today are far more intuitive, and we wouldn't leave the house without them.
In fact, many people even reference several different navigation tools to ensure the best route. Why, then, do so many businesses fail to take this essential step when implementing information technology?
So many companies set off on an IT path fraught with dead ends, lost revenue, and failed projects because they didn't plot a course. The IT world is an ever-changing, evolving landscape that is growing in every department.
There is no longer an isolated IT department with one IT tech troubleshooting a single copier. IT is a pervasive infrastructure that can make or break your company and influence most facets of how you conduct business—making an IT roadmap essential to reaching your destination.
So, What is an IT Roadmap?
An IT Roadmap visibly lays out a company's technology initiatives. These initiatives could include everything from a plan to fix what's broken, to a timeline of which technology solutions will be implemented and why.
As CEOs and managers, it's essential to consider whether your employees have access to the technology that makes them the most productive. Training and tech support from outsourced professionals is a critical component of implementing new technology.
Be sure to spell out what technology will be used by which employees and for what jobs that need completing. You risk overrunning both your budget and your project schedule without an itemized plan.
What Makes a Successful IT Roadmap?
There are different types of IT roadmaps but a useful roadmap should always start with a virtual CIO (vCIO). Many companies have neither the time nor the expertise to introduce new technology and bring employees up to speed.
An outsourced vCIO with Managed IT Services comes in to identify any trouble spots for your business- many of which you may not have even noticed. They will then expertly guide you through the steps to use IT to take your business to the next level.
They'll provide recommendations and solutions, and conduct a thorough investigation to help you determine areas of weakness. They cover everything from operations, to sales, to support, and finance, while keeping tabs on things like equipment warranties, service needs, and environmental changes.
They can also help you with strategic planning for the next quarter or year by assessing options like:
Staff shortage or surplus
Office space sufficiency
Projects to take on
Expired software or necessary upgrades
What Departments Are Affected by an IT Roadmap?
A CEO or manager should work very closely with the vCIO to determine the needs throughout the company. It's not enough to give your tech department the newest software; all departments need to be strategically aligned with the right technology in their network to support business growth and success.
A vCIO can spot areas of communication and the transactional breakdown to help streamline operations. With information dispersed company-wide, security is of utmost importance. With a stable infrastructure and Managed IT Services, you can securely transmit information to maximize productivity.
What Is Your Desired Technology Destination?
While technology is increasingly easy to use, it can't make decisions for you. Many IT projects bite the dust due to managers inputting a "destination" and assuming the technology will whisk them there on a magic carpet. In reality, you need a map and a plan to get where you are going.
IT project failure is more rampant than you think. The US economy loses up to $150 billion per year from failed IT projects. You can only reach your ultimate business destination via a stairway of smaller realistic goals supported by IT infrastructure. This starts with Managed IT Services that employ a broad knowledge of the industry to help you avoid roadblocks.
Staying on Course with Managed IT Services
Creating a technology roadmap template or plan should be firm, but also include the room for flexibility. IT is growing by leaps and bounds, so you want to support short-term, strategic goals with a long-range destination in mind, realizing that you may need to make changes along the way.
A vCIO knows to look ahead and stays on top of emerging technology. A vCIO also helps connect you with technology that is flexible and scalable for your long-term needs, while staying within your budget. They can help you weigh the cost benefits of technology that gives you a competitive edge.
Trends are continually changing in IT best practices, so partner with a trusted professional who can help you take the right path.
How Do Managed IT Services Help You Get There?
Managed IT Services, including your vCIO, cover the bases your company can't cover on its own. From industry expertise to planning for future needs, Managed IT Services focus not only on the technology itself but on how technology helps you meet your business goals.
When you utilize these technology services, you're covered during challenging times like IT employee turnover, lengthy hiring processes, and network failures. In addition to managing your IT projects, vCIO's can:
Design the architecture of your network
Create your strategy
Plan for disaster recovery
Implement cloud computing
Track and report license compliance
Manage vendors
Research projects and best Cloud practices
What's Next? The Final Say on Managed IT Services and IT Roadmapping
A managed services provider (MSP) is essential to navigating your way to a bright future for your company. The team led by your vCIO offers a comprehensive suite of services that takes you from troubleshooting, all the way to your desired destination.
You can count on them to anticipate the "traffic," "construction," and "accidents" along the route and help you arrive quickly and safely while staying ahead of the curve. They don't just take you where you need to go; they explain the steps along the way, so you devise the best plan together.
For more information about Managed IT, visit our Ultimate Resources Page.

Don't go it alone on the open road of the IT journey, and reach out to one of our business technology consultants for more information on a successful IT roadmap. There are twists and turns you might not expect, and we're here as your partner and industry expert who can guide you all the way. We're here to give you peace of mind to help you win more business.