Document Management System vs. Cloud Storage
July 6th, 2022 | 3 min. read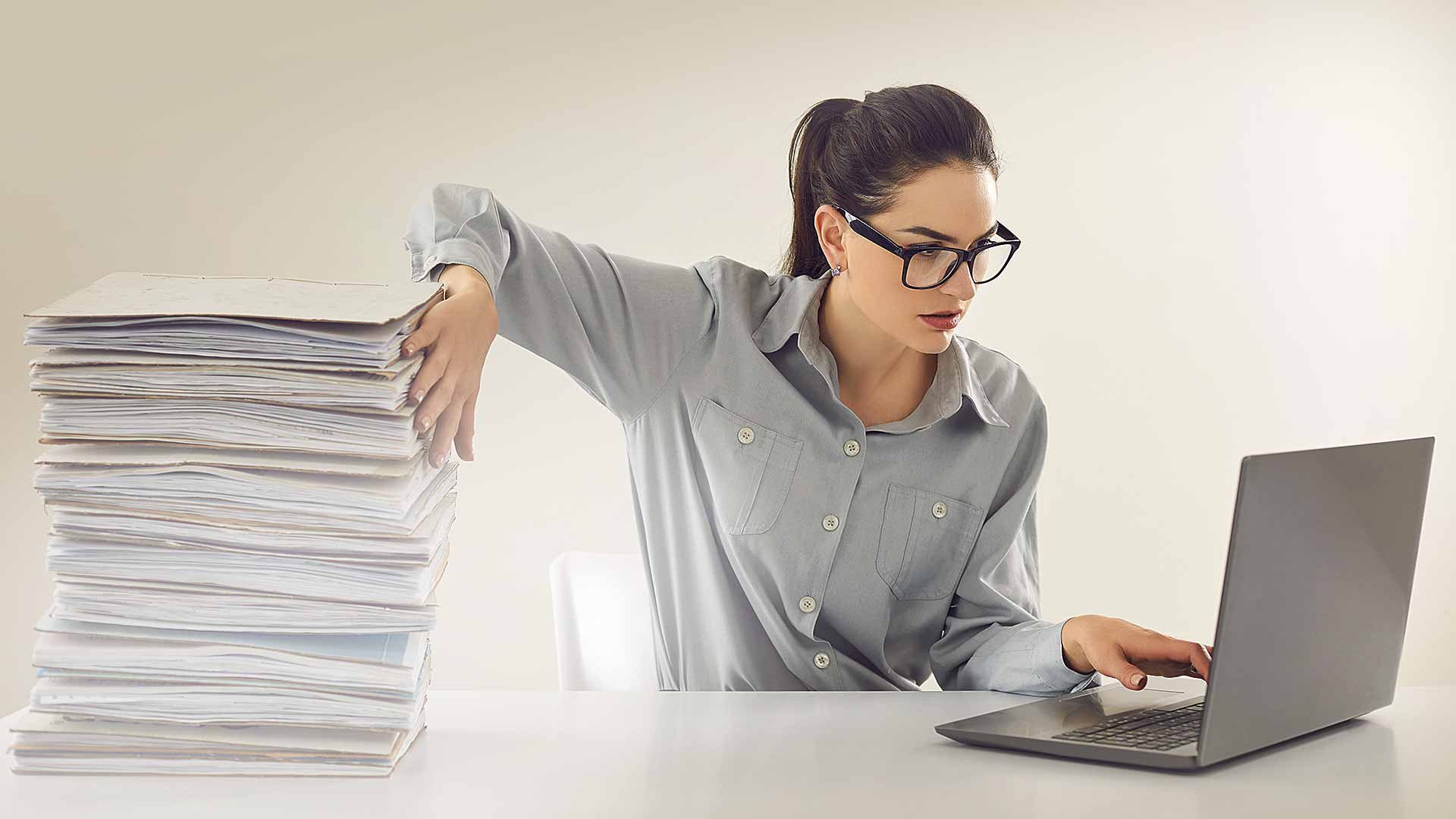 Your work files are confidential and comprise many aspects of company data, like documents, spreadsheets, employee information, pricing modules, media files, and so much more.

With an influx of these files as your business grows, how are you keeping up with this critical information? Where are you storing these internal documents? How are you sure these files are kept safe from unauthorized eyes?

One of the most common and recurring questions we hear from our customers and prospects trying to figure out how to organize their files is, "What exactly is document management?" This question is often followed by, "Isn't that just DropBox with more features?"

To answer these questions… Yes, you can absolutely use DropBox (along with others such as Google Drive, OneDrive, or iCloud) to backup and store your documents and data.

Although these are fair questions, they're rooted in a consumer context—not a corporate context.

In this article, we're diving into the differences between a Document Management System (DMS) and a Cloud Storage System so that you can better understand what your business needs to keep up and protect your confidential company, employee, and customer information.
Document Management System vs. Cloud Storage: Learn These Differences
When deciding whether a document management system or cloud storage is most suited to your needs, it's essential first to ask yourself some of these questions:

1. How important are the documents you're dealing with each day?

2. How fast can you find those documents—regardless of the volume?

3. Can you afford to lose those documents?

4. Does your daily operations in a business context revolve around your documents?

5. Do you have people outside your company who count on you to maintain those documents?

6. Do the terms HIPAA, FINRA, and SEC mean anything to you?

Essentially, the cloud's core function is storage. A document management's core function is organization, operation, and preservation.

See below some of the most noticeable differentiators between Document Management and Cloud Storage. Understanding the differences between these two will help you make a more informed decision for your organization.
1. Key Differentiator: Integration
A document management system is built to seamlessly integrate document or data capture, document storage, editing, workflow, and retention in a single platform.

Files of any type can be uploaded and managed using collaboration, version control, and workflow. A DMS will also provide integrated tools for electronic approval and signature.
2. Key Differentiator: Workflow
The right people receive the right document at the right time and can collaborate on, edit, and sign it in real-time with an automated system to ensure everything is in its right place when a process is complete.

This well-oiled machine guarantees increased efficiency and compliance.
3. Key Differentiator: Retention
All necessary documents, with edits and multiple versions, are organized into a clean, meticulously tracked record. Anything that needs to be accessed is easily locatable, and anything with a timeline or expiration can be marked and categorized accordingly.
Once records become final (meaning they are no longer being edited), the system locks them until their scheduled destruction date. Records Managers are alerted to purge the expired records. This structure helps to increase productivity and reduce costs.
4. Key Differentiator: Security
The permissions and limits granted to users are fully customizable based on their roles. Who has touched each document and what they did to it is logged to create an easy-to-follow audit trail.

This safeguarding of your information assets ensures your information is secure. Information is encrypted while being transmitted from your computer to our data center and then encrypted when stored, preventing unauthorized access.
5. Key Differentiator: Compliance
Suppose you need to keep official paperwork ready to comply with government regulations and organizations such as HIPAA, FINRA, and the SEC. In that case, you now have immediate access to precisely what you need, even during consistent changes to requirements and regulations.

A DMS enforces the structure needed to comply with regulatory requirements.
The Final Say: Document Management vs. Cloud Storage System
When it comes to a document management system versus a cloud storage system, you can see there are noticeable differences. If you take nothing else away from this, remember: the cloud is about storage, and document management is about organization, operation, and preservation.

At AIS, we're here to help you decide which is a better storage system for your business needs. We're committed to providing you with information to make sure you're making the best purchasing decisions for your organization, employees, and customers. To learn more about our services and products, reach out to us today. We're here to give you peace of mind to help you win more business.
A true southerner from Atlanta, Georgia, Marissa has always had a strong passion for writing and storytelling. She moved out west in 2018 where she became an expert on all things business technology-related as the Content Producer at AIS. Coupled with her knowledge of SEO best practices, she's been integral in catapulting AIS to the digital forefront of the industry. In her free time, she enjoys sipping wine and hanging out with her rescue-dog, WIllow. Basically, she loves wine and dogs, but not whiny dogs.