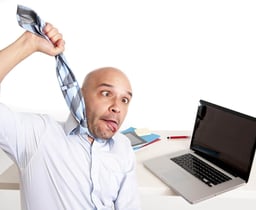 It's infuriating when you have a problem with your network, phones, security protection, backup, or anything related to your IT infrastructure and can't get your IT vendors' "support" to give you the help you need.
How often have you gotten a "that's not our issue" response as you move from provider to provider trying to find the company willing to take responsibility for your issue?
We remove this frustration by giving you "one throat to choke." We provide the managed IT services in our portfolio as a complete bundle, not a series of one off, stop gap measures. Not only does this provide your company more well-rounded IT support, but also means you make a single call (answered in two rings) to get the help desk support you need.
So far, no one has ever wanted to actually choke us (we're pretty sure!). But our customers appreciate being able to cover their IT bases with a single phone call.
Complete Managed IT Services
We offer one-stop for managed network and backup services. Here is what's included in our flat rate, IT services.
Backup and Disaster Recovery
Hourly backups, performed automatically
Same day virtualization of data backups
Data is secure in two locations
Automatic nightly offsite transfer
Backup verification and reporting
24x7 monitoring for backup failure
Content filtering and reporting
Intrusion prevention
Spyware, botnets, virus, and phishing protection
VPN – secure access for remote users
Professional Services
Technology consulting
Technology solution engineering
Quarterly technology business review
Annual telco services audit
Proof of concept lab testing
Training facilities and rental equipment
Vendor Management
Single point of contact for vendor issues
Manage technology relationships
Proactive Management
Patch and antivirus updates
SPAM control
Email archiving and continuity
Critical monitoring 24x7x 365
Here's how we deliver that to you.
As I just wrote about in Stop the Bleeding, buying technology to address a business problem without fully understanding how the technology fits is a great way to waste money. We have a 5-step process to ensure you get the right technology
We qualify workflows, processes, and mission-critical documents to determine you "as-is" situation.
We customize setup of our solution to minimize disruption and increase productivity
Coordinate, plan, and execute transition, implementation, and change
You focus on your business, outsource the IT management to us
Your virtual CIO will work with you to continually improve your IT infrastructure – planning for the future while being effective in the present.
All-in-one managed IT services relieves you of the headache of managing your network and backup needs yourself. Want to learn more? Click below to read our free eBook and discover how managed IT can help your business.
For more information on everything to do with Managed IT Services, check out our resource page, here.