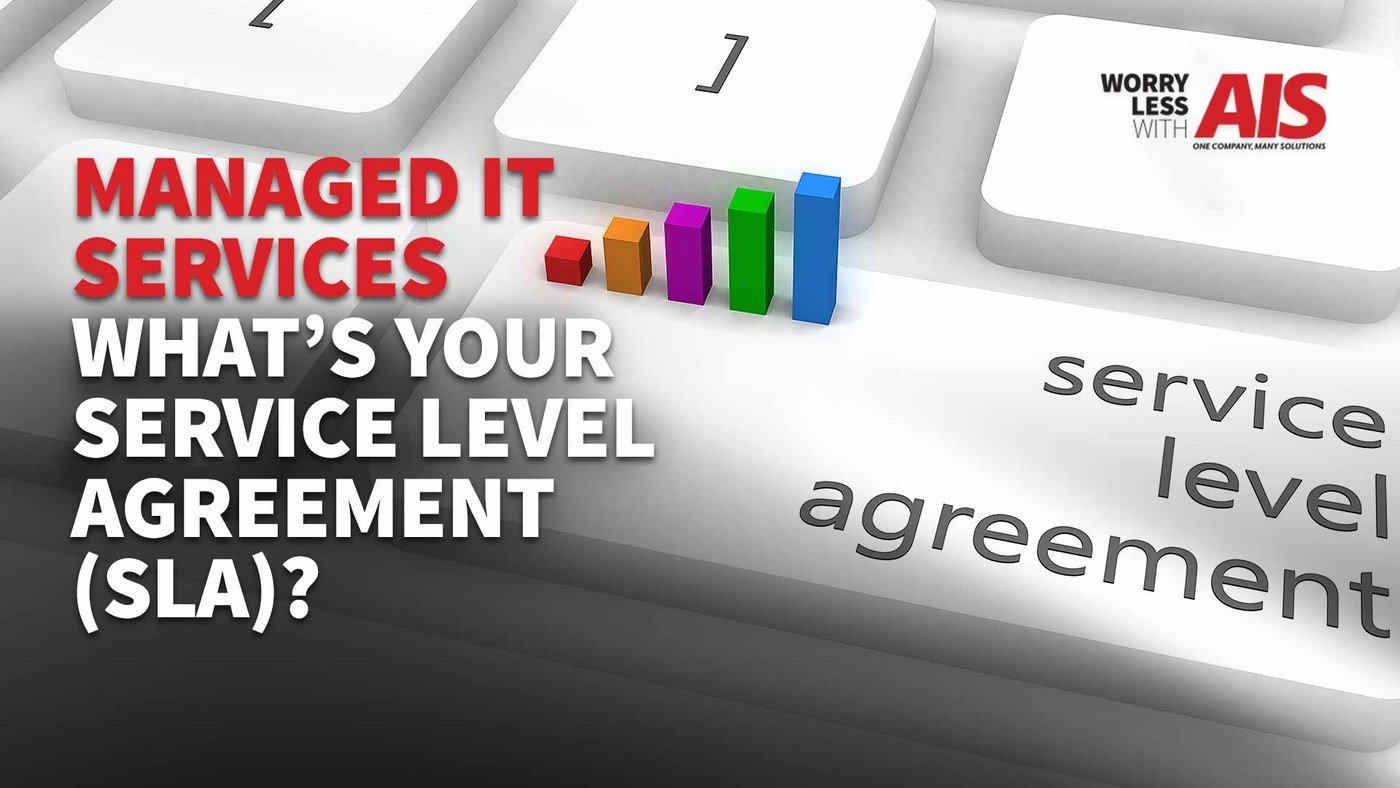 READ TIME: 5 MINS.
A service level agreement (SLA) indicates the type of services your managed IT services provider offers you and what you can expect from their service to you. This agreement is something you always need to read carefully, as many of us fail to do.
When you receive your SLA for managed IT services, what should you expect to see? Just by reading the contract can give you a better understanding of the exact services you can expect to receive.
On the other hand, reading the agreement can also tell you whether you should stick with them or find another vendor.
By the way, if you're unfamiliar with managed IT services and how beneficial they are to your organization and employees, read our article, What is Managed IT Services? How to Tell If You Need Them.
Your business is different from any other, so your SLA's specifics vary based on your individual needs. We feel it's essential to give you the answers to your question when we ask, "Do you know what your service level agreement is with your managed IT services?"
Your Service Level Agreement For Managed IT Services: Here's The Breakdown
So, you've decided to partner with a technology solutions provider to help manage your IT infrastructure and devices. Reviewing your service agreement helps ensure that you and your provider share the same expectations and what they're providing your business.
Listing The Type of Services Provided
In your SLA, the provider should list all of the IT services (such as cloud services and backup and disaster recovery) they're offering your business in a clear way, with no ambiguity. They also need to provide details on what they exclude to avoid questions from you on why a particular service is unavailable or unrecognized.
Conditions of that service availability also need outlining so that no legal disputes ever occur. Part of this involves metrics to indicate what those expectations are in services rendered. For instance, an SLA should provide clear metrics on:
Response times when things go wrong
Expected resolution times when a server goes down
Who is accountable if a breach of security occurs or another cybersecurity issue
The SLA needs to indicate pricing and other costs to know what you will be paying along with support solutions. No one wants to see surprise charges for their managed IT services after paying a set monthly rate.
All features and benefits of the IT service also need outlining to compare it with competitors.
Which Party is Responsible When Technical Mishaps Occur?
While accountability should become a part of the services provided, an SLA should have more detail about each party's responsibilities. Since anything can go wrong in the world of IT, who will take responsibility when those things occur?
Much of this should center on privacy breaches and whether your business or the information technology provider should take all responsibility for it. Part of this centers on how to contact the service provider when an emergency occurs. Incident report times are a significant aspect of this as well.
At the center is a legal maneuver that can remove all responsibility from your business if customers have their data breached. This is called an indemnification clause in the contract or SLA. Not all SLAs have these, but you should always request one.
Having this clause means the provider takes the brunt of third-party litigation costs from your customers if warranties are breached. Getting this in writing is essential, even if dispute resolutions need just as much attention.
Understanding Metrics In Your SLA
A critical aspect of an SLA is having it outlined without too much jargon. You never want to read an IT service contract and puzzle over the meaning of specific acronyms. Yes, a lot of those do exist in typical SLAs. Make you understand each of the terms in your SLA.
The provider should educate you on what specific terms mean, especially acronyms related to metrics. For instance, MTBF/MTTF means "mean time between failures" and "mean time to failure," respectively. These define how much time it takes for the provider to solve a particular problem.
Other standard terms that need better definitions include:
MTTR: Mean Time to Repair. This indicates how long it typically takes to repair a technical issue affecting servers.
Defect Rates: The rate of errors in all deliverables.
Technical quality: Determines the rate of any coding defects.
Security measures: Outlining what steps the provider takes in providing safety to the customer and security to databases.
All metric benchmarks for service performance need to stay realistic, so they never overreach or underperform. Promising something and not delivering can end up being a deal-breaker for people like you depending on reliable technology services.
For your business, especially, you need to know what all expectations are to the letter.
Related: 7 Best Practices While Writing MSP's Service Level Agreement.
A Brief SLA, But Not Too Brief
Many customers now expect briefer SLAs that never overcomplicate the services provided. Providing too much legalese can sometimes create discord and require too much time figuring out what things mean.
Expect to see more SLAs go this route, if not being too brief. All service levels your own business uses needs a complete outline to fully understand all expectations. An overly simple SLA could mean the provider is hiding something you only discover when something goes wrong.
As part of the services and security sides to managed IT services, the contract should list the people involved and who handles all data. Sometimes this might mean having to negotiate the contract, something many customers and businesses ask about.
A Look Into SLA Negotiations
Sometimes it is possible to negotiate with an IT provider to tweak an SLA to suit specific situations. It usually means hiring lawyers to help work out the details.
Of course, negotiating an SLA could have a broad impact on how it affects everyone in your company. Talking with stakeholders and your inside tech team is necessary to see how the negotiating changes their work patterns.
Looking into your company's details and how changing terms in an SLA improves things is well worth the trouble. In the end, this helps the relationship between the IT provider and you, even if the provider may update their SLA anyway over time.
An SLA needs to have a specified end date on how long the contract lasts. You should ask some questions about this as well.
When Does an SLA Renew?
What kind of opt-out does the SLA provide? Is there an auto-renewal process involved? These two questions you need to ask before you even accept a new SLA.
Many IT providers do update their SLAs over time to reflect changing times and needs. As technology becomes more complex and more required, managed IT services need to provide as much help for customers as possible.
The Final Say: Managed IT Services And Your Service Level Agreement
As you can tell from reading this, there's a lot of moving parts when it comes to your technology services and the accompanying service level agreement. Although some of it may seem confusing, be sure to take the time to understand all parts of the contract so you aren't left with any surprises—and don't be afraid to ask questions.
We're here to help you advance your business by providing tools and solutions for your office and team members. We'd love to talk with you about technology solutions that can help you stay productive without breaking the bank. To learn more about managed IT services or any of the other products we offer, reach out to one of our business technology consultants. We're here to give you peace of mind to help you win more business.