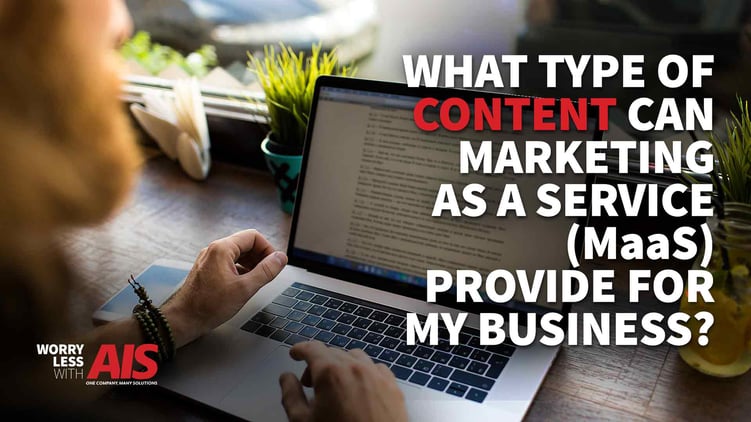 READ TIME: 5.5 MINS.
Marketing as a service (MaaS) is a type of outsourcing when a marketing company or marketing agency helps your company fulfill its marketing and content needs. You pay them to help you, and they tackle the situation.

A company offering MaaS can develop thorough and detailed marketing plans specific to your organization and point you in the right direction, so your business can reach more people and succeed.

If you're interested in the types of content and services MaaS can offer your business and employees, you've come to the right place! Let's jump right in.
Marketing As A Service: Content for Your Business
Marketing has been around for a very long time. But, as times continue changing, the need for more diverse and relevant marketing content and collateral increases. It's hard to keep up with the latest trends.

Because of this, outsourcing some or even all of your digital marketing needs is one of the best ways to take your business to the next level.
Let a Marketing Team Create A Marketing Plan
Developing a marketing strategy and plan on your own can pose some challenges if you aren't quite sure how to tackle them. For example, you first need to identify what you want to do to reach more of your customers and target audience.

You may overlook some critical details on your own, so seeking MaaS will help you develop a solid and business-specific plan. Otherwise, you'll need to spend time on your own figuring out what you can do to help your business.

MaaS companies have developed plenty of marketing plans for various businesses, so they know what details and initiatives to include. Even if you have no experience doing it, they can make a plan on their own and present it to you.

Otherwise, you can mention the details you want and discuss the options with them. Either approach saves you time since you don't need to go through the logistics and fine details to develop a plan.

If you want to create a plan, make sure you tell the MaaS company about it ahead of time, so they can make one right away and adequately assess your marketing needs.
MaaS Can Boost Your Organic Traffic
A business must naturally find prospects and customers if it wants to succeed and grow—that's a no-brainer! Doing so requires the company to increase its organic traffic to get more people to visit the website and learn about the business.

Even if those people don't turn into customers, simply getting their attention and spreading your brand will almost always boost your sales.

Organic traffic refers to people who find your website by doing searches online. For example, if they go on Google and look up "Stores near me," they may come across your business if you live close to them. The same applies to social media searches, where they look up information that connects them to your business.

Working on your organic traffic can pose some challenges, so MaaS can help you improve your organic traffic.
Learn and Implement SEO Practices and Strategies
Search engine optimization (SEO) plays a significant role in your organic search traffic. SEO means your business focuses on keywords and links to help it appear in more searches. However, such a process can pose some challenges, especially if you want to improve the SEO for multiple pages on your website.

Instead of trying to do it alone, you can work alongside a company that offers MaaS. On top of the best practices, you need to incorporate strategies to make those practices a reality. While you may recognize the strategy, it won't matter if you can't find a way to use them.

Make sure you discuss those details with your MaaS company to see how you can work on your SEO without sacrificing time and effort. Since you may not know how to get started on your SEO, turning to MaaS will make the process easier.
Utilizing Marketing Software Through Marketing as a Service
If you work with a MaaS company (or a company that simply offers it, like AIS), it can point out good marketing software to help your business. Sure, you can choose some on your own, but you'll need to go through the trial and error process to get it done.

If you don't want to purchase marketing software on your own, you can ask the company if they already use it so that you can save time and money.

For example, you can utilize ad management software to make incorporating ads into your marketing easier if that's the route you're interested in taking. The MaaS company may know the best software on the market to help you maximize the results.

You can even incorporate it into your emails, website, and any other areas you think will help your business.
A Marketing Team Can Develop Content For You
Businesses must also regularly create content to draw in new and qualified customers. Creating content takes time and effort, but it becomes more complicated if you don't know what to focus on.

If you want to create content for your business, you can discuss the details with a MaaS business to determine what content works for your situation.

You may find blog posts work well for your business, but MaaS may point out additional approaches you can take, too. You can also create videos, email newsletters, and effective campaigns promoting your products or services.

Focus on going over these possibilities with the MaaS team to see where you can make improvements and changes to benefit your business. They can also advise what subjects you should try to see if you can reach more potential customers.
MaaS Can Enhance Your Website
MaaS teams also put effort into website development and improvement, so make sure to work with them. For example, if you notice your website runs slowly, a MaaS business can help you make it faster. Otherwise, you'll end up losing potential or even existing customers since they won't want to wait for the website to load.

Make sure you have them look into all aspects of your websites. Even though you can have an excellent website, a business that offers MaaS can point out more minor fixes you can make to it.

While the smaller fixes may seem like they don't matter, they'll add up with time and improve your website. However, if you don't have someone pointing out those details, you'll never know about them.

You can apply the same to your social media pages to greatly improve them and get more views.
The Final Say: Marketing as a Service and Content For Your Small Business
Marketing as a service offers plenty of benefits, making it a great outsourcing solution for your business, employees, and customers. If you can't figure out how to improve your marketing, you can hire a service and do your best to expand your online presence. Doing so will make it easier to find customers and grow your business to boost your sales.

If MaaS sounds appealing to you, look into the options available and find out which ones meet your needs. Our office technology company offers many different products and services, including MaaS. We believe having a solid online presence and marketing plan in place can significantly make you stand out from the competition. To learn more, reach out to us today. We're here to give you peace of mind to help you win more business.