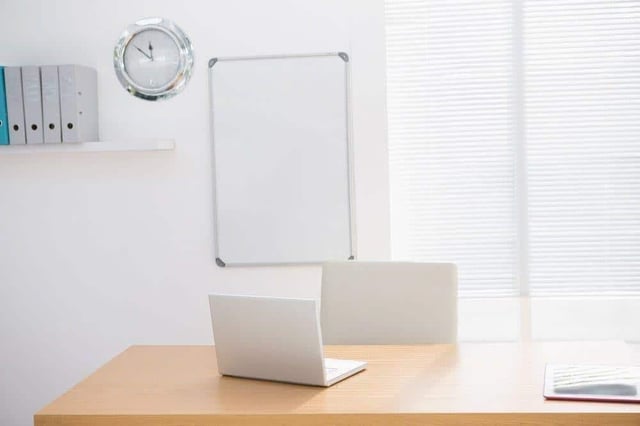 Think about all the crap that accumulates on most desks in your office. In addition to being unsightly (and in the case of that three-day old plate perched on top of a stack of files – just gross), did you know that a messy desk can be a security threat? It's always the things you don't know about security that can hurt you!
One simple way to bring up the importance of data security with employees is to talk about how a cluttered desk can lead to a security breach.
I know that sounds odd. It's still true.
How insecure is it when a smartphone or a USB stick is left out in the open? Cluttered desks are also signals that an employee is more likely than not to forget to physically secure their desktops or laptops.
While I know messy desk types who can dive into the piles on their desk and pull out the exact document or file you need, that's certainly not true of everyone. If something were to go missing from an untidy desk, how long would it take to find that it was really missing rather than "oh, I probably just put it somewhere else"? Any delay makes it harder to track down who may have stolen the material or recovering the material.
A clean desk makes both digital and paper assets more secure. A clean desk can also make employees more productive because they can get their hands on what they need to do their jobs faster.


Here are 11 messy desk bad habits that can hurt your business.
Not Password-Protecting Computer Screens. Set screens to lock after short periods of inactivity – 30 seconds, 1 minute, etc. If not, any passerby can access whatever they want on the computer – from accessing documents directly to inserting a USB stick in a thumb drive to leave malware behind.
Leaving Documents With Sensitive Information on the Desk. When not in use, lock this information in a desk drawer or in a filing cabinet.
Not Shredding Documents. Shred everything before going into the trash or recycle bin. Why take the risk when nearly any document can hold sensitive information?
Open File Cabinets. Lock 'em up. It's nearly impossible to realize a file has been stolen when filing cabinets aren't locked. How much sensitive information is contained in your filing cabinets? How harmful would it be if any of that information was stolen? Use the locks.
Leaving Mobile Phones and USB Drives Exposed. While most of us are attached at the hip to our smart phones, they do contain sensitive business and/or personal information. Keep them in a drawer or make a habit of carrying yours with you at all times. USB sticks should be kept out of sight and locked up (especially if they contain sensitive information) when not in use.
Keeping Notes on Whiteboards. Those glass-enclosed conference rooms are sleek, but leave any confidential information from your latest brainstorming session exposed – customer strategies, new product ideas, etc. Take notes or a photo and erase them after every session. .
Backpacks in the Open. Or briefcases if you're still old school. Keep them outside of easy grabbing distance because many times they contain a device or confidential information.

.
Post-Its for Passwords. Anyone that has their passwords written on notes stuck to their monitor or on notes nearby is willfully inviting someone to hack them. If you must write passwords down, keep that piece of paper locked up. Better, use one of the many apps to manage your passwords.
Locked Drawers – With the Key In It. Talk about pointless "security." There are better hiding places for keys than in the lock! Don't make it easy for someone to come in after hours to access your confidential files.
Calendars in the Open. Calendars often contain sensitive dates and/or information about customers, prospects and/or new products. Be careful of opening calendars in public where others can see.
Wallets and Credit Cards. While this is less common than any of the previous 10, it can happen. Keep your wallet in your pocket. If you're a man with a two-inch think wallet, considering streamlining to a smaller, front pocket wallet or lock it up – like women should do with their purses.

Whether you lock it up or destroy it, keep your information out of sight and away from prying eyes.