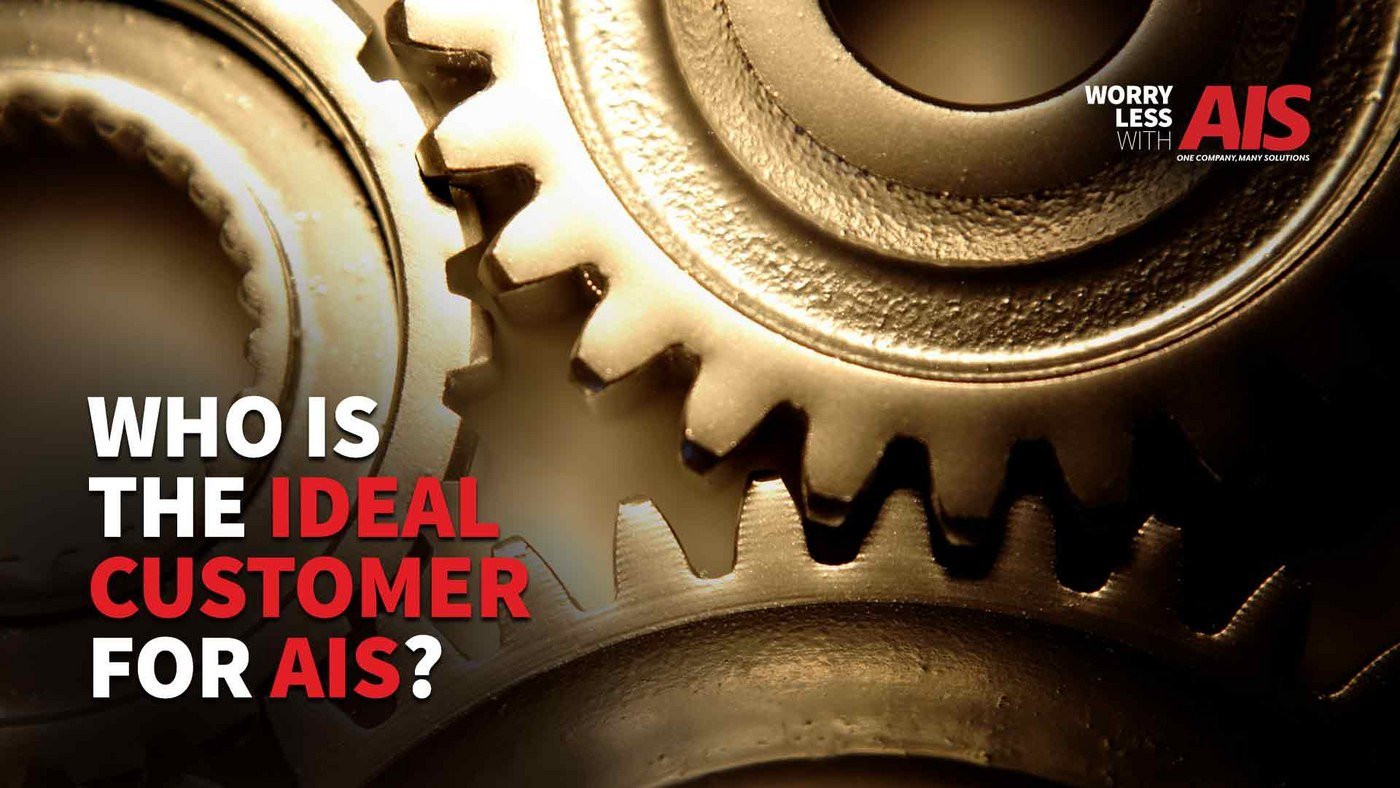 As you prospect or search for new customers, how do you determine who's a good fit and who isn't? Is it about company size or the type of industry?
Maybe it has to do with challenges they're presently facing that your business could help solve. Or perhaps you have to first identify the wrong customer to determine the right ones.
Whatever the parameters are, every company (whether they know it or not) has an ideal client or customer base.
At AIS, we're big on finding that "perfect client," if you will. And when I say perfect, I don't necessarily mean "checking all the boxes." We think of each individual sale or relationship with our clients as a partnership.
The importance of making sure they're the right customer for us is equally as paramount as making sure we're the right technology solutions provider to them. What good would it do either of us if we didn't weigh those the same---or know the difference?
What Are The Benefits Of Identifying Your Ideal Buyer?
We've noticed that defining an ideal buyer benefits our customers and us in a few different ways:
It Empowers Team Members.

It empowers team members by confidently identifying who is a bad fit for our business

—something that, at length, saves us time and money. We're able to weed out companies that may not necessarily benefit from partnering with us.

Qualifying Leads.

When we realize which prospects are an inadequate fit, we can unqualify those leads quickly and move on. Doing so allows our team members (specifically the sales department) to shift their efforts and focus on buyers better aligned with our business operations, such as our core values.

By the way, it's totally ok if you come across a company that you don't think would make a great partner. Neither you nor they are at fault in this scenario. But just like dating, not everyone is for everyone!

Importance on Mentality Through The Right Partnership.

Your mentality begins to change on the importance of the relationship between you and your valued buyer. The second you start considering long-term relationships instead of short-term deals, you create a better opportunity for yourself and the buyer.

Think about the thought process you experience when you make personal transactions—you go to brands you trust. One of the biggest takeaways in finding qualified clients is creating a strong group of customers who praise your team members and the services you provide while understanding the overall value. These customers can become your brand ambassadors and even play a part in your marketing efforts, such as sharing their journey as a new customer to your organization.

For example, take a look at one of our customers who happily spoke first-hand about their experiences with us: AIS Customer Journey | Brimhall Eye Center

.
You may feel unsure if you're the right fit for AIS or maybe want to know how to qualify buyers of your own. We focus on learning about our happiest or "most ideal" consumers to understand better who sees the greatest successes through their AIS partnership.
Below are the findings we continually notice that deems a client the best fit for us as their office technology provider:
They are looking to grow and improve their business operations through sustainable office technology.
They are open to change by learning and investing in new solutions for their workplace.
They see the value and long-term costs savings through our products and services.
They trust our knowledge and experience.
They see the importance of multi-system integration and management through one technology provider.
They Are Looking To Grow And Improve Their Business Operations Through Sustainable Office Technology

Many businesses want to grow and improve their daily operations but aren't sure how to get there. Our job at AIS is to inform the buyer how to do so through sustainable office technology solutions.
Some of our happiest clients had no idea our services would accelerate their business processes and even increase revenue year over year. However, they did have a clear picture and could communicate what success looks like and where they want to be.
Take a look at our Managed IT Services, for instance. These services can help an organization save time and money while also increasing the security of their entire IT infrastructure. Many of us are unaware these services exist but are over the moon to learn the remarkable growth opportunities.
The companies interested in and dedicated to growing their business give us the chance to present them tactfully. Thus, making them a well-fitting client for AIS.
They Are Open To Change By Learning And Investing In New Solutions For Their Workplace
I'm going to go ahead and say it: Companies within our local markets are scared of change. And we get it! Change sometimes means additional upfront costs, unfamiliarity with new systems, or training on new devices.
However, our most ideal company to partner with is one who is open to change, even if it's a little difficult to embrace at first. We believe change is a significant factor to consider as our ever-evolving world of technology continues on a rapid innovation path.
It's impossible to not "grow with the times," and office technology devices and services are no different. We want companies to embrace change and see it as an investment to stay ahead of the competition.
Sure, new solutions or processes may take a little time to adopt. Yet, business owners who see the value of investing in change reap the benefits sooner than those scared to try.
But what are we actually talking about when it comes to technology changes? Well, it could mean a lot of things, such as upgrading your digital phone system to a cloud-based one or replacing your office copier with one that includes more features to support remote employees.
There are various ways an organization can successfully invest in technology changes—making them an A-plus candidate for our services.
They See The Value And Long-Term Costs Savings Through Us
As I briefly mentioned earlier, a lot of fears that we hear come from potential upfront costs when partnering with a new technology provider. However, an ideal buyer to AIS means they see the cost-savings and overall value of our solutions over time.
There may be some additional costs upfront when switching to a new provider, but the cost-benefits our customers see each month are what stands out more. When we provide a breakdown of our services and fees and compare it to what a customer is currently paying, it's almost always a no-brainer to make the switch.
Long-term cost savings are essential for any business out there, regardless of size or industry. We get the most out of our partnership with clients who believe in our products, services, and team members. The customers who know we have the best interest of their business through the contract's entirety receive the most profitable results.
They Trust Our Knowledge And Experience

This point goes along with the one mentioned above. Our most vital partnerships come down to trust from our clients. Not only do they trust our products and services, but they trust our brand.
An ideal client for AIS is one who credits our knowledge and experience, based on our presence over the last 20 years in the office technology space. These customers see how we've grown by increasing our locations, expanding our employee base, and the variety of new-age products we offer so we can provide them better support.
But, trust doesn't happen overnight. Trust takes time (even years) to build within a local community and within the industry overall—which is why we make such enormous efforts to build strong relationships with every one of our clients.
Not to mention, we're building trust with the right clients, ones who support us, just as we do them.
They See The Significance Of Multi-System Integration And One-Vendor Management
Over the years, we've expanded the products we sell from copiers and printers to Managed IT Services, Telecommunication Systems, and Automated Temperature Scanners. We realized the importance of providing various technology solutions to a business, so they only have to interact with one vendor.
In terms of multi-system integration, our ideal client is one who is interested in having us manage all of their technology needs. Our customers love how much easier it is to have one company (AIS) implement and maintain all of their systems. This way, if something breaks down or malfunctions, they only have to contact one provider.
A customer who allows us to handle all of their technology needs also encourages a more personal and long-term relationship with their dedicated sales representative, service technician, or finance account manager.
We Want To Know How Your Company Is Ideal For Us
This might seem like a lot to digest. And, maybe you're thinking, "We fit into some of these categories, but not all. Does this mean we're not an ideal client?"
Well, that's actually up to you. Are you and your team invested in learning and growing? Are you ready to commit to improving all of your business operations? If the answer is yes, and you're open to new concepts and strategies, I'd say it's time for us to meet!
Ultimately, we want to provide you with individualized tools to support your business on its path of growth and success. Although our current environment is challenging to forecast, finding qualified clients is something we'll continue to do each day.