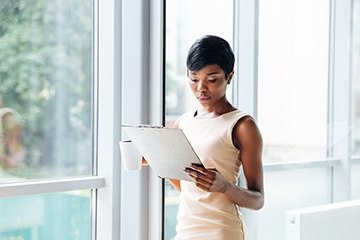 While measurements aren't the be all and end all of business success, the ability to measure and track hard costs can help your business spend more effectively.
A commonly overlooked area of business infrastructure spend is your print fleet. If you don't know how much you're spending on your copiers and prints in toner, paper, and maintenance costs (which can lead to lost productivity as equipment goes down); there's a good chance you're spending more than you need to. I've written about managed print services as a solution to this business issue before.
The path to savings begins with a first step – and that step is a print assessment.
The goal of the assessment is to identify your real print needs and volumes and then provide a recommendation for the mix of copiers, printers, scanners, and fax machines that meet those needs.
Here are some of the things we look for when assessing your environment.
Where are you spending money now – leases, maintenance contracts, etc.
How many devices do you have?
Are those devices optimally placed? For efficiency or for convenience for the person in your office who complains the loudest?
Is your printing environment secure? Do you have job release at the machine enabled? Are documents with confidential information handled appropriately on the devices?
Are your machines old and consuming lots of electricity? Sometimes you can save energy (it adds up on your electric bill) and reduce your carbon footprint.
You'll know how much you actually print, what you're really spending on consumables,and also if there's a gap. If you're spending for more capability than you need, the cost savings are obvious. On the other hand, your productivity could be suffering if you don't have a large enough print fleet to meet your actual business needs. Either way, you'll know and can act based on real numbers instead of what you think the numbers are.
Based on these results, we get to work for you, creating a combination of hardware, software, and process that will meet your budget and performance needs.
Print fleet creation. Recommendations for your ideal mix of equipment could include all new equipment or a mix of existing equipment and new equipment. We'll also do some "Copier Feng Shui" for you and recommend the perfect placement of these devices for maximum productivity. OK, so I just made up "Copier Feng Shui," but the idea placement of office equipment for productivity is very real.
The flow of documents through your business could help or hinder productivity. Software recommendations for workflow are included, as well as suggestions for processes and moving documents where they need to be in your company.
I know some of you are reading this and thinking, "It's just copiers and printers. Why does this even matter." If that's your attitude toward technology, I'd like you to take a moment to read this post by Monique Phalen, Opportunity or Cost? Your Success Depends on How You View Technology.
Information technology, of which your digital copiers are a part of, can create a competitive advantage for your business – if you're smart about it.
If you think you might be paying too much to print and copy your business documents today or think that you could use your equipment more effectively, consider a free, no-strings-attached print assessment with us. You'll be happy you did.