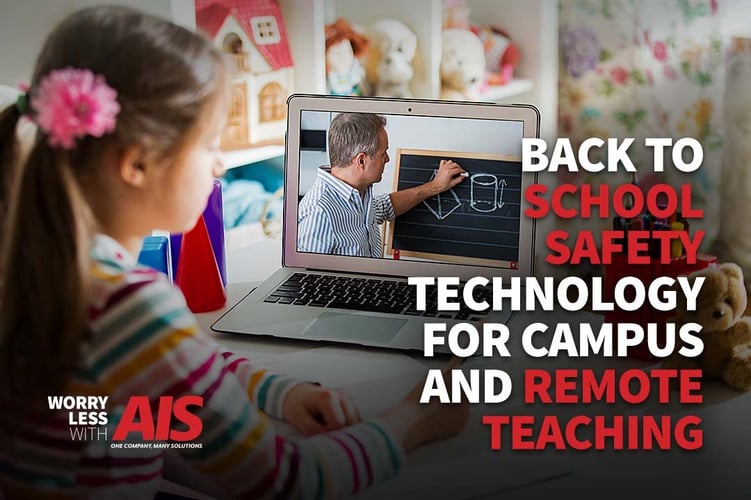 READ TIME: 4 MINS.
As in all industries and organizations around the world, new technology can become a helpful tool for traditional processes and the way businesses and organizations operate. As far as the education sector—there is no exception.

Although virtual classes are not a new practice, they have suddenly become the new (and even mandatory) norm for many students and teachers in recent months. So what is the best back to school safety protocols to take in terms of technology to use on campus and for remote teaching?
Amid COVID-19, communicating with students outside of the conventional classroom is more necessary now than ever before. But, how can we accommodate our students and teachers in a non-traditional way? Have you ever thought about office technology solutions?

Speaking of solutions, AIS continues to provide and install tens of thousands of devices for educators and schools. Through our years of experience, we've learned how teachers and faculty members rely on office technology in their role of supporting students of all grade levels.
Make sure to reach out to us to learn more about how we support schools and classrooms, as well as technology-specific tools for your students.
Maybe you've been asking some of these questions and not sure of the solutions:

Do your teachers now need their own copiers and printers for their classrooms or their homes, instead of utilizing a shared space to reduce the spread of the virus?

How can your teachers safely connect and monitor their devices if they are now working from home?

What temperature screening device is your school using to detect elevated body temperatures of your students and staff?

Is your thermometer a completely and touchless device that allows for safe social distancing?
As an educator, you play a pivotal role in our communities, and you must be equipped with all the tools you and your students need. School administrators should be finding answers to these questions in order to overcome the new challenges teachers and educators are faced with today.
Follow along as we go over the types of technologies you need for remote and in-school teaching.
Teaching At Home or On-Campus: What Are Your Options?
There are many different technology offerings for this upcoming school year that you may not be familiar with. One of the best ways to stay connected with your students is to learn about all of your options.

Identifying all of your options allows you to focus solely on educating instead of dealing with technology malfunctions or the lack of solutions you need to do (or help others) do their job.
1. Automated and Contactless Thermal Temperature Scanners
Now that a fever (an increase in human body temperature) has been established as one of the most common symptoms of COVID-19, thermal scanning has gotten significant attention as a handy tool to increase workplace safety.
There are many reasons why temperature scanning is essential for your school. Not only does this piece of technology give parents, teachers, and students some peace of mind knowing that your workplace is safe for everyone there. But, a temperature scanner also provides any visitors with a sense of assurance and confidence when entering your school or classrooms.
There are many different kinds of temperature scanners, and you can read more about them here. However, we recommend a completely automatic and touchless device.
Make sure to note that many devices that say they are contactless when, in reality, they are not. A handheld thermometer that is scanned across someone's forehead doesn't allow for safe social distancing as an automated one does.
2. Network Connectivity and Stability From Home
If you're teaching from home, your network connectivity must be strong and secure. With so many of us working from home, a struggle to find a good internet connection could hinder the way you reach your students, parents, and team members.
Slow internet can range from slightly annoying to downright frustrating when all you need the internet for is streaming, surfing, and posting content on social media. But, when it comes to creating compelling content and broadcasting to your students in real-time, constant buffering and lag can make all your efforts ineffective.
This year is all about adapting, and you must be able to adjust to the different needs of your students in a remote environment.
It's also significant to remember that your network's safety and shared drives online is a huge factor in online and remote teaching. Having a safe connection from your home ensures your shared documents and student information is safe from cybercriminals and online attacks.
Read our article about working from home and a safe infrastructure, IT Support, and Disaster Recovery: Can Your Employees Work Remote When Disaster Strikes?
3. Multifunction Printer or Copier
If you have not invested in a multifunction printer for your home classroom, now is the time to do so. As you teach remotely, you'll find that having your own copier or printer at your fingertips will make your workday easier.
Although remote teaching is performed online, some projects or assignments need to be either scanned to your network device or copied to a folder on your desktop.
With a multifunction printer (aka all-in-one printer or copier), you can efficiently exchange learning materials and assignments with your students from your home's comfort.
Take some time to research any local office copier companies in your area that could be offering promotions on these devices for your home. You could snag an excellent device for an exceptional cost.
4. Collaboration Tools
Whether you're teaching a small or large group, you need the best technology and accompanying devices that facilitate full collaboration.
If you're an elementary school teacher or a college professor, utilizing a video collaboration tool is one of the only ways to ensure your students are attending your classes online, while also allowing them to ask you any questions they may have in real-time.
If you're an administrator, your job is to ensure that you have all of the resources for your team to perform their job while increasing productivity and protecting your institution's assets, students, and staff.
Using video conferencing platforms like TeamsⓇ or ZoomⓇ to communicate and collaborate with your students can make remote learning a little easier to grasp. Although face-to-face learning for many is put on hold, video conferencing with your students is a great way to see and hear your students during these tricky and uncertain times.
The Final Say: Technology to Use on Campus and Remote Teaching
It's a difficult time for all of us right now. As you continue to learn the best ways to provide to your students, remember the essentials of what your remote or on-campus classroom needs.
Some essential tools for teaching could even be ones you aren't familiar with or not sure exist. This is why it's necessary to research online and reach out to office technology companies who can show you the best solutions for your individualized teaching needs. You and your students deserve the best this semester, whether it's through remote learning or on-campus.
At AIS, it's essential that we inform and educate our readers of the best ways to stay connected, even during unprecedented times. To learn more about technology for your school or home classroom or any of the products and services we offer, contact us today. We're here to give you peace of mind to help you win more business.