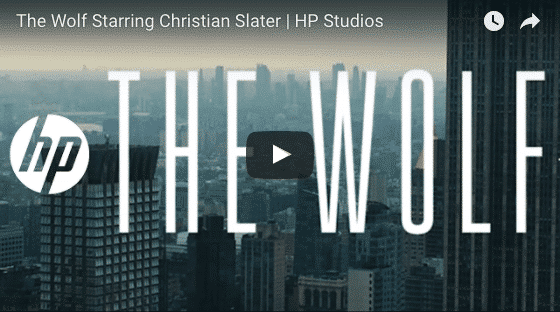 (For full video, see the end of this post)
It's not everyday you see a video that has a movie star – Christian Slater – talking about copier and printer security.
HP did just that with a video called, The Wolf (we've embedded it below for you to watch – it's really good).
It opens with the following lines and ominous music:
There are hundreds of millions of business printers in the world.
Less than 2% of them are secure.
While I don't know the research behind that statistic, copier and printer security IS a real issue. If you don't include this hardware in your security strategy, you're leaving an open door for any hacker to walk through to steal your information or hold it for ransom.
If you're cynical, you might disregard this as a marketing ploy by HP.
Yes, it is marketing. However, all of the scenarios shown in the mini-movie are real.
They can happen.
They DO happen.
There are two points in particular I'd like to reinforce:
This IS a real potential problem

Happy Birthday!
It's a Problem – Not Hype
Copiers and printers today combine hardware and software. They're connected to your network. Like anything connected to a network and the Internet, they can be hacked.
Any network-connected printer or digital copier is a potential security hole. Including them in your security strategy isn't that hard, you just have to do it. So be sure you know where ALL of your print output devices are in your office and include them.
In fact, I've written about this before: Data Breaches and Your Digital Copier Hard Drive – What You Need to Do.
Happy Birthday!
Employees can lay waste to the best security strategy with a careless click. 59% of ransomware attacks succeed via a phishing email.
At 1:35 of the video, Janice makes a mistake that's all too common for businesses that have been hacked. Our resident IT expert Mo Phalen wrote about avoiding hacks last month. Click here to read Go Fish – Protect Yourself and Your Business From Phishing Scams.
Read the post for all of the tips, but here's a basic one – if you receive an email that looks to good to be true from an unexpected source and it pushes for urgent action, beware of clicking on any links in it!
I've also written about print rules and how pull printing (often called follow me printing) can prevent security breaches. If you feel like you've got security covered and private/confidential information is locked down, fast forward to 4:20 for how a breach can happen in the real world.
Check out the video.