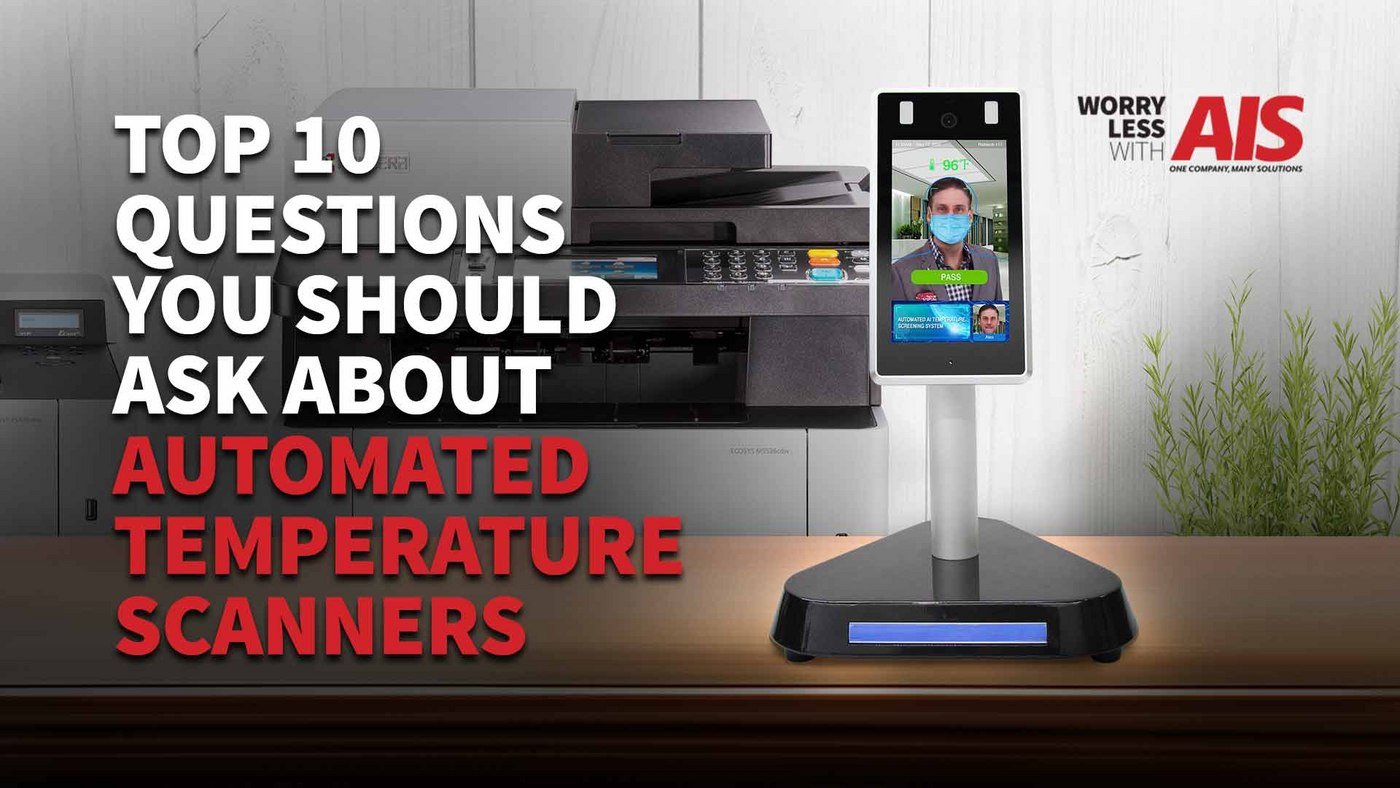 READ TIME: 6.5 MINS.
Although we don't have much control over these crazy pandemic-times, wouldn't it be nice to have something to help us get a little bit of our "normal" back? As we continue to follow all local and national policies, many of us are yearning to get back to our routine of going to work or school each day. But how can we do so safely?
As you know, one of the leading symptoms that indicates a person may be sick (from either COVID-19 or another virus) is elevated body temperature. Identifying or scanning a person's temperature before entering your workplace, restaurant, store, or school has created a high demand for thermometers. In cases of high traffic, an automated and contactless temperature scanner kiosk is the route many are taking.
There are so many devices out there claiming to be the best, but what are the most critical factors? Look no further, as we've put together a list of the top ten questions you should ask about automated temperature scanners before you purchase so you can make the best decision for your organization.
Top 10 Questions You Should Ask About Automated Temperature Scanner Kiosks
The majority of us could never have guessed that one of the most significant purchasing decisions we'd be making this year would be an automated temperature scanner. But here we are!
Times have changed, and one of the best ways to get back to normal (in the safest way possible) is to implement a contactless temperature scanner at your building's entry points.
However, many questions come with purchasing a new or unfamiliar device, and we want to inform you of the best questions to ask as you learn about the various products out there.
As you speak with different companies and manufacturers on their temperature scanning products, be sure to ask these questions. The responses you receive will give you a better idea of the product, service, maintenance, and associated costs.
Question #1: Does the device allow me to set specific parameters based on my business's safety protocols and local regulations?
It's essential to learn what specific parameters a device enables you to turn on or set. For example, do you want your temperature scanner kiosk to read a person's temperature with or without a face mask?
Face masks are an essential part of reducing the spread of a virus. Providing an accurate reading by allowing a facial covering to remain on is a specification that makes the device stand out from all the others.
Some scanners have over 200 access points between a person's neck and head, allowing the temperature to effectively collect the thermal data needed for an accurate temperature reading.
Question #2: Who is in charge of keeping track of the temperatures taken?
An excellent temperature scanner device sends its data to an authorized administrator. This administrator could either be the person at the front of the building (such as a receptionist) or someone else in your building (such as an HR manager.)
It's critical to have an employee at your building in the scanner's general vicinity to help monitor who is passing or failing the screening. This person can help direct the visitor in properly using the machine and grant them access to the building upon approval.
Don't forget that if you are planning on storing this information, you meet local, state, and federal compliance laws.
Question #3: Can I integrate my current employee database with my temperature scanner's facial recognition software?
As you shop around, take time to learn if a temperature scanner kiosk can integrate with your existing database. Suppose you currently use a database for time-clock purposes that includes employee information (name, picture, or employee ID). In that case, you'll want a device that works hand-in-hand with your system.
Many automated temperature scanners can cross-pollinate between two applications, helping identify current employees at your building from visitors or guests.
Question #4: How do I know if the temperature scanner kiosk is accurate?
Asking about accuracy is one of the most important things you can do when learning about different temperature scanners. Some scanners even allow you to change the temperature parameters that indicate a fever based on your requirements. WebMD rates adult body temperatures between 97 F to 99 F and children between 97.9 F to 100.4 F.
Ask to see a demonstration of someone getting their temperature taken and other indicators the machine can pick up on, such as age. Learning the small details about the additional features of equipment hardware and software upfront helps prevent you from purchasing a device that gives inaccurate results.
It never hurts to ask the provider to connect you with other clients or businesses who use their devices and provide you with ways they deem it accurate.
Question #5: How can I identify guests in my building who have successfully passed the temperature scanning checkpoint?
When it comes to health and safety, peace of mind is everything. A great way to let everyone in your building feel safe is by allowing others to see they've passed the temperature screening. Keep an eye out for devices that will enable you to print out badges for employees and visitors who have a normal body temperature.
A comprehensive automated temperature scanner will even allow you to print out different or colored badges so that there's no confusion about potential re-use of "pass" badges from a previous day.
Question #6: How can the camera adjust to different heights of people at my office or school?
Some automated temperature scanners have imaging capabilities to adjust for different height individuals. This is built right into the software and hardware. Additionally, you want to make sure to purchase a scanner with an HD adjustable camera, along with different stands.
A standard pedestal stand sits on the floor and should give you the option to set a range of heights. Meaning, you can determine the shortest and tallest height setting based on the people interacting with the machine.
A desk mount stand is also an option to use as it typically sits higher on a desk or surface, allowing the reading to reach taller individuals.
Question #7: How do I get notified if someone passes or fails?
When it comes to automated and contactless temperature scanners, notifications are everything. You'll do yourself a huge favor if you find a device that allows you to pick and choose which notifications you receive and how you receive them.
A top-of-the-line device will allow you to receive notifications on-screen, audible alerts, while also sending you the alerts by immediate text or email. With a variety of options for you to choose from, you can decide how you wish to receive the results.
Question #8: How do I find a device that's durable enough for my workplace or organization?
Durability is always a factor to consider when implementing new technology. Maybe you're looking at purchasing a few scanners for your elementary school or an outdoor venue, but hesitant because your visitors and guests are too rambunctious and could potentially bump, or run into your device causing damage.
Be sure to look for metal (more specifically, titanium), as opposed to plastic. Also, if you're partnering with an office technology provider, learn about their warranty. If the warranty is 100% replaceable, even if the device is dropped, you've found a great company to purchase the scanner from. Remember these devices should be built to last.
Question #9: Where should I set up my temperature scanner kiosk, and what if I have more than one entry point?
This question depends on your specific business or organization how many people enter your doors each day and traffic flow. Regardless of the scanner you choose, it's a good idea to narrow down your points of entry so you can keep better track of who is safely entering your building.
If you experience high visitor or employee traffic, you'll probably want to invest in more than one temperature scanner and even place one at each side of your doors as people enter. Look for a temperature scanner that accurately detects a temperature in 1-2 seconds and can immediately alert the person monitoring if the temperature is elevated. In this case, the person would need to step aside for retesting.
Question #10: What is the connectivity and installation of the device?
Each temperature scanner kiosk is different, which means it's up to you to learn the various connectivity capabilities. Some scanners offer both ethernet-direct plug-ins or are Wi-Fi accessible. Some offer both.
As far as installation, you'll want to check with the provider to learn their installation process so that you aren't stuck installing a new device on your own. You may even want to ask about their customer support, such as a Helpdesk in case your machine breaks or malfunctions, and you need immediate assistance.
These devices are fairly new technology, and software updates are frequently available to upgrade your devices. Having good wireless or wired connection on your network could increase your chances of taking advantage of updates immediately when available.
The Final Say: Top Questions To Ask Before Purchasing An Automated Temperature Scanner Kiosk
I'm sure you have many more questions in terms of purchasing an automated temperature canner, and rightfully so! But, we wanted first to give you a brief list of ones we continue to hear in hopes of getting you on a path to finding the best device for your organization.
Don't hesitate to shop around and ask those sometimes challenging questions. Your employees' and visitors' health and safety are something you have to keep as your number one priority.
At AIS, we are passionate about being your trusted source of all things related to office technology. We believe there's a solution out there for every business, regardless of your needs or the clients you serve. We'd love to talk with you about an automated temperature scanner kiosk for your organization or any of the products and services we offer. So, be sure to reach out to us today. We're here to give you peace of mind to help you win more business.