Your New Office Phone System: You Drive All of the Features, You Just Don't Know it
October 8th, 2020 | 6 min. read
By Tim Gerlach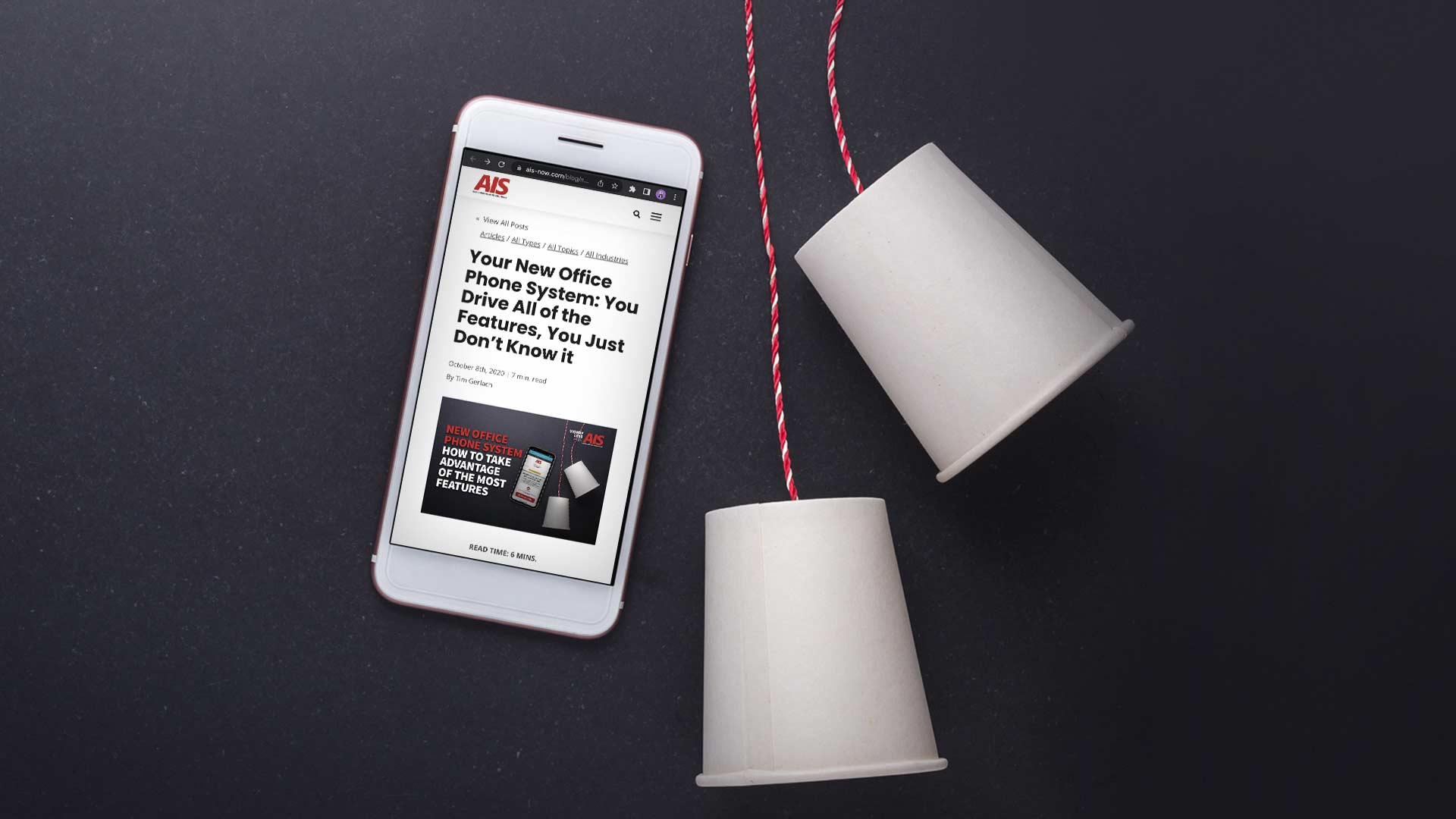 Your business made a big decision—you are finally getting a new office phone system! This can be an exciting yet anxious time for you and other team members responsible for a successful implementation.
You will be driving all of the new features, you just don't know it yet. Even ones that you haven't even thought of.
So what should you expect from a new phone system? What processes are necessary to follow during this change in office technology?
What you don't know is the difference between you getting a fully functional Unified Communications as a Service (UCaas) system or a new phone system that does a little more than you currently have today.
A provider that can educate while extracting all of the necessary details to configure a fully functional communication platform that meets your needs now and as your business grows is what you should be looking for. Just think of all the increased productivity time and efficiencies your business will be able to take advantage of.
If you've chosen to partner with a trusted office technology company, like AIS, it's great to know what lies ahead. Although we can't speak for other providers out there, we thought it would be a great idea to take you through this journey and how we successfully execute new office phone systems for our customers.
As a valuable and knowledgeable technology provider, the beginning stages of a new phone system are critical for discovery, planning, and design to maximize its value to your business. Not to mention, we also want to make sure that you are another happy customer!
It undoubtedly pays off to set aside some time and prepare for a meeting with the engineering team. This meeting allows you to provide the necessary information so our team can deliver a successful implementation for your business and employees.
If there isn't an engineering meeting in place, now is the time to get it on your calendar!
This meeting can be referred to as the discovery phase, the foundation from which your new phone system's functionality is built. Let's take a look at how we got here and some things to be ready to discuss.
Successful Implementation: Discovery For Your New Office Phone System
There are likely a few things previously sorted out regarding your new phone system during the buying process, besides the price.
You have probably met with a salesperson as well as a subject matter expert or sales engineer. Generally, you have all discussed the driving factors for wanting the new phone system, the number of users, probably some key features, and any special considerations.
With this knowledge, our sales team has most likely determined the solutions that best match your needs. Upon selecting the type of system, we will present some options for different phone models or other hardware and software enhancements.
Once discussing the details and a contract is signed, your project moves to the next phase: meeting with our operations group.
With your job package in hand, it is up to the implementation team to arrange the gathering of all parts and then make them do what you want. It is their job to ask the detailed questions to learn everything they need from you and your team to ensure the most successful cutover, aka preventing any possible downtime.
Bringing It All Together, Ahead Of Time
Depending on the size and scope of your new system project, one or more meetings will need to occur. Our team will consult with you and perform an in-depth walkthrough of the application design while remaining efficient and respectful of your time.
The better prepared you are at the beginning, the better your chances are for fewer meetings and follow-ups later on. Here are some ideas to maximize getting the most from the initial discovery meeting:
Invite your key team members with the most in-depth knowledge of how your current phone systems work things work now and how they need to operate after implementation.
Gather all account information and lists, such as phone bills, published phone numbers, employee directories, employees/office floorplans, and a business hours schedule.
Pre-discuss your teams' questions, ideas, and wishlist and bring the notes to our meeting.
With the growing adoption of online meetings and remote work these days, these discussions can occur without even leaving your desk. Depending on what works best for you, we can either schedule a conference call, an online meeting, or in-person visit.
We Have Some Questions
While not all discovery collection meetings are the same, there are always going to be plenty of questions asked. Our engineers follow a business requirements document to ensure they have the best and most thorough understanding of what your new office phone system needs to do.
In most cases, your sales rep and our engineer have discussed the provided information from you from the sales and design phase. However, confirming that plan with our engineers is always a good thing.
Even though you've had some homework assignments leading up to this, the discovery meeting is not going to be a test but a journey to understand how you work.
This is a planning meeting and we will be there as your partner and consultant as we share information, ask questions, and explore any options that may improve the way your callers are handled.
The Basics: Together, we verify several location site details (one for each site if there are multiple locations). These details may include an address, authorized contacts on-site, published or known telephone numbers, the current telephone service provider, a floorplan, hours of operation, and so on.
Additionally, we will need to know about your technology infrastructures such as cabling, data network, external paging, fax machines/servers, other communications peripherals, and the knowledge and management of these resources.
The Project: An important part of planning is creating a timeline for your project. Establishing and sharing the schedule for meetings, follow-ups, training sessions, and laying out any to-do items and milestones helps set expectations that are understood by all that are working together on your new system.
Keep in mind; there will be multiple timelines in place depending on the number of phases or steps it takes for you to receive the best implementation possible.
System Details: To make your system fully customizable for your business needs, there are a few items that we will need to obtain more details about. First is a complete list of all system users, including names, email addresses, floor plans/locations, and which devices reside in each department.

Will some of your users have any system restrictions or privileges, will you have any call groups, supervisors, call recording or reporting features? This will all be part of building out and populating the system for the people on it.
Another critical element that you can begin working on before the initial discovery meeting is assessing your call flows. Designing or documenting your incoming call flow can be a pretty straightforward task.
You will need to create a list of all published and unpublished telephone numbers (meaning, all public and private numbers that are called into at your business). Then, write out what should happen, step by step, (if necessary) when someone makes a call to that number.
Reference these questions below is you're having trouble completing this step:
Where should it ring?
Does a live person answer it, or should it go to an automated attendant?
What should the caller hear when answered?
Does this call flow have different routes during different days or times of the day?
Think of what you, as a caller, should experience, and then as your business, what needs to happen on the receiving end to make it the way you want. It can be easy, just don't forget that you may have multiple numbers to map out during this process.

Simple or Complicated? The Final Say on New Office Phone System Discovery and Feature Development
The overall goal of collecting all of the detailed company information for your new phone system is pretty simple. Essentially, we need to know your expectations, who gets what, where do things go, and the timeline of completion.
This article just scratched the surface of the depth of a good discovery meeting and all of the information you will need to communicate with your provider. The more details you can deliver the more robust your next phone system can be.
The complexity of the answers to these questions often depends on the size of your system and how many different ways your customers and prospects will call in to conduct business with you.
Whether your project is for a modest business office or an international multi-site enterprise, just a little bit of preparation can make all the difference in helping us deliver the best and most effective technology solutions.
AIS is an office technology company designed to make your workdays easier. Office technology continues to evolve, and it can be hard to keep up with new and emerging products and services. We're here to guide you with the best solutions for your business, employees, and customers. To learn more about a new phone system for your business or about the other products and services we sell, reach out to us today. We're here to give you peace of mind to help you win more business.
Tim has been working in the telecom industry for over 30 years and is our Operations Manager here at AIS. He has done everything from installing voice and data cables to becoming a service technician and system installer and engineer. In his spare time, he works heavily on promoting aviation through a variety of youth and historical programs, as well as organizing public events. Tim is a pilot, aircraft builder, and flys a WWI replica fighter plane at special events. He's also a published aviation photographer and writer. Tim's technical background and management experience are used to supervise our telecom team in providing expert, timely, and cost-effective support and solutions to our customers.