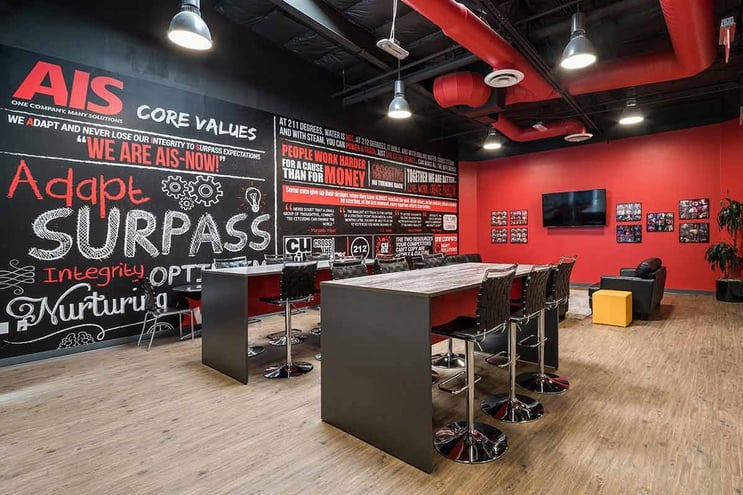 AIS – Advanced Imaging Solutions, a leading provider of office technology (copiers, printers, VoIP phone systems, and Managed Network Services) in Las Vegas and Southern California, was awarded the 2018 NAIOP Southern Nevada Spotlight Honor Award for Tenant Improvement – Large Office for their new office renovations in North Las Vegas. Receiving the award along with AIS was their architecture and interior design company, Encompass Studios of Las Vegas, Nevada.
AIS' headquarters expansion and facility renovation project began in October of 2015 and was completed in June of 2017. During the remodel, they added approximately 5,000 square feet to their facility, creating an expanded office space of about 29,000 square feet. Some of the new features include an updated staff and work area to reflect their branding and corporate culture and a remodeled lobby, demonstration room, and showroom with new hardware and equipment. Throughout the facility, they added VoIP phone systems, 60 inch screens with screen mirroring capabilities, an updated dispatch area with 3 large monitors for viewing their field tech's current activity, and high speed Wi-Fi access for all guests visiting and working out of their new office. In addition, they added a staff kitchen and lounge with complimentary beverages, fruit and snacks, dual refrigerators, couches, white board, and even a popular gaming system for entertainment. These new upgrades showcase the technology savvy company and presents the positive image of its corporate "AIS-NOW" culture established by its founders and management team (Adapt / Integrity / Surpass / Nurture / Optimism / Wow) to relay to its client.
"Our newly designed and modernized office space presents the image of a progressive technology and service organization that exemplifies AIS' soul, vision and offerings," said Gary Harouff, President of AIS. "Our staff and culture are both integral parts in the success of our business and this renovation reinforces our culture, while celebrating our staff. The added recognition and acknowledgement by the NAIOP emphasizes our efforts in achieving our facility's enhancement goals."
AIS has extended the same theme and award winning design to its additional locations in Palm Desert, San Diego, and Corona so all staff and clients can experience their culture.
About AIS – Advanced Imaging Solutions
Founded in 2002, AIS is headquartered in North Las Vegas, Nevada. It provides office technology solutions and services to Las Vegas and Southern California areas from their offices in San Diego, Corona, and Palm Desert. They offer a wide range of multi-function printers, copiers, 3D printing, VoIP telephone systems, document management, and Managed IT Services. AIS also specializes in meeting the special requirements and compliance demands in document and workflow management for the education, legal, medical, and manufacturing markets.
View a list of all the winners of this year's NAIOP Spotlight Awards.