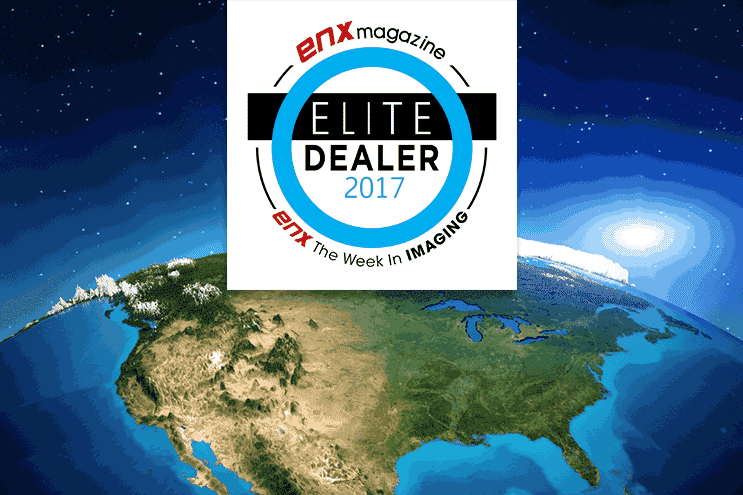 Toluca Lake, CA (October 2017) — ENX Magazine and ENX The Week In Imaging announced that AIS – Advanced Imaging Systems has been selected as a 2017 Elite Dealer. This annual Who's Who of the office technology dealer community, which has been bestowed upon the industry's leaders since 1988, will be featured in the December issue of ENX Magazine.
The 100-plus 2017 Elite Dealers were selected based on numerous criteria, including growth initiatives, innovative marketing programs, outstanding customer service, charitable contributions to the community, progressive workplace cultures and adaptability to an ever-changing market.
"We're pleased to present the 2017 Elite Dealers and congratulate this year's honorees for their remarkable entrepreneurial spirit and accomplishments in a challenging marketplace and for leading their dealerships toward the path of continued success," said Susan Neimes, managing editor of ENX Magazine and ENX The Week In Imaging.
Added Erik Cagle, editorial director of ENX Magazine, "While the industry continues to consolidate, our roster of high-ranking performers continues to grow. I am particularly impressed with the caliber of this year's entries, and their forward-thinking initiatives only underscore the health and vitality of the office technology dealer space. I believe this bodes well for the future of our industry."
AIS has worked hard over the last several years investing in time and resources, meeting client demands, and implementing technology to improve the level of service they provide customers. In 2016, they responded to over 24,000 service calls, resulting in:
An average response time of 2.4 hours (industry average 4 hours or less)
The total number of calls resolved in 2 hours or less was 12,500 (61% increase over 2014)
92% of all calls resolved in 1 visit (an increase from 2014 and 2015)
A 2016 Net Promoter Score or NPS of 90 (i.e. Apple and Amazon have NPS scores of 70 and 69 respectively)
"We are very pleased and honored to be selected as one 'ENX Magazine's 2017 Elite Dealers'" stated, Gary Harouff, President of AIS. "This accolade is a prime example of our ability to deliver great products and service to our clients—and the development of a nurturing corporate culture for our amazing team."
About ENX Magazine
ENX Magazine is a monthly publication dedicated to the document technology industry since 1994. Now in its 24th year, ENX Magazine continues to deliver exclusive editorial coverage on market opportunities and issues, news and trends, company profiles, new products, and industry insights through interviews with key players in all segments of the document technology industry. With a circulation of more than 28,000 hard copies, ENX Magazine is the leading integrated resource that brings together industry people, products, and business concepts and strategies for document technology industry professionals.
The magazine also publishes ENX The Week In Imaging, a weekly e-newsletter that provides news, profiles, technology and business updates, along with blogs from some of the industry's most prominent players.
About AIS – Advanced Imaging Solutions
Founded in 2002, AIS is headquartered in North Las Vegas, Nevada. It provides office technology solutions and services to Las Vegas and Southern California areas from their offices in San Diego, Corona, and Palm Desert. They offer a wide range of multi-function printers, copiers, 3D printing, VoIP telephone systems, document management, and Managed IT Services. AIS also specializes in meeting the special requirements and compliance demands in document and workflow management for the education, legal, medical, and manufacturing markets.