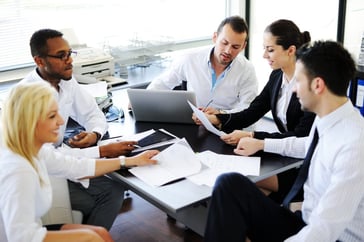 The services provided by IT managed services providers often look similar.
On the surface, all cloud data backup plans look about the same – and the technology often is a bunch of servers in a very well air-conditioned room somewhere (not very exciting).
Unless your job is phone support, business phones all look the same other than color.
Network monitoring and IT support offices all look roughly the same – a bunch of folks in a room staring at monitors and/or talking to customers on the phone.
This surface sameness can lull you into thinking that any IT managed services partner will do. Don't fall into that trap.
What separates an average partner from an excellent partner is the same as in any relationship – great communication.
When you have a communication gap in your personal relationships it's certainly annoying. When your service partner doesn't understand your business needs, that's a disaster that could torpedo your business success.
The ability to understand customer business challenges needs to (of course) be paired with the knowledge and technical ability to get the job done. You need a partner that can do both.
How do you ensure that your potential partner understands you? Here are five suggestions to make sure you and your partner are on the same page.
Define Your Business Goal.
What do you want to accomplish with technology? Simply remove the burden of data backup from your IT staff? Move away from in-house IT staff. "Somehow" use IT tools to improve your business processes? OK, that last one is a LOT squishy as a goal, but it's OK to know that you could be using technology better without knowing HOW to use it better – that's what we do.
Knowing what you want to do also helps you research and weed out companies before you waste time talking to them.
Square Pegs and Round Holes.
Does the expertise of the IT managed services partner match your needs? If you need to be compliant with HIPAA rules, do they understand they healthcare industry? If their expertise is in supporting law firms, they might not be a great fit for you.
Honesty.
We're not a match for every company. If you're having a conversation with a potential partner and they keep trying to shift the definition of your business problem to the service or product they provide or sell; run.
Smart and successful companies want their customers to be successful. They aren't interested in a short-term contract or trying to squeeze every penny they can from you. A good company will walk away from a poor fit. If a potential partner smells of desperation, continue your search.
Ask Questions.
When you don't understand something, ask for clarification. And keep asking until you're 100% sure you understand the answer – and that they've understood your question. While I'm not sure there's no such thing as a stupid question, I am sure that it's not smart business to refrain from asking a question because you think it's a stupid one.
Ask, But Also Clarify.
Ever been in meetings when the expert at the head of the table is babbling on about something and everyone is nodding in agreement when you know full well half of the folks nodding don't understand and just want to break for lunch? Don't do that. Make sure your partner understands your business processes that the service is going to impact. If they misunderstand, that's only going to hurt you in the long run. Have them explain why they're suggesting that particular plan of action.
The technology part is easy. The hard part is talking through how to apply the technology to address your business problem.
For more information on everything to do with Managed IT Services, check out our resource page, here.