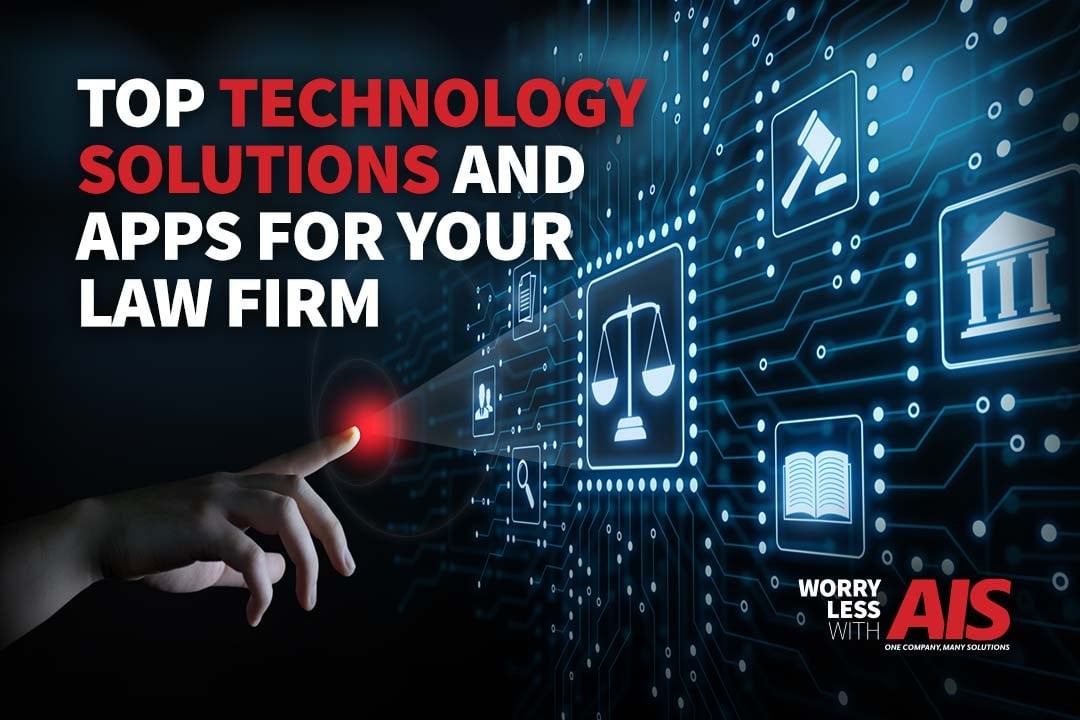 READ TIME: 7.5 MINS.
Our world of technology is rapidly evolving each day—making it harder and harder to keep up. Adding the widespread COVID-19 pandemic to this bustling environment brings even more challenges as we're adapting quicker than ever before.
Whether your law firm has transitioned to working from home, or still present at the office, there's always a demand for emerging technology products as they hit our market.
While trying to keep up, we're finding many wondering about the top technology solutions and apps for their law firm—and how they could save time and money.
Many law firms don't know the increasing number of technology products and services designed specifically for the legal industry. There are many attorneys, legal aids, and administrators who experience difficulties throughout their day but are unaware of the simple technology solutions that can increase productivity resulting in more billable hours while lowering costs.
With social distancing requirements, stay-at-home measures (or even curfews), and lockdowns, legal operations (along with most other industries) continue to face roadblocks. Fortunately, with the help of an experienced legal office technology solutions provider, like AIS, you can enable your team to work remotely, or safely at your office, to streamline operations, thus improving efficiency.
For almost 20 years, AIS has proudly supported over 400 law firms in Southern Nevada and California. Our consultants and technicians are well-versed in business technology for all legal practices and have helped our firms save time and money while also maximizing profits. Learn more by contacting us today.
Legal Aid For Your Firm: Top Technology Solutions And Apps
An essential part of optimizing the technology solutions available to you is learning how they work, the features included, and how these products appeal, particularly to the legal business environment.
If your employees are working from home or remain at the office, finding the right technology offerings not only supports you now but guarantees success for inevitable changes or integrations in the future.
1. Safe And Effective Video Conferencing Tools
Despite social distancing requirements, it is essential for law offices to offer continued in-person counsel to their clients. This is where video conferencing comes into play.
Video conferencing technology allows for face-to-face meetings with not only clients but colleagues as well. Many courthouses have even switched to video conferencing for trials and court appearances, as opposed to meeting in-person.
The nature of many legal cases typically involves disclosing and sharing personal and detailed information, raising a red flag on the safety and security of online-based communications. The security of client records and documents is of utmost importance.
A knowledgeable office technology company can help protect your firm from cybercriminals and attacks that come with hosting and storing client data online or in the cloud. Cybersecurity is especially critical if you have legal staff utilizing their own servers and networks at home.
Read our article to learn more: (COVID-19) Remote Work: Short and Long Term IT Support.
Many video conferencing platforms (such as MicrosoftⓇ Teams or Zoom) also come with downloadable apps for other devices besides your computer or laptop, such as tablets and smartphones. If you're always on the go but need to catch a quick video meeting from your call, the app is right at your fingertips.
Even beyond the pandemic, video conferencing technology offers significant advantages to the legal industry, as it:
Enables easy communication with clients and internal team members
Cuts travel time and related costs, thus enabling you to handle more work
Allows stakeholders in different locations to coordinate in a professional meeting atmosphere
Allows recording and even transcriptions
Provides an accurate record of time
It may seem futuristic, but trust us, it's not. Adopting video conferencing technology allows you to build and maintain strong relationships and trust with your clients.
2. Phone System Integration At Home And At The Office
One of the most significant technological challenges we continue to hear about is integrating and connecting your office phone system with a new or existing phone system at home. Most of our desk phone equipment is clunky and hard to pack up and take home.
An attorney who has utilized the same phone number for years, uprooting their office phone system and potentially changing their phone number, could result in the loss of connecting with new and current clients. I think we can all agree that this is something to avoid at all costs.
There are several phone system solutions designed for the mobile workforce, regardless of our physical locations. Meaning, your office phone number (depending on the system) is capable of integrating with your mobile phone number. When a client dials your office phone number, the phone system can route to your cell phone without the caller even knowing. Completely transparent to the client.
Having your office phone directed to your mobile phone number makes it much easier to transition to your work from home environment. This feature is even better for those who split their time between working from home and working at the office.
Some office phone systems also include additional software applications, such as video conferencing and direct messaging platforms, that align your phone system with other useful communication tools.
A popular phone system collaboration tool, such as RingCentralⓇ, is a great option to consider. RingCentral also has an app available for users on their tablets or smartphone devices.
It's all about learning your options and finding out which phone system provider can design a plan that addresses all the needs of your staff and clients.
3. Automatic and Touchless Temperature Scanners
Despite calls for businesses to resume normal operations, the risk posed by COVID-19 is still significant—leaving many employees hesitant to return to work. As you call on your team to begin returning to the office, it's best to observe the COVID-related guidelines set out by the CDC and other credible health sources.
As you've heard repeatedly, one of the biggest safety initiatives is measuring the temperature of employees and visitors who enter your office. But, this action comes with its fair share of hesitation.
"How am I supposed to dedicate one employee to screen the temperature of everyone entering my building each day?"
"What's the best device to use to get accurate results?"
"Aren't temperature scanners expensive and hard to configure?"
When looking at a temperature scanner, a fundamental factor is learning if the device is 100% touchless and contactless. A fully automated and contactless scanner can take an accurate temperature without ever touching the individual. This reading can even be done while keeping a safe social distance of six feet or more.
The entire process, which is passive and noninvasive, can take less than a few seconds, and you can obtain an accurate reading of body temperature within 0.5 F.
An automated temperature scanner is fast, contactless, safe, and easy to use for both the business user and customers.
The technology of a temperature scanner uses thermal video and infrared imaging sensors bundled with facial recognition software. This software helps identify the location to take a reading of the individual's skin, typically the forehead, to capture their temperature—even when wearing a mask.All in all, this device is not an in-person scanner or thermometer administered by an individual. But an automated piece of technology, placed at all entry points of your building or office.
With other devices such as an in-person scanner, each time a temperature reading is taken, the device comes in contact with a person's skin. It then needs to be disinfected after each use. In-person scanning is not a safe or effective method of gathering temperatures of an even flow of visitors or customers arriving at a business.
Learn more about finding the best temperature scanner for your business by reading our article, How to Choose a Temperature Scanner For Your Small Business (SMB).
4. Multi-Function Printer With Legal-Specific Apps
Many documents required during legal procedures that must also be shared with different parties. This is why multifunction printers (MFPs), copiers, and other output-related devices are crucial in a law firm.
As you invest in office technology, make sure to key in on a multifunctional printing device that provides you add-ons and features to help make your legal processes easier to do in a shorter amount of time.
As the name suggests, an MFP performs different functions such as copying, printing, scanning, faxing, and emailing documents of all kinds. MFPs are also equipped with software that assists in managing and securing documents. With an all-in-one device like this at your firm, your team can handle all document-related tasks at one station.
More importantly, a multifunction printer boosts efficiency and collaboration, through its emailing or "scan to email" feature. While making copies of documents, users can share them with colleagues in other offices, and even while working from home.
There are endless task lists that law firms have to carry out for each case to succeed. And, each firm often has many cases that need to be handled simultaneously.
Though paper-based systems have been used for decades to manage cases, they're not always efficient. One of the best ways technology has benefited the law sector is through law practice management software.
This type of software improves organization within a law firm, as documents are well categorized and easy to retrieve, review, and share. As a result, your team has a more manageable time meeting deadline, thus increasing your success rate.
Some of the other benefits of law practice management software:
Makes it easy to track time thus allowing you to bill more accurately
Enhances collaboration within the team
Allows for easy tracking and coordinating with key witnesses and other crucial parties as all the contact information is in one place
Undoubtedly, the most significant benefit an MFP or copier device offers is facilitating remote work. Since the software comes with online collaboration and integration features, you can access case files at home or even on the go.
Additionally, desktop versions of these devices can be purchased for the home making them perfect for your staff working remotely or from home.
Learn more about law-related technology apps for your MFPs by reading an article published by one of our highly-trusted and valuable partners, Xerox® Connect App for iManage, Raise the bar on law firm document management.
5. Cloud Computing For 24/7 Access
Cloud computing is an invaluable technology for data-centered organizations, such as law firms. However, along with its benefits, it also presents cybersecurity challenges. According to the American Bar Association, this is primarily due to law firms taking insufficient steps to ensure cybersecurity.
As we mentioned earlier, it's critical to partner with a technology provider who knows the ins and outs of cybersecurity and can guarantee protection against cybercrimes throughout all of your systems and devices.
The main benefits of cloud computing for law firms include:
Makes documents easily accessible at any time and from anywhere
Cost-effective
Gives you the flexibility of adjusting your storage space as needed
Reduces the risk of losing documents
Enhances collaboration as team members can work on the same project remotely
To fully enjoy the benefits of cloud computing, you must take the necessary security measures. This will protect you from non-compliance fines and liabilities that may result from data breaches.
The Final Say on Technology Solutions For Your Law Firm
If you can take away anything from this article, it's to get the right solutions partner for all of your technology. Although this novel pandemic has propelled the role of technology in the legal sector, its importance is not only limited to this period.
Implementing useful technology devices and services can significantly improve your organization, collaboration, and efficiency for your law firm. Make sure to reach out to us today to learn more about the office technology solutions we can bring to your firm. We're here to give you peace of mind to help you win more business.